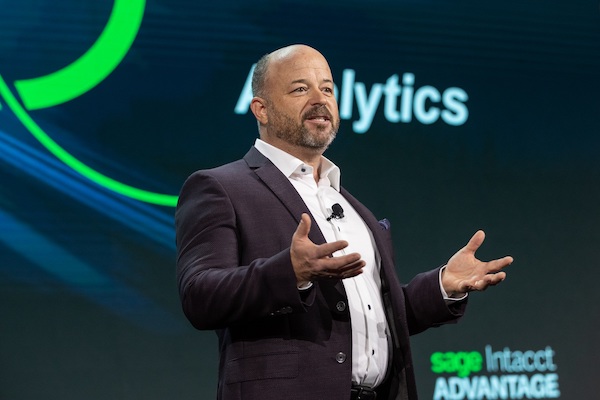 Digital transformation has now become more than a luxury for all businesses, it has turned into a necessity that plays a critical role in the future of businesses. Any business that is aware of this has taken rapid steps, especially in the last two years.
In this new world order, where those who evaluate digitalization from every angle are the winners, the role being played by leading software vendors is quite large. In this context, we conducted an interview with Sage EVP Dan Miller, who has committed himself to the ERP industry for long years.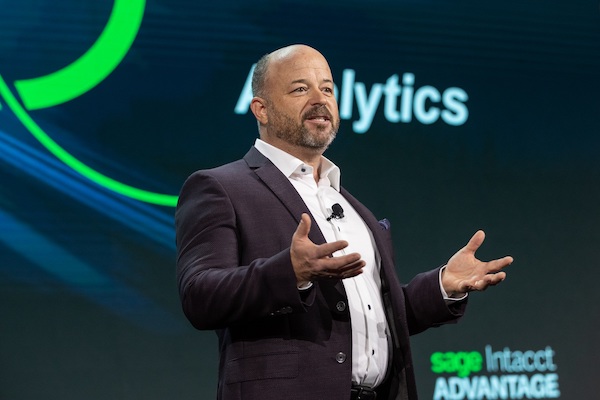 Could you tell us about yourself and your role in Sage?
Sure. At Sage, I am the EVP of our Sage Intacct brand, which focuses on cloud financial management and related technology for SMBs. I joined the company when Sage acquired Intacct in 2017 and I joined Intacct in 2010. Throughout my time at Intacct and now Sage, I've built the Sage Intacct product organization from a small team to an organization with multiple successful product lines. Our solutions serve a wide range of customers in different industries and across numerous geographies.
Fundamentally, my role is to create solutions that help our customers streamline the work they do every day to help their organizations thrive. Our customers are the heart of Sage. It excites me to help be a part of their success. My background is rooted in leading successful product organizations with a focus on product strategy, product management, experience design, engineering, and customer education. I've spent most of my career designing for growing small and medium-sized businesses. Prior to Sage, I helped design the user experience for the first several versions of QuickBooks and provided executive leadership for QuickBooks and QuickBooks Enterprise.
The COVID-19 pandemic changed the rules of the game for the business world. How did you embrace change and disruption as Sage?
First and foremost, Sage focused on supporting our customers, partners, and colleagues through these challenging times. We've maintained this commitment since early 2020 and will continue to be there for them every step of the way. The COVID-19 pandemic has truly been an unprecedented event in most everyone's lifetime and not something many businesses were prepared for. Thankfully, Sage can bring to bear a combination of a wide breadth of resources and a level of agility that not every large organization possesses.
Take for example Sage Intacct – our cloud-based platform, global infrastructure, and operating model, and 24/7 customer support teams helped ensure the business continuity of our customers so that they could easily access their data and keep working from any location without interruption – this was critical as offices began to shut down and organizations rapidly transitioned to a remote workforce. Because of our cloud-based systems and highly distributed workforce around the world, we had no disruption to our operations and continued to deliver the highest levels of performance, availability, security, and support.
Sage is driven by a core set of values, starting with 'Do the right thing'. During challenging times, I think people need to become more resourceful, resilient, creative, and kind, and that often begins at the leadership level. I continue to be impressed by the ways Sage has handled the pandemic and how we've continued to support our customers, partners, and colleagues.
After the pandemic, 1 in 20 people quit their job, and this is what economists and analysts call the big resignation. Now more than ever, HR will be crucial in guiding change management. How does Sage help HR teams retain the best talent?
The pandemic has truly put HR in the spotlight at most organizations. With no pre-existing playbook for dealing with a global crisis, businesses turned to HR and People leaders to help steer them through the uncertainty. In fact, 72% of HR leaders told us in our recent research that the crisis has increased the value and wider understanding of their role across organizations, and 59% of these leaders said the pandemic has enabled them to become more visible and influential. It's something that employees agree with; as 60% of employees told us in the research that they've noticed changes in HR's role, such as becoming more People-focused and strategic.
To succeed in this ever-changing landscape, HR and People leaders will need to work with the rest of the C-suite to re-evaluate what productivity means in the new reality, and to redefine what outstanding employee experiences look like. Through our Sage People cloud HR solution, companies can leverage technology to open so many doors for HR leaders and their teams. Our technology helps with reducing laborious admin and provides the right data to understand your people better. This ultimately enables HR and People leaders to become more agile and support the well-being of employees with a higher level of understanding and insight.
But it goes beyond just our HR software, all of Sage technology is focused on helping companies be more efficient and effective with the resources already at their disposal. Digital transformation isn't just a sexy buzzword we throw around, we are truly helping companies change their business structure to thrive. For example, we've seen that the companies using Sage Intacct have already automated 70% of their financial processes. This level of automation frees up time traditionally spent on manual tasks to focus on higher-value work – making the finance team more strategic and aids in retention by making the roles more interesting. This also improves efficiency within the organization, allowing companies to grow without the need to add headcount at the same pace.
Global investment into digital transformation is growing faster than expected and it is no longer a luxury for businesses. What is your strategy to support your customers who want to invest more in digital transformation this year?
Digital transformation spans every aspect of a business. When we say digital transformation, we're talking about companies changing how they work that are designed around transactional processes, often with significant manual effort, to one that elevates the work of humans, designed around digital interaction, collaboration, and automation.
We've seen digital transformation efforts accelerating as companies focus on returning to pre-pandemic growth levels. Sage continues to expand the capabilities of its product family to streamline processes and improve business insight. This helps our customers focus more time on their company's mission, making a difference in the lives of their customers, partners, and employees.
We've delivered new and innovative technology around AI and machine learning that fundamentally changes how users interact with our software. Things like intelligent time capture and outlier detection functionality for the general ledger, up-level the work of finance teams and make their workflow much more of a digital process.
We're also focused on building out the Sage Digital Network. Software as a Service and the cloud have been important drivers of innovation and the foundation for where most companies focus their digital transformation journey. But the next stage of technological change will revolve around digital networks and the enabling architecture they deliver.
What are the critical elements of a digital transformation roadmap for SMEs?
At its core, digital transformation is about advancing an organizations effectiveness through the use of technologies that optimizes how that organization operates; how they achieve business results. Ultimately, to digitally transform, SMEs will need to look at every aspect of their business and may need to augment their existing business processes, practices, workflows, and procedures.
I think it is important to start with defining your strategy by considering the larger goals and initiatives that drive your business. This will allow you to determine how to effectively use technology and information design patterns to improve them. Once you have a grasp on how you can leverage information and technology to achieve your company's long-term goals, you can start building a strategic plan that provides guidance to realize those long-term goals.
Enhancing business processes with digital technologies will help SMEs automate redundant, repetitive, and error-prone activities and tasks. This will enable improved decision-making and deliver increased efficiency. As a result, SMEs can actually deliver enhanced customer experiences and even attract new business. However, while technology is an essential element of digital transformation, it is also important to put some focus on eliminating dated processes that could hold back any improvements.
Selecting and implementing an ERP system is a long and challenging process for businesses. What are the critical steps to a successful ERP implementation after choosing the right ERP system?
Selecting and implementing a new ERP system offers companies an incredible opportunity to transform their business by increasing efficiency, enabling new capabilities, and improving overall performance. That said, properly managing the implementation process is critical for ensuring a successful transition to a new system.
There are a variety of steps I would say are critical to implementation success. One of those is establishing a strong project team from the start. You will want to have an executive sponsor, someone who can adjust resources and manage any shifting business priorities, a project manager, and then representatives from any of the business groups involved in the project.
This team will establish a set of top-level goals, requirements, and key performance indicators for the project. Ensuring you capture all the key requirements of the project is another critical step. Don't just look at your processes today and how to do the same thing in the new system. Use this as an opportunity to define what your ideal process would look like and work with the implementation firm, whether that is a partner or the software vendor, to understand their suggestions on how to meet those needs.
One additional thing that people sometimes don't give enough focus to is change management. This is one of the most important aspects and perhaps the most avoidable cause of project problems and failure. Resistance to change, even change viewed widely as positive, is normal and expected human behavior – and plans should be made to minimize its impact. It's also important to understand that change management is not a specific step of implementation. Instead, it is something that happens throughout the project.
It is important to share the vision of what the desired future state of the organization looks like and how it will run. It is equally important to communicate the why — ensuring that every person at every level of your company understands why it is vital to re-make core business processes and implement a new ERP solution. And then, throughout the project, have regular communication updates on progress and check-in with employees that will be impacted by new processes to ensure they are comfortable.
We recommend companies spend time at the outset to develop a detailed employee communication plan. The plan should cover what will be communicated, why, to whom and by whom, when, and how. You can also use these communications touchpoints to solicit feedback and assess the readiness for the new system. This goes a long way to ensuring that people feel included in the project and that everyone is moving in the same direction for less friction.
Could you evaluate the year 2021 in terms of product offerings and business strategies of Sage? What are your goals for 2022?
It's interesting, 2020 was all about just rapid response to a major change on a global scale. For 2021, there was hope that the pandemic would have subsided, and we'd be returning during the year to some level of business as it was pre-pandemic. Well, that clearly didn't happen, and I think it is safe to say we are never going back to having things exactly the way they were prior to COVID.
That said, Sage's product offerings fit well with the new reality. Our solutions are designed to meet the needs of customers in this new working environment, and we've seen that our customers have, by and large, used our technology to keep their businesses moving forward.
We focused our product enhancement efforts in 2021 on ways that Sage's cloud financial management software can further help finance teams knock down barriers to improve efficiency and effectiveness so that their businesses can thrive. We've launched some very innovative new functionality that takes AI and machine learning from being nice-to-have items in your ERP solution to something that is at the core of how these solutions work – while still shielding users from any added complexity.
On the business side for Sage in 2021, we launched ambitious new sustainability and society strategy. Sage's goal is to tackle societal and economic inequality, as well as support a new generation of diverse and sustainable businesses. Sage will play its part in tackling the climate crisis, pledging to be Net Zero by 2040 across its operations and supply chain, with an interim step to reduce carbon emissions by 50% by 2030.
To help tackle economic inequality, Sage will provide strong digital and financial foundations for businesses and start-ups run by underrepresented groups. To that end, we launched a new partnership with The BOSS Network for a three-year program to provide support and guidance to help Black women across the U.S. achieve their goals with everything that's needed to successfully start and grow new businesses. In addition, we've embarked on a three-year global partnership with non-profit lending platform Kiva aimed at improving financial inclusion in communities that find it hard to start or grow their businesses, initially supporting 12,000 entrepreneurs.
Looking ahead to this year, I think you will see additional work in these same areas. You can expect to see Sage push deeper into some vertical industries, doubling down on product functionality, as well as expanding into new verticals. For example, Sage has recently announced the acquisition of Brightpearl to drive deeper into the retail space.
We're pleased with our strategic corporate and product pillars, and we've received outstanding feedback from our customers and partners on where we are headed. The team has set ambitious growth goals as we execute our strategy to be the trusted network for small and mid-sized businesses.
https://erpnews.com/v2/wp-content/uploads/2022/02/Dan-Miller-Sage-Keynote-4.jpg
400
600
katie
https://erpnews.com/v2/wp-content/uploads/2018/10/[email protected]
katie
2022-02-18 12:35:49
2022-02-24 15:20:30
Do the Right Thing