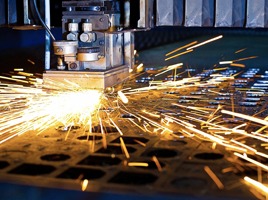 SYSPRO, a global provider of industry-built ERP software, today announced its sponsorship of the 2018 Export Insights report exploring strategies for successful exporters entering new markets and navigating uncertainty. The report, commissioned by CanadianManufacturing.com, was developed in partnership with Grant Thornton LLP.
Export Insights highlights results from a national survey conducted by research firm RK Insights, of more than 350 Canadian industrial executives. Results from the study were tabulated and discussed at a live roundtable that consisted of manufacturing exporters and industry subject matter experts, on September 14, 2017.
For Canada's exporters, turbulence has become par for the course. But despite the rapidly changing global trade landscape, the 2018 Export Insights report shows Canadian exporters are among the best in the world at making inroads into new markets, and are successfully competing against much bigger global enterprises.
Several key findings from the 2018 Export Insights report include:
92 per cent of respondents began exporting to the U.S. before entering other markets
Less than half surveyed (42 per cent) have a comprehensive exporting strategy
The Trump factor. 13 per cent have a plan to adjust their current export strategy but only 8 per cent expect their exports to grow under the new administration. An overwhelming 87 per cent recognize the importance of looking beyond the U.S. for future exports
Currency fluctuations are regarded as the largest single challenge, with 29 per cent of respondents citing it as a concern. Transportation and logistics issues were a close second at 27 per cent
Less than 10 per cent report major exporting failures over the past 24 months, but 35 per cent cited a lack of supply chain visibility as the major reason for failure
60 per cent of respondents report technology such as ERP for supply chain visibility important to their exporting success
"This year's report and roundtable highlights the resiliency and tenacity of Canadian exporting firms," said Michael Ouellette, editor of CanadianManufacturing.com and moderator of the roundtable discussion. "We identify some of the common risks a new exporter will face, regardless of where they plan to export; and some of the proven methods of mitigating those risks.  For Canadian companies, exporting is a vital source of revenue growth, and this study demonstrates strategies that new exporters can easily adopt."
"We feel strongly that Canadian manufacturers have limitless opportunity to develop successful expansion strategies to establish themselves as sustainable global market leaders," said Dale Kehler, Vice President – Product Services at SYSPRO Canada. "But determining the best approach to an expansion strategy has become a more complex and challenging choice."
https://erpnews.com/v2/wp-content/uploads/2017/11/lili-1.jpg
200
268
webmaster
https://erpnews.com/v2/wp-content/uploads/2018/10/[email protected]
webmaster
2017-11-24 00:00:00
2017-11-24 00:00:00
SYSPRO Canada Sponsors Industry Report on the Export Practices of Canadian Manufacturers