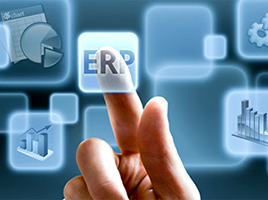 Manufacturers make significant investments in Enterprise Resource Planning (ERP) systems and oftentimes assume that service parts inventory is being handled adequately by these large-scale solutions. However, as customers become increasingly dynamic, it has become more critical than ever to forecast demand with as much accuracy as possible.
Having a holistic view of the entire IT environment and all parts of the supply chain is vital — and this is where having an ERP is necessary. However, adding a cloud-based inventory management solution that integrates seamlessly with your ERP system will simplify your business processes and strengthen your service organization. In fact, an increasing number of companies are moving their inventory management to the cloud for the increased flexibility and transparency, streamlining the ability to successfully plan the entire flow of goods.
Additionally, companies with service divisions that are resistant to investing in inventory management solutions are typically incurring costs, such as capital service, time and resources, that oftentimes can add up to be more than the actual investment in inventory management.
If you aren't convinced just yet, I have outlined three additional reasons service-parts planning solutions are the best way to enhance your company's ERP investment.
Service becomes the new profit lever.Increasingly, revenues, profits and customer loyalty are being driving by post-sales service and support, not new product sales. And, leading companies around the world are quickly realizing that superior service is one of the few levers that can have significant impact on both top and bottom lines. Ensuring that the right part is in the right place at the right time is key to awesome customer experiences, and is something an ERP system just isn't set up to do.With a service parts planning solution, companies are able to shift their focus from a low-margin product business to a high-margin service organization, allowing these brands to quickly drive revenues, profits and customer loyalty to all-time highs.
Data becomes actionable. According to Aberdeen Group, one of the top goals for service leadership is to improve the quality and relevance of data for the service team. With the emergence of seemingly more technologies every day and the IoT, companies are working with more data than ever.An ERP system and service parts planning solution work hand-in-hand — the ERP aggregates all of the data, and the service parts planning solution makes it actionable — ensuring that every touch point in the aftermarket supply chain, from an OEM to a field service technician, can contribute information to optimize customer experiences and improve margins. Today's top performing businesses are investing in the appropriate technologies to ensure that all data is connected in order to drive value.
Service becomes critical to the customer experience.  It's no secret that in today's on-demand economy, customers expect quick and reliable service. And, providing superior customer experiences is key to company success — according to a study by Walker Information, by 2020 customer experience will overtake price and product as key brand differentiators.As customers' expectations and demands increase, the overall experiences they have with your brand have become more critical to company success than ever, and that's especially true in post-sale services. Ensure the individuals interacting most with your customers — service representatives — are always equipped with the correct parts and knowledge to make repairs efficiently. By investing in improving service parts management operations, you are investing in increasing customer loyalty. If you ignore it, you'll get left behind — giving your competitors an edge on both loyalty and profitability.
Now that you know more about the benefits of using a cloud-based service parts planning solution, the next steps are to know the key requirements for a solution. Ask questions such as, "Does the solution deliver value and extend participation to all users, stakeholders and suppliers?" and "Does the solution enable global planning and optimization?" Once you make a vendor selection and begin implementation, you'll start to see immediate and measurable results in your service organization — and enhance your ERP's effectiveness.
Author: Gary Brooks is CMO at Syncron. 
https://erpnews.com/v2/wp-content/uploads/2016/09/erp-missing-268x200-1.png
200
268
webmaster
https://erpnews.com/v2/wp-content/uploads/2018/10/[email protected]
webmaster
2016-09-23 00:00:00
2016-09-23 00:00:00
Service Parts Planning: The Missing Link In ERP Systems