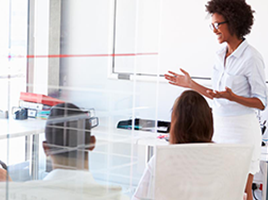 SAP SE today announced that it is the first multinational technology company to be awarded the worldwide Economic Dividends for Gender Equality (EDGE) certificate, recognizing its global commitments and actions in achieving and sustaining gender diversity and equality in the workplace.

The EDGE Certification is the premier standard and methodology for evaluating a corporate commitment to gender equality. Launched at the World Economic Forum, the EDGE assessment methodology is distinguished by its rigor and business impact.
SAP's worldwide certification process began in March 2016 — after it became the first tech company in the United States to achieve EDGE Certification earlier this year. Global certification, which requires that countries that comprise 80 percent of an organization be included, was awarded after a third-party review of company data, gender practices and employment policies, and employee survey results in an additional 12 countries: Australia, Brazil, Canada, China, the Czech Republic, France, Germany, India, Ireland, Japan, Singapore and the United Kingdom. Criteria examined in the review include recruitment and promotion, leadership development training, mentoring, flexible working and company culture.
"SAP must be at the forefront to take businesses beyond bias," said Bill McDermott, CEO of SAP. "This global certification marks a major milestone in our ongoing efforts to eliminate bias in the workplace. We are very proud of our investments in technologies and programs to drive inclusion. This certification is another step in our leadership on this critical issue, all geared toward helping the world run better and improving people's lives."
SAP has a board-level commitment to reach 25 percent of its leadership positions filled by women by the end of 2017. This commitment has been reinforced by action. As of Q2 2016, women make up 24.1 percent of the company's leadership and 32.5 percent of all employees.
SAP's actions to achieve gender equality extend beyond employment totals. Last month, SAP conducted a pay equity analysis on its U.S. employee base, proactively increasing the compensation of employees that lacked pay parity. Additionally, SAP announced a machine-learning tool that, among other capabilities, detects biases in job postings.
"Gender equality is not a corporate social responsibility initiative or simply a cultural benefit," said Stefan Ries, chief human resources officer, SAP. "It's a strategic differentiator, a source of innovation and revenue driver for our company. We are proud of the recognition we've achieved, but we remain committed to creating a culture where employees of all backgrounds can thrive. We want to be the role model in the technology industry for providing opportunities for women, as well as for all underrepresented groups, and we hope that others in our market will follow our lead."
"The technology industry is home to the world's innovators, which is why diversity is of special importance. While the tech community overall has historically received low scores on gender equality, SAP is leading its peers worldwide through not only its strong public commitment but the impactful programs and efforts taking place on the ground every day," said Aniela Unguresan, cofounder, EDGE Certified Foundation. "Through this global EDGE Certification, SAP continues to set the standard for gender equality in technology. We applaud their efforts to promote a workforce that facilitates a culture of diversity, inclusion and equality."
About EDGE Certification
EDGE is the leading global assessment methodology and business certification standard for gender equality. EDGE Certification has been designed to help organizations not only create an optimal workplace for women and men but also benefit from it. EDGE stands for Economic Dividends for Gender Equality and is distinguished by its rigor and focus on business impact. The methodology uses a business, rather than theoretical approach that incorporates benchmarking, metrics and accountability into the process. It assesses policies, practices and numbers across five different areas of analysis: equal pay for equivalent work, recruitment and promotion, leadership development training and mentoring, flexible working and organization culture. EDGE Certification has received the endorsement of business, government and academic leaders from around the world. The EDGE assessment methodology was developed by the EDGE Certified Foundation and launched at the World Economic Forum in 2011.
Author: SAP News
https://erpnews.com/v2/wp-content/uploads/2016/09/sap-edge-268x200-1.png
200
268
webmaster
https://erpnews.com/v2/wp-content/uploads/2018/10/[email protected]
webmaster
2016-09-22 00:00:00
2018-11-14 14:13:38
SAP Becomes First Multinational Technology Company to Receive Global Gender Equality Certification