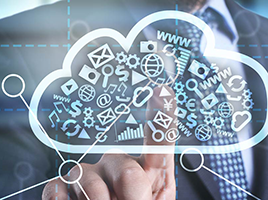 Committing to an organization-wide cloud upgrade can be a daunting prospect, especially if you're not grasping the big payoff.

Here are five reasons why you should consider moving your enterprise resource planning (ERP) to the cloud.
1. SAP S/4HANA delivers data in real time and works even better over time
SAP's evolution over the past 40 years is similar to that of a stock market, according to Wieland Schreiner, executive vice president for SAP S/4HANA. In the early days, people raised their hands to close the stock market, a process that took 10 seconds to compete.
But technology enables markets today to close in microseconds. With embedded analytics, simulation, prediction and decision support, SAP S/4HANA is helping businesses run their businesses at the same speed. The best part? "The system learns from decisions made from the end-user, and builds, based on machine learning, the right decisions for the future," Schreiner said at SAP TechEd in Las Vegas on Tuesday. SAP S/4HANA, then, is the digital core of any business looking to push their ERP processes into the cloud.
2. SAP S/4HANA is a cloud-based solution that evolves at the speed of business
Cloud-services are consumed predominately by LoBs, according to Sven Denecken, SVP of Product Management & Co-Innovation for SAP S/4HANA. On a quarterly basis, SAP looks at the entire enterprise management portfolio and augments SAP S/4HANA based on what's working at other businesses. "[Customers] want the best practices and they want to start there," Denecken said. There's even a roadmap customers can consider as they begin on their journeys.
3. ERP cloud solutions are all about customer choice
When customers decide they want to move their core business processes to the cloud, they can "activate" certain aspects that align to their strategies. "We are in the SaaS business of enterprise management," Denecken said. "Consumption [is based on] the speed and the desire of the company, not the vendor."
4. With the cloud, there's room to customize without cumbersome maintenance
Customers can configure cloud ERP solutions to their needs, such as adding a different field. But the beauty of SAP's solutions is that they're designed to "stick to cloud qualities without limiting the customers," Schreiner said. "We want to apply the established business practices that we have seen over 20 years, put them into the cloud, ready to consume, and only give them a guided customization for the last pieces."
5. Bringing core ERP to the cloud can be done in three steps
Denecken offered this advise to viewers who are looking to make their move to the cloud: (1) Test their readiness; (2) Pick the area of business where the discussion should start; and (3) Try SAP S/4HANA for free before making the investment.
Author: Angela Schuller
https://erpnews.com/v2/wp-content/uploads/2016/09/sap-erp-cloud-268x200-1.png
200
268
webmaster
https://erpnews.com/v2/wp-content/uploads/2018/10/[email protected]
webmaster
2016-09-26 00:00:00
2018-11-14 14:13:36
5 Reasons Your Business Should Bring ERP into the Cloud