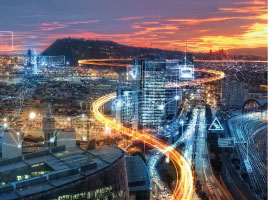 "Smart Cities" are a hot topic these days. India has undertaken an initiative to create 100 smart cities across the country. Partnerships with technology companies are underway in cities from Singapore to Toronto. But what does it mean for a city to be "smart"?
A convergence of new technologies from the cloud to mobile devices, to the Internet of Things, are driving new government services that are more widely available, cost less, and are easier to deliver, monitor and track. A simple example: San Francisco installed sensors on curbside parking meters and in parking garages, and connected them to a mobile app that tells motorists where parking is available. This leads to less circling, lower traffic volumes and fewer emissions.
But smart cities are not all about technology. The ultimate goal is to improve the quality of life for citizens. This is the approach that Dubai has taken in its smart city initiative. HH Sheikh Mohammed Bin Rashid has laid out a vision to make the emirate "the happiest city on Earth."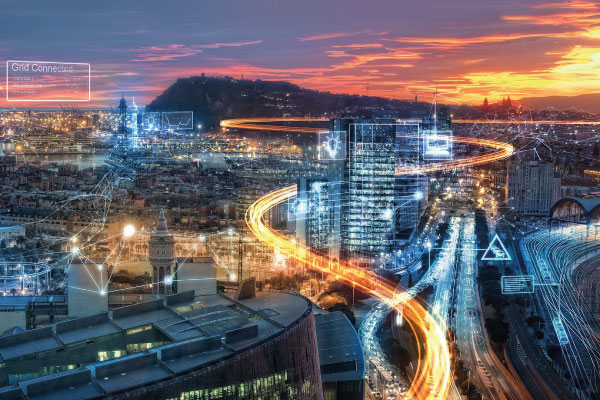 A Blueprint for Emerging Economies
Dubai is home to 4 million residents from 180 countries. It also has a booming tourism industry, welcoming five times its population in visitors every year. With these many people in flux, scalability is crucial to providing any reliable level of government service. This is one of the reasons that Dubai is turning to the cloud for support.
While cities in the developed world focus on upgrading old, legacy technologies, cities in developing nations can bake smart services into a set of greenfield initiatives. In the same way that developing nations skipped over land-line telephones straight to mobile devices, they can avoid the cost and time of upgrading on-premises systems and jump straight into the cloud including the core ERP systems that finance professionals rely on daily.
With its fast-growing economy, Dubai is ahead of the game. The emirate already has an existing roster of more than 1,000 e-services, putting it ahead of other cities in the "smart" category. It hopes to serve as a blueprint for emerging economies.
Supporting Smart Cities in the Cloud
Dubai is home to more than 300 technology firms, many of which are working closely with the emirate to develop new initiatives. One example is Dubai Careers, designed to change the concept of employment from searching for a job into finding a future career path.
Applicants can create an employment profile to access job opportunities available in Dubai government entities and, later, their profiles may be shared with private sector companies. The centralized platform provides a smart mechanism for recruitment where employers can quickly find the talent they need, which in turn attracts more talent. Technology providers involved in this initiative include LinkedIn, SDG and Oracle; the solution leverages Oracle Human Capital Management Cloud.
What's Finance Got to Do with It?
Government financial officers can play a key role in enabling smart city transformations. Deloitte recommends three steps to consider as leaders look to fund smart city initiatives.
Support fiscal incentives, public-private partnerships, and qualified infrastructure bonds specifically focused on smart city requirements. These policies can reduce the near-term cost of investing in technology while balancing the risks and rewards.
Incorporate performance-based approaches for revenue sharing into delivery models for smart city systems. This way, both the public procurer of services and private-sector investors share the spoils from efficiency gains, advertising-generated income, and value-added smart city analytics.
Encourage active collaboration at all levels of government (national, state/province, municipal). This opens the door to potential funding for special-purpose services and innovations.
Finally, make sure that your financial systems are cloud-enabled, while still providing the security and functionality required at all levels of government. Finance systems to look at include core financials, project portfolio management, procurement, financial close, risk management, and financial planning and analysis.
Arun Khehar, Senior Vice President Applications, Oracle ECEMEA
https://erpnews.com/v2/wp-content/uploads/2018/11/smart-city-cap.jpg
200
268
katie
https://erpnews.com/v2/wp-content/uploads/2018/10/[email protected]
katie
2018-11-28 23:06:40
2018-12-13 11:54:26
How Are Smart Cities Leading Change?