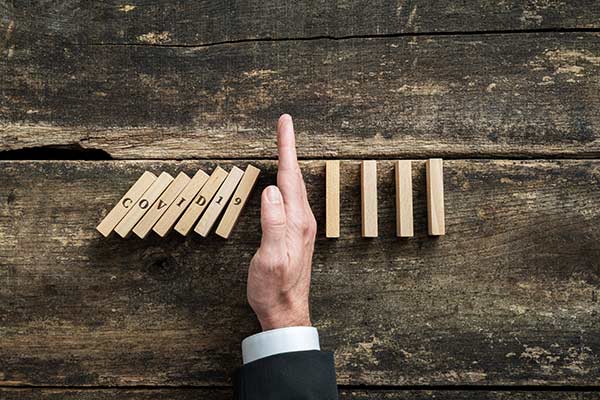 During the pandemic, companies are now experiencing an unprecedented reliance on ERP software to help them maintain business continuity. ERP touches every aspect of operations and has created vital connections to business leaders and staff, who are now working remotely. And where cloud ERP exists, companies have even greater support during the volatile environment we find ourselves in – where supply and demand have quickly gotten out of sync.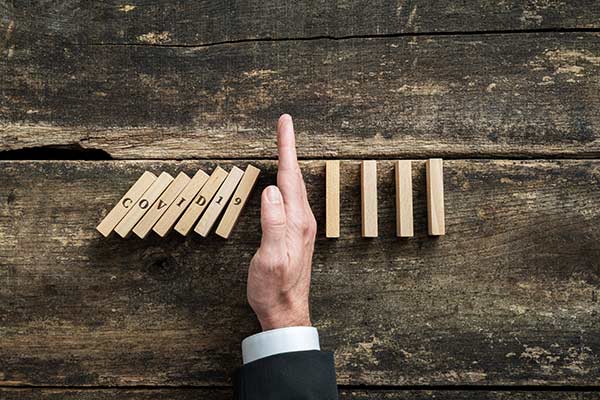 This outbreak has resulted in a significant loss of human life and dire economic consequences. And as we face the future – reopening the economy in phases – we must try to salvage some lessons from the wreckage. It will be difficult for business leaders to achieve a new norm, but one consequence may be that companies, long-suffering under the yoke of legacy ERPs that are difficult to adapt, will finally chart a path toward digital transformation.
Tracking COVID-19's Impact
Due to COVID-19 disruptions, many companies we deal with – namely manufacturing, distribution, and supply chain organizations – were forced to put ERP implementation projects on hold and to shift priorities and resources to meet new realities.
In early February, companies began to experience disruptions to supply chains, especially those that relied on supplies from China. Now, companies are reassessing whether they should be so dependent on one country for the material. They're determining how they can diversify their supply chain – even using local suppliers.
As various states issued "stay at home" orders, businesses had to enable employees to work from home. Even "essential" businesses that continued to operate wanted to minimize the number of workers entering their facilities. Companies that had already embraced cloud ERP were in a far better position to flip the switch to remote work. But some weren't set up to support remote access to their legacy systems. For example, they didn't have enough bandwidth, VPN capacity, remote desktop capability or even PCs to give employees.
Some companies realized remote work could actually be advantageous in the long term and help to reduce costs. In addition, companies could access a new pool of remote talent – a welcome benefit since recruiting and hiring experienced staff has traditionally been a challenge in the manufacturing industry.
Through the Lens of the Pandemic: A Renewed Appreciation for Cloud ERP
Some companies that were close to going live on cloud ERP were able to push forward, despite government-ordered lockdowns. They were able to use remote implementation strategies to deploy new systems successfully, and in this way, they've been able to take advantage of cloud ERP benefits sooner, rather than later.
With all of these changes, business leaders have experienced a renewed appreciation of cloud ERP. Those who didn't have it in place when the pandemic hit wished they'd acted sooner to upgrade. Now, as the economy begins to reopen, these projects will likely be reprioritized as they've seen how cloud ERP can give manufacturers a leg up. With modern ERP in place, they can keep a closer eye on demand, gain better visibility into their supply chains, support a remote workforce, and track key performance indicators (KPIs), so they know how their businesses are doing in real-time.
Ongoing Adaptation: The New Normal
The effects on business haven't all been negative. Companies that are manufacturing or distributing "essential" products are booming – some even overwhelmed by demand. Since these companies remained open during the pandemic, they were also tasked with creating a safe work environment for employees, taking social distancing and cleaning guidelines into account, all while increasing production.
To minimize exposure, one of our customers installed automatic doors to prevent spread via communal door surfaces. Manufacturers also redesigned shop floors to keep workers six feet apart, as well as providing employees with appropriate personal protective equipment (PPE), disinfectants, and hand-washing stations.
Some of our customers have modified their production lines entirely to manufacture much-needed products in the war against the virus, such as PPE and hand sanitizer. This required a nimble operations team and a flexible ERP in order to quickly change gears.
Deeper into the economic shutdown, companies have struggled to stay afloat. Many have issues with unpaid invoices, as well as customers asking for discounts or flexible payment terms. Keeping an eye on cash flow is critical during these times, and again, a modern ERP can help by providing greater visibility into receivables and payments.
Clearly, there's a ripple effect that's in play up and down supply chains that puts pressure on everyone. And unfortunately, some of these issues are going to be with us for the foreseeable future.
Post-COVID-19: Business, as Usual, Doesn't Mean ERP as Usual
Getting back to "business as usual" after COVID-19 may be over a year away, depending on the industry and, of course, how successfully the virus can be contained.
There are many indications that manufacturers – once they've regained some financial stability – will look to replace obsolete legacy systems with modern cloud ERP solutions. If there's one thing the pandemic has done is shine a light on the gaps and clunky-ness of older systems.
After the pandemic, we're also going to see the use of certain work scenarios continue. For example, many employees now have a work-from-home setup in place, which can be further strengthened with cloud, mobile, and social ERP capabilities. And if those same tools are shared across the enterprise so ERP and CRM are one platform, many of the data and departmental divides of the past can be eliminated. These modern systems provide a much more collaborative platform that will enable sales and operations to operate in lockstep with one another after the pandemic and into the future.
Farewell to Legacy ERP
COVID-19 has actually helped accelerate digitization and enabled companies to bid a final farewell to legacy ERP systems. Manufacturers that didn't take steps toward digital transformation prior to the pandemic found themselves in a tough spot.
Legacy ERP systems – many of which are 10 to 20 years old – haven't been able to effectively meet digital business needs during the pandemic. From a user's perspective, they were too difficult to adapt to remote working conditions. From a data perspective, they weren't able to provide real-time access to the KPIs companies needed to respond to market shifts. And in terms of capabilities, they couldn't provide the agility to adapt to such volatile business conditions.
Companies that chose to modify production to deliver much-needed products in the midst of the pandemic found the flexibility of cloud ERP instrumental in being able to pivot and crank up production on new product lines. Companies must continue to re-evaluate and adjust production to the most promising opportunities going forward.
In contrast to stagnated legacy systems, digital transformation aims to integrate the latest technologies – such as cloud, autonomous equipment, robotics, IoT sensors, mobile apps, and remote-enabled capabilities – to drive efficiency, data insights, and enhanced interactions among manufacturers, suppliers, and customers.
Cloud ERP is a vital part and centerpiece of digital transformation. It provides greater visibility into performance metrics and greater flexibility to manage operations in the pandemic's fast-changing business environment. In addition, it also places companies ahead of the curve as the economy begins to reopen.
About Rootstock Software
Rootstock Software is a worldwide provider of cloud ERP on the Salesforce Platform. When combined with Salesforce CRM, Rootstock Cloud ERP offers manufacturing, distribution, and supply chain organizations a single platform to grow and manage their businesses. Rootstock Cloud ERP is a flexible, modern, and digitally connected system that transforms companies to deliver a more personalized customer experience, efficiently scale operations, and out-service the competition. To learn more, please visit www.rootstock.com.
https://erpnews.com/v2/wp-content/uploads/2020/06/erp-1.jpg
400
600
katie
https://erpnews.com/v2/wp-content/uploads/2018/10/[email protected]
katie
2020-06-04 15:17:02
2020-06-04 15:17:31
COVID-19: The Unlikely Catalyst for ERP Digital Transformation