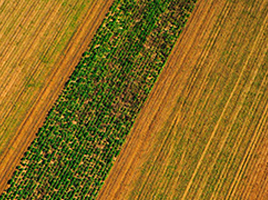 Leading companies are hard-chargers when it comes to growth, but often struggle to get intelligent insights from far-flung operations as the business expands.
In this video from the SAPPHIRE NOW and ASUG Annual Conference, Kris Cowles, vice president of Business Applications IT for Topcon Positioning Systems, shared her company's journey using SAP S/4HANA Cloud to help drive international growth.

SAP S/4HANA Cloud Takes on Challenge: Fast Growth at Lower Cost
Topcon's story is really about housing and feeding the 9 billion people expected on the planet by 2030. Sustainable agriculture and infrastructure businesses rely on Topcon's technology to make work sites and farms smarter and more efficient. Cowles said the company selected SAP S/4HANA Cloud to standardize business practices across subsidiaries in nine countries.
"Part of the goal in trying to scale is, how do we get insight into our business? How do we have data that actually means something coming from all these locations? And how do we have the insight into our markets that we need with a fractured landscape like this," she said.
Using SAP S/4HANA Cloud, Topcon is linking data from retail operations with manufacturing and distribution centers. "Having inventory in nine countries on different systems was almost impossible to manage, so having not just the visibility to the supply chain, but now the integration across the landscape of what's being sold into the distribution hub for supply and demand planning, is significant," said Cowles.
Local Benefits, Finance Wins Big
Topcon's priorities for the cloud-based system included helping local teams manage their business with speed and accurate efficiency. To date, finance is the biggest winner.
"They get to take advantage of some pretty nice and sophisticated capabilities, particularly in the financial aspects of SAP S/4HANA Cloud," said Cowles. "Our happiest users on this system are our finance users, because they're closing the books almost three days faster than what they were doing before on a local level, and then our central operations people; they were seriously compiling seven different spreadsheets per month."
Borderless Visibility Fosters Collaboration at Topcon

With operations in numerous countries, Cowles said another must-have was connecting the entire business chain from customers through distribution and corporate.
"Then you can see and touch what's happening in your local market, whether there's quality issues, whether a product is taking off in a particular market, whether there's demand or supply chain issues. That visibility [wasn't] there, so we needed the connectivity to help drive the collaboration," she said.
Assessing Business Outcomes
Since the solution went live, Cowles said the company has experienced significant business outcomes from SAP S/4HANA Cloud.
"The TCO for us comes in inventory reduction, in reduction of touches in between the companies, and the ability to have the visibility and make the adjustments to the business that we need to make based on actually knowing what's happening," she said.
She added that quarterly releases allow subsidiaries to take advantage of SAP innovations at a pace that makes sense for them, without waiting for corporate to move ahead.
How to Get Started
Cowles advised companies to begin with lower-risk scenarios and educate employees about cloud.
Both executives and business users need continuous education on the benefits of standardizing certain processes in the cloud, and how this impacts IT responsibilities and the relationship with SAP. It's a different kind of change management.
"If you're dependent on the road map or you're dependent on the release schedule, what does that mean?" said Cowles. "And then articulating that to both your users and your executives is pretty critical."
Like other market leaders, Topcon's journey with cloud has just begun, evolving from disparate legacy systems to the intelligent enterprise. Nine billion people will be counting on them.
https://erpnews.com/v2/wp-content/uploads/2018/08/growth-268-1.jpg
200
268
webmaster
https://erpnews.com/v2/wp-content/uploads/2018/10/[email protected]
webmaster
2018-08-31 00:00:00
2018-11-14 14:07:35
SAP S/4HANA Cloud Drives Global Growth at Topcon