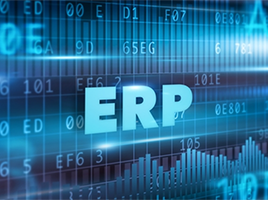 ERP News – worldwide – erpnews.com – Typically, a new year prompts management to take a look backward to see what last year's endeavors accomplished and where there were difficulties or even setbacks. If you're a member of the management team and your process manufacturing company ended the year with lackluster performance and profits, consider making an investment in Enterprise Resource Planning (ERP) software in 2016.
ERP software is a business and process management solution with the ability to facilitate better communication between all areas of the business, integrate meaningful functionalities, streamline processes, plus store, collect, manage, and interpret data from multiple sources in a single, centralized database that uses business intelligence (BI) for analysis and reporting.
ERP Signals
Deviation in inventory numbers – Did you uncover a shocking discrepancy when you compared the inventory counts in your records to the actual amounts found on your warehouse shelves? If you experience a 20 percent or more deviation in the amount of items you thought were sold and what you have warehoused, you've made less profit in 2015, a huge disappointment. If you relied on pen and paper tools and physical counting, that's part of your problem. Another could be a lack of automation in your processes and supply chain management. ERP software provides solutions in purchasing and inventory control, material requirements planning (MRP), warehouse management system, and dock scheduling. A technology solution helps streamline your entire operation through automation and less "hands-on" activity.
Poor accounting practices – Did you struggle with cash-flow difficulties last year because invoices were inaccurate and not generated in a timely manner? If so, this could be the result of "silent systems," accounting areas that operate in their own silos without knowledge of what the other accounting departments are doing. ERP software keeps all accounting areas––accounts payable and receivable, general ledger, lot and batch costing, payroll and Human Resources––talking to each other and working together to create efficiencies and positive cash flow.
Old and outdated ERP system – Did you leave money on the table because your 10-year-old ERP software couldn't handle your current needs? The size of your operation may have grown with increased product offerings, multiple new locations, new markets, etc. Today's ERP software solution is more robust and scalable to your needs, including industry best practices in quality control, certification and validation, lot traceability, plus governmental compliance with FDA (Food and Drug Administration, GHS (Globally Harmonized System of Classification and Labeling of Chemicals, and SDS (Safety Data Sheets.)
Inadequate reporting – Was  it difficult to make the best manufacturing decisions this past year because you couldn't secure the correct data or retrieve necessary information or analytics from your system? The integrated reporting function in an ERP solution utilizes a BI suite, and can assist you with sales and financial reports, production planning and scheduling, and the execution of your manufacturing processes. BI sorts, groups, filters, graphs, and dashboards historical and real time data. This data is then transformed into reports that are meaningful and helpful for analytical decision-making. An added benefit: the language and reporting functions are designed for easy understanding and execution by staff unfamiliar with information technology (IT).
Loss of customers – Did you lose customers who weren't satisfied with your level of customer service? Did your sales department find it difficult to secure new customers? The integrated customer relationship management (CRM) functionality in an ERP software solution helps your organization become more customer focused by analyzing, managing, and integrating sales, marketing, and customer care practices at every point of contact––prospecting, closing sales more quickly, and developing durable relationships across all channels. By using an ERP system, you are also able to manage your order entry and contract management to create a systematic flow that can help boost your sales and provide you with exceptional growth potential.
Overwhelmed by regulations ­– Did you find it especially difficult to handle compliance challenges in 2015? ERP software can help you. For example, ERP software helps chemical manufacturers with OSHA requirements and GHS mandates for staff training, labeling, documentation, and SDS creation. Brewers use ERP software to assist with TTB (Tax and Trade Bureau) regulations, including complex documentation. Food manufacturers address FDA safety requirements, forward/backward traceability, and quality assurance with ERP software. ERP software assists process manufacturers in the management, monitoring, and tracking of complicated recipes and formulas, and provides the documentation tools and procedures you need to satisfy governmental and other regulators.
https://erpnews.com/v2/wp-content/uploads/2016/03/erp-268-1.png
200
268
webmaster
https://erpnews.com/v2/wp-content/uploads/2018/10/[email protected]
webmaster
2016-02-29 00:00:00
2016-02-29 00:00:00
6 Signals You Need ERP for '16