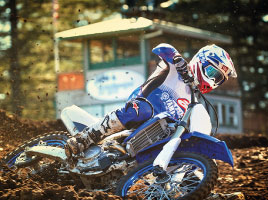 Glenn Coles joined Yamaha Motor Co. in 2006 and functions as its North American general manager and CIO. As a former pro-level motocross racer, it was always his dream to enter the corporate motorsports world, though as a kid he had dreamed it would be through the "factory rider" door, not so much the IT one.
Still, those years of sponsored racing power sliding and handlebar rubbing on the tracks of Southern California give Coles a deep understanding of Yamaha's customer. "I know exactly what it means to be an enthusiast, living the lifestyle and being a consumer of numerous power and marine sports products," he says. "That has a real power to it."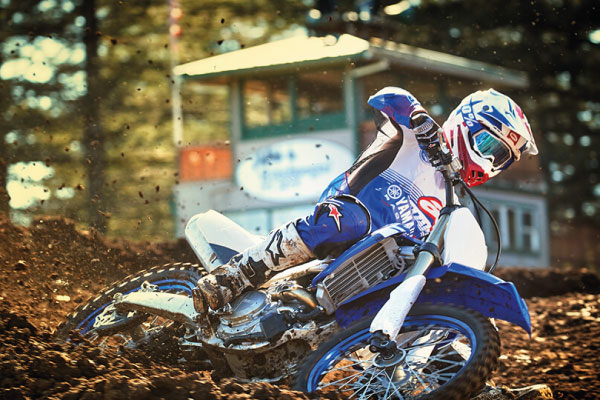 Meanwhile, Coles' more than 30 years as an IT professional and leader also are proving invaluable to Yamaha Motor as it augments its world-class motorcycles, ATVs, outboard marine engines, watercraft, golf cars and other products with cutting-edge technology.
Yamaha is making a big statement with the 2018 model of its dirt competition race bike, the YZ450F, which packs what one trade press reviewer called "the most innovative technology available to the consumer to date." The coolest YZ450F advance is its Power Tuner app, which riders can now download to their iOS or Android smartphones to make fueling and ignition-timing changes in order to optimize the bike's performance given current track conditions. (A separate app screen alerts riders when the bike needs an oil change or other maintenance.)
For example, riders on a dry, hard-packed track might consider decreasing the fuel injection and retarding the ignition timing to make the engine run smoother and less responsive. Or if the track has lots of traction, riders will want quicker acceleration, which calls for increasing the fuel injection and advancing the ignition timing.
Once the Power Tuner app connects to the YZ450F via the bike's onboard Wi-Fi system, riders can call up a 3D map of different fuel-injection and ignition-timing settings, 16 points of adjustment in all, allowing riders to experiment. "You can tailor the way the bike behaves -when it delivers its power- and get a competitive advantage over a bike that is tuned for every condition," Coles says.
New Service Model Ahead
Cutting-edge information technology will also change Yamaha Motor's service model. The company is implementing Oracle Knowledge Advanced, a module of the Oracle Service Cloud suite that will give Yamaha's support organization quick, repeatable access to a centralized, curated repository of service manuals and other reference artifacts.
Coles' team will layer the module on top of Yamaha's on-premises Oracle Siebel CRM contact management application, reducing the time and cost of customer service while improving the quality. This approach helps protect current investments while adding modern capabilities, he says.
Looking even further down the road, a proof of concept developed by Yamaha Motor and Oracle shows how Oracle Knowledge Advanced, supplemented by augmented reality (AR) glasses and bike sensors plugged into Oracle Internet of Things Cloud Service, could transform the way field service technicians and owners maintain and repair a power sports product such as a motorcycle.
In a demonstration at Oracle Modern Customer Experience in Chicago last month, an individual wearing the AR glasses just had to look at the motorcycle's vehicle identification number and a digital overlay was displayed with key component metrics, such as coolant temperature, oil pressure and battery voltage. Metrics displayed in red indicated a problem; those variables in green were within the normal range.
The idea is to let technicians and, eventually, consumers view vehicle components from any angle and discover issues without having to take the vehicle apart. The proof of concept even presents step-by-step service and maintenance procedures using eye-catching 3D AR animations.
Given the cost of the supporting technology, Coles figures commercial use of such a capability is about two to three years away, though he acknowledges that Moore's Law has a way of accelerating such timeframes. Perhaps a bigger issue than cost, he says, is getting buy-in and readiness for this kind of new service-delivery model from Yamaha Motor's partner network and consumers.
"This could represent a huge leap forward from today's approach," Coles says. "This isn't vaporware or a PowerPoint presentation. This was created as a real proof of concept for us to be able to show what can be, and for us to help drive the art of the possible within Yamaha Motor."

Technology Leadership
The art of the possible technology-wise is coming into clearer focus at the company with recent executive leadership appointments at Yamaha Motor US and across Yamaha Motor Co., the US$15.5 billion (fiscal 2017 net sales) parent company based in Iwata, Japan. Technological advancement is a core focus for the company moving forward. It's a vision that Coles says he has been steadfastly evangelizing.
Coles acknowledges that the power sports industry is still catching up to the automotive industry when it comes to technologies such as the Internet of Things. The likes of General Motors, Hyundai and BMW have networked their vehicles and manufacturing plants for years, extracting IoT sensor data to inform product development, improve manufacturing processes, alert customers to maintenance issues, deliver infotainment services and improve vehicle navigation and safety. Down the road, of course, is the self-driving vehicle. A 2016 McKinsey study predicted that data and mobility services related to connected vehicles could generate as much as $1.5 trillion in revenue by 2030.
"The consumer is the king, and consumer trends and demands will change our industry. Yamaha is not going to change the consumer," Coles says of the company's tech innovation efforts. "But it's our job to innovate, stay consumer-relevant and help enable the future with them. There's no secret sauce there. Innovate or lose. So now it's a matter of speed and differentiation."
The company, like its competitors, is early in its connected vehicle journey, he says. "The things like what we're doing with AR, we're using that as an icebreaker, pulling in the cloud products from Oracle, showing what can be," Coles says. "And now with our strong executive leadership across the company, I think the future looks really bright for Yamaha Motor."
Rob Preston is editorial director in Oracle's Content Central organization.
https://erpnews.com/v2/wp-content/uploads/2018/12/yamaha-cap.jpg
200
268
katie
https://erpnews.com/v2/wp-content/uploads/2018/10/[email protected]
katie
2018-12-04 15:23:20
2019-01-10 13:45:40
Yamaha Motor Opens the Throttle on Innovation and Its Connected Vehicle Strategy