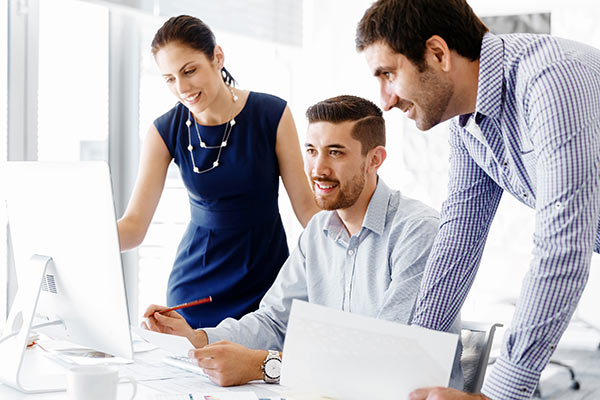 IFS Vice President of Construction, Engineering and Infrastructure, Kenny Ingram, shares four tips for optimizing an engineering consultancy business.
These are some of the most turbulent times society and business have ever experienced. With this disruption comes the opportunity to rethink how you run your business. If you embrace the change and make the right decisions, you can optimize your business and get ahead of your competition.
Most consultancy businesses are driven by the following four value pillars regardless of whether your clients are, for example, construction companies, product manufacturers or energy, and utilities companies:
Cost reduction and increased margins
Risk mitigation, governance, and control
Improved customer experience and satisfaction
Business growth and brand strengthening
1. Cost Reduction and Increased Margins
If we focus on cost, then labor will be the largest cost driver. Labor utilization, efficiency, and competence are critical to making good margins.
Another significant cost is expenses. If the consultancy work is performed on the client site, then travel expenses need to be carefully managed particularly if the client is not reimbursing these costs. The other main cost driver is overheads, such as office costs, which can also be very significant if relating to prime locations. The COVID-19 pandemic is a game-changer because businesses have learned what they can and cannot do away from the office.
If all or a large percentage of your consultants could work from home then there is a huge saving opportunity to cut expenses, reduce office space, and increase productivity. The main reason we spend our time traveling to a work location—wasting time and money and polluting the atmosphere—is because historically we had no choice. Today there is very little reason to do this; it is a habit that has been broken in 2020, previously it was the employer's or clients' lack of trust that stopped working from home trend gaining ground.
This of course assumes you have the right business systems that allow remote working to be possible. Working from home can also offer major advantages to the client or when having global internal meetings when time zones are a challenge.
High labor utilization is critical to achieving strong margins. To achieve this, you need to have processes and systems that give you accurate information to plan, control, and develop your primary asset—your people. The most successful consultancy companies have the best, most knowledgeable, self-motivated, professional people. They also attract the best, young talent, which will also make your business more profitable.
So, if you offer your employees flexible working conditions, you will attract the best people and they will reward you with high staff retention, another factor which will increase your margins
In addition, by exploiting new technologies such as Agile ERP, Mobile Applications, Automation, and AI there is the potential for game-changing improvements throughout your enterprise.
If you get this right you can become the most reliable, innovative, and trusted engineering consultancy —and that gives you the potential to demand higher contract values.
2. Risk Mitigation, Governance and Control
Consultancy businesses are project-centric, so having effective governance and control is about having proficient project management processes and systems. If your business is using lots of different non-integrated business systems and depends on Excel to support the business processes and provide management information, then you are not in a good place.
To optimize your business you need integrated world-class project processes.
At the front end of the project process, you need Bid Management and CRM processes and systems and good discipline to manage your pipeline and increase your win rate. You need to be able to:
Prepare project cost and revenue estimates and generate a project budget. This needs to be based on both hours and money
Control contract changes and gets paid for these changes
Manage project risk throughout all stages of the project and drive actions to mitigate this risk
From a financial control perspective, you need a solid accounting system that supports project accounting and WIP management that is fully integrated with project cost control and forecasting.
This also needs to be fully integrated with easy-to-use project time booking, expense recording, and procurement. The solution needs to drive accurate time recording and management to ensure that project invoicing is accurate and timely. You also need a tool that makes it easy to manage sub-contract resources and supports multi-company projects and intercompany billing and accounting.
Margins are driven by labor efficiency and utilization, so you need to be able to analyze consultant utilization and identify areas that need to be improved. This will then drive your employee development and training program.
You need to have a proper project plan that gives you the option to integrate into tools such as Microsoft Project or Primavera. The project plan needs to help you:
Generate a forecast of the future resource requirements and allow you to simulate the impact of different scenarios
Allocate specific people to project tasks based on their availability, skills, and competence
Forecast and identify your future skills gap to drive timely training or recruitment plans—to be ready to meet future demands
Track project progress and calculate earned value
Managing project documentation is critical so you need a proper document control system, not windows folders. This should be integrated with the business system.
If you can execute all of the above without having a patchwork quilt of different business systems and excess use of Excel spreadsheets then you will be in a strong position. You will then have solid control and governance and will be able to adapt and change your business quickly.
In short, your business will be more future proof.
Increasing the control and predictability throughout the enterprise drives better more informed decisions sustaining higher project margins. In summary, it will allow your business to:
Manage project risk
Improve project control and transparency
Be less dependent on Excel and localized uncontrolled data sources
Be agile and support remote working with no business disruption
Make real-time and accurate data visible across the business
3. Improve Customer Experience and Satisfaction
Businesses must provide excellent client satisfaction. Interestingly, it is unlikely to be achieved unless your employees are working in a company where the culture generates happy, motivated, empowered employees. The client wants excellent value for money. They want you to deliver your projects on time every time and deliver them on budget. They want you to be professional and trustworthy experts in your field and deliver a quality solution. They would like you to exceed their expectations and be innovative. In short, they want you to be their trusted partner.
You are in a people business, so you need to have the best people. You need to provide these people with the best processes, tools, and business systems to do their job, invest in their training and development, so you have the best people both now and in the future.  This will allow you to attract the best young talent and have the best employee retention. This is the key to giving your clients the best customer experience and boosting satisfaction.
4. Business Growth and Strengthening your Brand
Growing your business is usually a key stakeholder objective, however, growth without profitability is not a desirable outcome. The macroeconomic situation will dictate what level of growth, or in some cases, contraction is achievable. The COVID-19 crisis has made it hard to grow in some segments, so it is more realistic to focus on market share. You will want to grow your market share and be agile enough to change your market sector to focus quickly and profitably. You might want to exit and enter markets by acquisition or opening new companies, or maybe divisions in different regions or countries.
For many companies, making these shifts in strategy are very difficult and are hampered by having decentralized fragmented processes and business systems, which means they cannot adapt and change quickly—and it is also very costly.
Growth is not usually enabled by doing one thing, but by taking decisions to do a mix of different things and by adopting modern innovative best practices including:
Strengthen the company brand and reputation by demonstrating strong project delivery performance (your clients, partners, and employees see you as the innovative market leader)
Increase pipeline & bid win rate— this can be improved by having a modern CRM business system and processes
Lower Cost—by reducing your business costs you can be more competitive
Compliance—often clients need you to prove you are compliant with industry or country requirements
Agility to expand into new markets and business streams
All of the above will result in increasing the market value of your company.
The time to change is now
The best practices above leave an organization strongly placed to enter and exit market segments and the right size for profitability. With the current COVID-19 situation it is natural to be risk-averse and you may think it is best to delay transformation projects. On the other hand, the strongest companies are those that anticipate the future and act accordingly. The stock market and many companies are thinking beyond the next 18 months when a recovery is predicted and making investments now to gain competitive advantage.
For many, investing now will prove to be a wise choice. The biggest single factor determining the success of a transformation project is freeing up resources and so it is a well-cited argument that recessions can be a good time to invest in transformation. Implementations can, deliberately, be staged over years and so the sooner projects are started, the better. IFS offers you the ability to make this transition, starting now.
The strongest companies are those that anticipate the future and act accordingly, now is the time to prepare for the future and gain on your competition.
Access more engineering information and resources here.
https://erpnews.com/v2/wp-content/uploads/2020/10/consultancy.jpg
400
600
katie
https://erpnews.com/v2/wp-content/uploads/2018/10/[email protected]
katie
2020-10-09 13:15:27
2020-10-09 13:15:27
Optimize Your Engineering Consultancy Business