Get 2019 ERP Pricing: 45 different ERP systems profiled including Epicor, Microsoft, SAP and more. Click to download your free guide.
We analyze in this video, what type of transformation ERP systems went through over the course of many years by turning into a concept that is no longer considered a luxury and which holds the future of organizations in its hand.
We came across many new innovations with regards to this technology. With these innovations, organizations' expectations about the ERP systems have evolved. Let's take a closer look at how the ERP systems have changed and advanced in the last three years;
Top 5 Reasons for ERP Implementation
When the ERP implementation was mentioned in 2015, expectations of the organizations were generally these 5 items respectively;
Replace Legacy System
Improve Business Performance
Integrate Multiple Systems
Active Company Growth
Ensure Regulatory Compliance
When we come to 2016, organizations' need for an ERP system originated from these 5 items;
Replace Legacy System
Achieve Company Growth
Improve Business Performance
Ensure Regulatory Compliance
Simplify Employee Tasks
Unlike 2015's items, features that are sought for by companies who are in search of an ERP system has changed.  Simplifying Employee Tasks, which has joined the list in 2016 is of crucial importance.
But the list dramatically changed in 2017;
Improve Business Performance
Simplify Employee Tasks
Ensure Regulatory Compliance
Integrate Multiple Systems
Replace Legacy System
In 2018 which we can claim as the most recent past, list of the reasons why an organization needs an ERP system is as follows;
Improve Business Performance
Achieve Company Growth
Reduce Working Capital
Better Serve Customers
Simplify Employee Tasks
When we take a look at the last two years, we see that the importance of improving business performance is much higher. In addition to this, we can see that companies who are looking for an ERP system are in this search with the goal of serving their customers better and saving on their capital.
Most Frequently Selected ERP Vendors
The number of alternative ERP providers has increased based on the need for an ERP system within years. Although there are many alternatives today, the most preferred ERP providers are given below;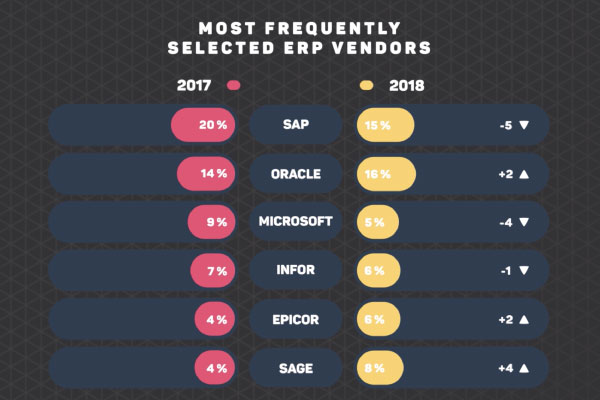 Type of ERP Software
With technological advancements, important changes took place within ERP system structures. While the use of an On-Premise ERP was at 56%, the use of a Cloud ERP was 11% and software service was 33% by 2015. We can see that these rates have changed completely when we have a look at the last year.
Companies who realize how important being mobile is in terms of operational efficiency continue to transfer from an On-Premise ERP to a Cloud ERP. As a result of this, while the use of a Cloud ERP rose to 21% in 2018, On-Premise ERP was utilized by 15% and this rate is expected to become much lower in 2019.
ERP Project Budget and Duration
ERP Systems have always been seen as quite large-scale investments by companies. At the point of turning back from such a large-scale investment without realizing the scale factor, every company becomes worried and has nightmares of a failed ERP project. Now here is a graph about how many ERP projects have exceeded the budget and allocated a  limit;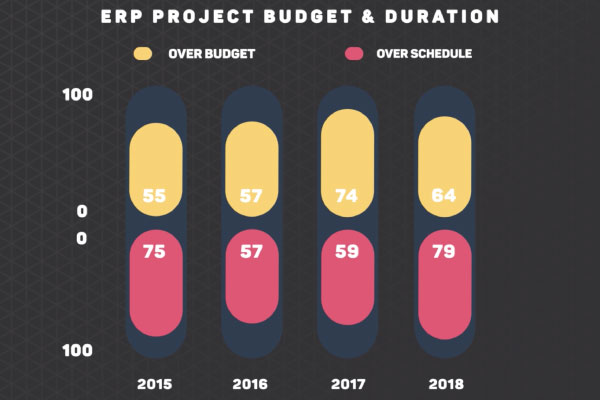 Every company would want to be satisfied with such a big investment. If we look at the rate of companies who are satisfied with their ERP providers by benefiting fully from the ERP software during the last 3 years; we can see that 45% in 2015, 54% in 2016, 26% in 2017 and 68% in 2018 were satisfied. We can see that this rate is increasing gradually thanks to ERP providers' efforts to improving themselves in terms of customer satisfaction.
In light of such information, by looking at the recent past of the ERP systems, there could be one thing we could say about the ERP systems; ERP is a living system and it grows and changes hand in hand with your company.
Source: Panorama Consulting Solutions