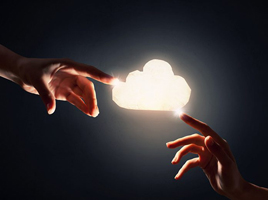 Enterprise Resource Planning – the core software that powers most large businesses – has reached a crucial tipping point.
By 2020, industry analysts believe that four out of every 10 of large organizations will have at least 60% of their ERP applications in the cloud. Overall, the cloud ERP Market (worth $21.1 billion in 2015) is forecast to grow at a compound average rate of 15.5% through 2020 to reach $43.3 billion.
This transition from running core applications like accounting and finance, human resources and production and materials management 'on-premise' (in corporate data centers), to more flexible cloud- based ERP suites that facilitate innovation, has become an IT imperative.
Big Turnaround
As a result, public cloud computing may soon be the default model for medium and large scale enterprises. This is a remarkable turnaround for an IT model that just a few years ago, was viewed with suspicion by most CIOs and considered too risky, flimsy and insecure for prime time. (In reality, cloud-services have proven to be more secure than corporate data centers and much less prone to social-engineered cyberattacks such as fishing, helping boost confidence in the public cloud.)
The move to cloud-based ERP is taking place again the backdrop of a broader shift to cloud computing and cloud-based IT subscription services in both the consumer and enterprise IT markets that itself represents far more than a technology transition.
Unlike previous transitions, the move to enterprise cloud computing is a seismic shift driven not by the IT sector, but by business users faced with the need to innovate and stay ahead of the competition as the digital transformation unfolds.
Nimble, small and midsize businesses have led the way flipping on-premises ERP applications to the cloud as they looked to streamline IT functions and standardize business processes. Now, larger mid-size companies and the divisions and subsidiaries of major enterprises with 1,500 employees or more, are beginning to follow suit.
For these companies, the general ledger sits at the core of their operations and beginning about two years ago, large-enterprise and SMB have shown willingness to adopt cloud-based core financial management applications for the first time.
Cloud Shift
There are compelling reasons to make the shift to cloud-based ERP today. Crucially, it is not really about costs or even technology. It's about business strategy and ensuring that companies can compete and innovate in a digital future.
Many companies are still running old 'legacy' software – some of it 20 or more years old. Often these legacy apps are running on old, out-of-date hardware that is no longer supported. In addition, they have often been heavily customized or cobbled together after acquisitions and lack documentation.
This customization has led to high levels of technical complexity. Worst of all, these old apps are often difficult or impossible to change, stifling innovation and constraining the business operations. And since most software vendors have already shifted their best developers to work on their cloud apps, on-premise legacy apps are falling further and further behind their cloud-based counterparts.
Typically, legacy applications were built as systems of record. While functionally they still 'work' the assumptions and designs at their core are outdated. It is difficult, if not impossible, to retrofit these old applications to compete in today's digital business environment.
By 2018, analysts suggest that 35% of line-of-business managers will demand intelligent enterprise applications to improve business process and resource utilization, and over the next 10 years, they predict that virtually every application and service will incorporate some level of AI.
Innovation
Crucially, the transition to cloud-based ERP and digital transformation will unleash a new wave of innovation, further disrupt old business models and radically change the function of the CIO and role of IT departments in enterprises .
Digital is the new engine of commerce and industry, and the winners will be those enterprises that harness digitization to drive revenues and profits. But companies that remain on legacy ERP applications will be unable to compete in the digital economy and will wither and die.
Innovators like Amazon, Uber and Airbnb have already demonstrated the potential of digital to disrupt whole industries. In the process they have also had had a profound impact on consumers. Business leaders need to better understand what's happening in their business right now and to act on that insight in real-time.
Later this week SAP will launch the next version of S/4HANA Cloud which will offer major ERP suite functionality in the cloud including enterprise-ready functionality for manufacturing, finance, and professional services.
Together with cloud line-of-business applications such as SuccessFactors, Concur and Ariba, the modular S/4HANA Cloud i-ERP suite of applications is designed to meet the digital core requirements of mid-size and enterprise customers.
Paul Taylor
https://erpnews.com/v2/wp-content/uploads/2017/02/cloud-erp-268-1.jpg
200
268
webmaster
https://erpnews.com/v2/wp-content/uploads/2018/10/[email protected]
webmaster
2017-02-15 00:00:00
2018-11-14 14:11:08
Tipping Point for Cloud ERP and Big Companies