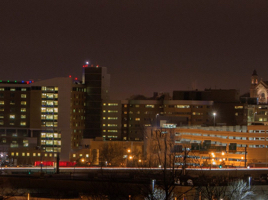 I'm developing a reputation for always having "10 things" I want to share. And you'll hear my "Top 10 Infor product things to be excited about in 2019" if you attend Infor Winter Showcase 2019 on Jan 29-31.
But first, here are my Top 10 reasons to attend our frosty little customer conference in St. Paul:
1. It is intimate
By design, this is a small conference, so customers can meet 1-on-1 with our product developers and product management people.
2. Focus on innovation
Customers rightly expect us to keep building more and more innovation into the products they are using, and that's what you'll hear about. Some are things we're working on that customers may not have heard about, but we're able to talk about now.
Here are few topics to get you going: continuous accounting, inventory intelligence, converged procurement, next-generation payroll, Birst's ground-breaking analytics, data pipelines, Infor TrueCost, Infor Clinical Bridge. Getting excited?
3. Charles Phillips
It's not every day the CEO of a large software company shows up for an intimate customer event in St. Paul, Minnesota, in January. He will be the opening session speaker on Tuesday.
4. More Infor executives
In addition to Charles, Chief Operating Officer Pam Murphy and Chief Customer Officer Susan Beal will also attend.
5. Customer testimonials
Nothing beats hearing directly from fellow customers on the value they are getting from Infor's recent innovations. Among others, you'll hear:
Jim Ollerton, IT director at Elsinore Valley Municipal Water, will talk about their experience on Infor CloudSuite Financials v11 one year into this new product.
Roger Russell, VP of finance at Palos Health, will talk about a new product that not even generally available yet. Inventory Intelligence for Healthcare is baked into Infor CloudSuite Financials, and we're rolling it out right now. Palos is a beta customer, and they love it, and have already seen dollar savings.
6. Test drives
This won't be session after session with 95 PowerPoint slides and just Infor doing all the talking. At the "Academy" sessions, you can get on a laptop and take our products for a test drive.
7. It's free
Our 12 partner sponsors are helping fund this conference to make it free for customers. Pretty sweet. Our sponsors don't get appreciated enough. Thank you.
8. Partner networking
Infor doesn't manage this part, but it is customary throughout the week for our partner sponsors to host networking events, dinners and receptions, after Showcase hours where customers can learn about new things coming from our partners, too.
9. It's not Vegas
What could more exciting than St. Paul in the dead of winter? We've had customers say, "My bosses know if I'm putting in to go to a conference in Minnesota is January, it's not a boondoggle."
10. St. Paul Winter Carnival will be in full swing, too.
You can celebrate winter like a native, but watch out for the Vulcan Krewe!
This year, we have the most customers ever registered for Winter Showcase. We already have a waiting list for one day, so if you have registered and now find you can't attend, please let us know, so we can free up your spot for another customer.
By Todd Stratton, Infor VP of Product Management
https://erpnews.com/v2/wp-content/uploads/2019/01/Winter-Showcase-268pg.jpg
200
268
katie
https://erpnews.com/v2/wp-content/uploads/2018/10/[email protected]
katie
2019-01-21 08:06:26
2019-01-21 08:06:26
Top 10 things to Ice Your Attendance at Infor Winter Showcase