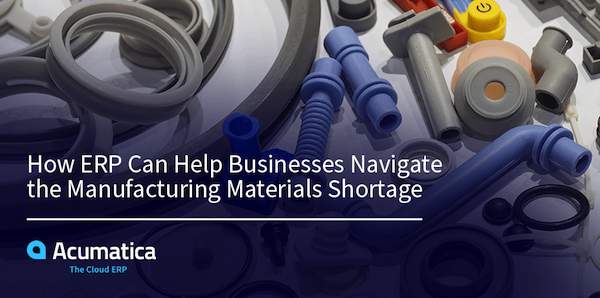 Months have turned into years as manufacturing materials shortages and a massive supply chain disruption—both fueled by the pandemic and the recent geopolitical conflicts—continue to plague manufacturers and consumers alike. Rising demand for products has turned from a blessing to a curse. Manufacturers are unable to meet demand because they can't acquire the raw materials needed to make their products.
The frustration is real, but navigating these challenges, which include rising prices and decreased availability, is possible with a manufacturing-specific ERP system.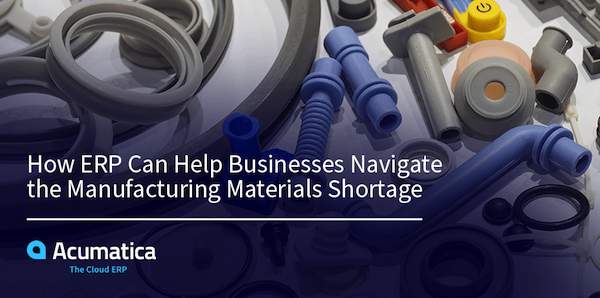 Rising Prices and Decreased Availability
Near the end of 2021, Reuters reported that U.S. manufacturing activity had slowed. This is not surprising, considering the seemingly endless amount of time manufacturers have spent waiting for raw materials to arrive from supply chains already stretched to their limit.
The sought-after materials—ranging from wood, steel, and plastic to the ever-needed semiconductor chips—are necessary components of goods for which consumers are clamoring, such as cars, electrical equipment, and appliances. This manufacturing materials shortage means decreased availability of needed items and increased cost to manufacturers, who are then forced to pass that cost on to the consumers.
A NextAdvisor article reports that the "February [2022] consumer price index, which measures changes in the cost of food, housing, gasoline, utilities, and other goods, rose by 7.9% over the past 12 months—the largest inflation surge in 40 years. Prices were up 0.8% in February."
How Cloud ERP Can Help
Fixing supply chain disruptions and their consequences is not within manufacturers' power, but they can alleviate some of the problems with the right cloud ERP solution.
"ERP" stands for "enterprise resource planning." Organizations of any size can use an ERP system to bring their disparate applications under one umbrella. Data from all departments is fed into the centralized solution, where it is then synchronized so that employees, based on their permissions, can view updated, critical business information in real-time. When the ERP solution is cloud-based, this real-time data can be accessed 24/7 from any location, providing a 360-degree view of the company.
Such an all-encompassing view allows manufacturers to scrutinize every aspect of their businesses, including supply chain channels. Instead of responding late to pain points, like backlogged orders or missed shipments, they can identify and mitigate disruptions before they occur by monitoring the KPIs that the ERP system provides.
ERP solutions also increase efficiency—meaning that, where possible, manufacturers can reduce the number of materials used per product, decreasing their own demand for supplies and ultimately relieving shortages.
The Importance of a Manufacturing-Specific ERP
Any cloud ERP solution can help manufacturers become more productive and profitable, but choosing one designed to meet the specific needs of the manufacturing industry will lead to improved collaboration, effective workflows and processes, and better-managed teams.
The right manufacturing-specific ERP solution should provide integrated applications for production, estimating, engineering, material planning, scheduling, and product configuration—for both discrete and batch process production. Having a single solution with these connected applications (alongside document management, CRM, project accounting, commerce, expense management, payroll, and service management functionalities) gives manufacturers the reports, analytics, and dashboards they need to succeed, even as they face the continuing manufacturing materials shortage and major supply chain disruptions.
How Acumatica Can Help
To find a system that encompasses all the aforementioned capabilities, look no further than Acumatica's award-winning cloud ERP solution and Manufacturing Management application. Acumatica can help any manufacturer weather the storm caused by the manufacturing materials shortage and supply chain disruptions.
Our team of experts would be happy to answer any questions or schedule a demonstration to highlight the features and benefits of our manufacturing-specific ERP. Also, check out the improvements we've made to our Manufacturing Edition in Acumatica's latest product release, Acumatica 2022 R1.
https://erpnews.com/v2/wp-content/uploads/2022/04/033122_Header-ManufacturingMaterialsShortage_Acumatica.png
298
600
katie
https://erpnews.com/v2/wp-content/uploads/2018/10/[email protected]
katie
2022-04-13 08:00:23
2022-04-13 08:00:24
How ERP Can Help Navigate the Manufacturing Materials Shortage