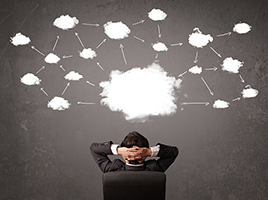 Customization –Doing it your way
Customizing the Cloud ERP system is one of the most popular problems faced by today's companies and it is an important aspect of Cloud ERP since it impacts overall performance and efficiency, speaking time-wise. Customization also increases the flexibility which gives competitive advantage. The main problem is; most providers offer a standardized workflow to reach a higher number of potential customers. But keeping in mind that every enterprise is unique and incomparable, different enterprises have their own way of completing business processes in a way that will increase its efficiency. Enterprises should also adjust ERP systems according to their unique business requirements.
Security – Being in safe hands
Security matters most for almost every company and it is a major concern. In the Cloud ERP, data is stored on vendor's data center which means security is in the hands of the provider. This may be positive or negative depending on the vendor. If a company can't handle their security well –or lacks the support– they can confide in the vendor's ability to protect its data. Some companies might feel uncomfortable with leaving the company's security in someone else's hands. But of course, it's a matter of vendor trust. In conclusion, as long as you trust and put your data on one of the well-known vendors you wouldn't face many security problems.
Availability – Are you able to use it?
Availability is another hindrance on the way to Cloud ERP. Problems regarding the availability occur due to the nature of the software model. To be able to use the Cloud ERP, internet connection and enough bandwidth are required in order to access the ERP which is under the cloud. There are many factors which will affect the stability of working with the Cloud system such as internet latency time and bandwidth charges. A user must be able to upload and download. An obstacle to do one of these tasks would end up with a loss for the company which would affect business' performance.
User Training – How does it work?
Providing an effective and well-led training is critical. Once you have the right Cloud ERP solution, employees must know how to use it. Not investing enough in the user training may have dangerous consequences. Companies may see the user training as waste of time and money, but in the long run if not addressed properly, lack of user experience may end up making you lose even more time. User training will improve the confidence of the employees as well increasing their experience level. This will also prevent unwanted and unexpected mistakes done by the users.
Choosing the Right One – This or that?
There are many options to consider before adopting a Cloud ERP. Companies should review the systems which fits best for them. Choosing the solution which is cost-effective and suitable is early in the list. To reduce the costs, companies may also consider using a Hybrid ERP which integrates On-Premise ERP and Cloud ERP applications. Choosing the package which is suitable for your company will also save time and money since providers can offer tailored ERP solutions according to the size of your business. Ultimately, among all these options choosing the right solution will benefit the company and save a lot of time as mentioned.
https://erpnews.com/v2/wp-content/uploads/2017/02/Cloud-ERP-268-1.png
200
268
webmaster
https://erpnews.com/v2/wp-content/uploads/2018/10/[email protected]
webmaster
2017-02-02 00:00:00
2018-11-14 14:11:13
Embracing the Cloud ERP — Difficulties Faced by Companies Using the Cloud ERP