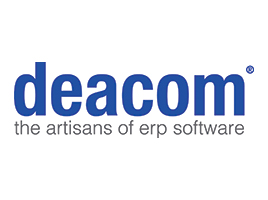 Chesterbrook, PA, June 01, 2017 (GLOBE NEWSWIRE) — Deacom, Inc., the developer of a single-system Enterprise Resource Planning (ERP) solution, has successfully completed Technology Evaluation Centers (TEC) Certification program for the third consecutive year. The report was published earlier this week and identifies the ERP provider's unique market and software development approaches as the driving factors of this recognition.
Deacom just released its newest version of the software which TEC has noted to be "a significant milestone in the evolution of the software." By redesigning the system's architecture, DEACOM's business rules now run completely on a .NET framework, providing users with an improved user experience and modern ERP capabilities across all devices.
"The conversion to a .NET framework was a significant investment over the past five years and we have already seen tremendous success both as a provider and from our customers," said Scott Deakins, COO of Deacom. "This structure allows the software to quickly be configured to meet new demands and larger data sets while keeping a relatively small digital footprint for optimal performance. It's a unique approach that will allow Deacom to take advantage of new technological advancements faster than many other ERP providers."
According to TEC, Deacom has four differentiators that create a strong market position in the Process Manufacturing software space:
Guaranteed Fixed-Price Implementation – A benefit TEC considers to be "virtually unheard of in the ERP software marketplace," Deacom offers a guaranteed fixed-price software purchase and implementation. This level of pricing transparency provides customers with a more accurate and manageable total cost of ERP ownership.
Mobile – Since DEACOM runs on a single code set and .NET framework, the browser and mobile interfaces are thin, front-end layers providing users with a consistent experience across all devices.
Integrating SOPs into On-line Help – With deep knowledge of the manufacturing industry, Deacom stores customers specific standard operating procedures (SOPs) within the software. This is particularly valuable for regulated industries.
Implementation Methodology – To best accommodate customer schedules, Deacom offers the option of onsite or remote implementations. A project dashboard provides all stakeholders with an overview of the implementation status with drilldown capabilities.
"DEACOM ERP is a full-function ERP solution that supports all core functional areas in the TEC research model of ERP for Process Manufacturing industry, which includes over 3,000 functional criteria," noted Ted Rohm, Senior ERP Analyst at TEC. "The solution rates in the "Dominant Zone" in the Process Manufacturing Management, Quality Management, and Purchasing Management functional modules of TEC's Focus Indicator, which compares DEAOCM ERP to the average solution. With more than 20 years of experience, Deacom is now positioned to help larger organizations meet their process manufacturing challenges and has the proven wherewithal to be there for the long haul."
Source: Nasdaq GlobeNewswire
https://erpnews.com/v2/wp-content/uploads/2017/06/TEC-268x200-1.jpg
200
268
webmaster
https://erpnews.com/v2/wp-content/uploads/2018/10/[email protected]
webmaster
2017-06-02 00:00:00
2018-11-14 14:10:05
DEACOM Differentiators Earns Company TEC Certification