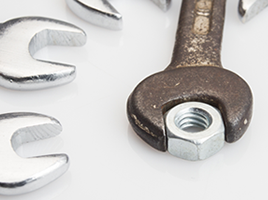 In any business, focusing on the client helps you do well and gives you innovative direction. Of course, you need great products as well.
Speaking at a recent innovation event, CTO Werner Vogels says Amazon wants to be the most customer-centric company in the world. The company's annual net revenue has been growing each year since 2004, and keeps moving into new areas such as cloud computing. This relentless focus on customers keeps it honest and innovative!

At Sana Commerce, we tell our wholesale, distribution and manufacturing customers the same thing.
Be like Amazon, focus on your web store customers. Give your business buyers a great online buying experience in terms of usability, navigation, search and quick ordering, and be strategic about e-commerce. Consider the business buyer journey and the need for an efficient and transparent end-to-end buying process.
Don't just buy into the "consumerization of B2B" by making a consumer web store with a few B2B web store features. Really understand how your customers do their job. This will show you where you can improve the buying experience for your customer online and offline.
But where to begin and what to consider?
Investing in a B2B web store is a strategic decision. It's a fast-growing sales channel to reach clients, it's live 24/7 and it can be a significant driver of revenue and profits. In Sana's e-commerce survey of decision makers in over 500 global businesses, those that invested in B2B e-commerce saw their profits increase by 15% year on year on average.
Does your board or management team need some convincing to invest in e-commerce? The market trends are clear with the B2B e-commerce market expected to be twice as large as B2C in the U.S. by 2020. As many as 27% of B2B transactions are expected to move online. Your sales team can become more strategic, focus on larger accounts and, more complex deals, and clients can place routine orders online, any time.
Deciding on an e-commerce platform or what features and functionality you need: where do you start once you've got the business case approved?Our advice is to take a step back and think about your clients, the buying and ordering process, and what they need from the B2B web store to buy efficiently. If you do this, you'll make the right decisions.
Talk to other B2B companies.Some have learned the hard way by choosing a consumer e-commerce platform to get started quickly. They soon realize that it's not suited for business buyers and their buying process. For instance, it can't support bulk ordering, groups of buyers, order history (online & offline), or international taxes and shipping requirements. The web store consumer platform quickly becomes a headache.
Choose a platform that can easily handle your own sales, service, inventory and fulfillment processes. Why? Because they are automated or at least become a lot more efficient through e-commerce. What is the best way to do that?
At Sana Commerce, we offer a single-stack e-commerce solution. Our software integrates with your ERP so that the web store is fully in line with your business processes, and all the client, stock availability and product catalog data from your ERP is instantly available in your web store, in real time, out-of-the-box.
Why do customers choose Sana over consumer B2C e-commerce platforms?
It's simple, we understand B2B buyers, the buying process and the importance of the Amazon experience in terms of usability and design. Don't take our word for it. Our customers tell us this all the time.
"We chose Sana over Magento because it is a better solution to integrate." De Rolf Groep, personal & leisure goods
"We see an improvement in our contacts with customers, as the focus has gone from order intake and stock information to improving service." REV'IT!, fashion & apparel
"We have doubled our online sales. Placing orders automatically instead of manually not only saves a lot of time, it eliminates potential mistakes during the order process." Rauch Import, electronics.
https://erpnews.com/v2/wp-content/uploads/2016/08/sana_b2b-268x200-1.png
200
268
webmaster
https://erpnews.com/v2/wp-content/uploads/2018/10/[email protected]
webmaster
2016-08-08 00:00:00
2018-11-14 14:14:17
The Best B2B Web Stores Embrace the Business Buyer and the Amazon Effect