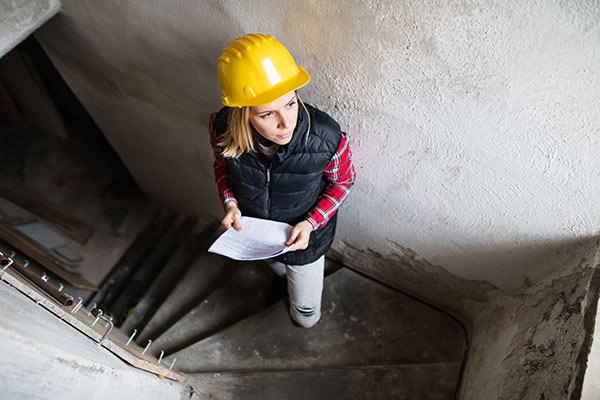 Cloud technology offers speed and agility to organizations. By a modern integrated cloud construction software you can connect your field to Office anytime and anywhere. Acumatica's newest Whitepaper is showing the way;
Connecting your field to office anytime and anywhere is a reality. How? Through modern, integrated cloud construction software. Acumatica's newest whitepaper offers construction executives insights into the benefits of deploying mobile technology.
As a modern construction company, your field team no doubt uses hand-held mobile devices to enter, access, and share business information. The question is, does your company utilize cloud construction software with a construction app that syncs critical business information seamlessly and in real time? If not, then we encourage you to consider investigating your mobile cloud software options, starting by downloading our new whitepaper, 5 Ways Mobile Cloud ERP Can Transform Your Construction Businessand by checking out Acumatica Construction Edition.

5 ways mobile technology benefits construction businesses
Investing in modern, mobile construction accounting software is significant but not necessarily in cost. Cloud construction software requires little infrastructure or setup to get started. That's because you access the software over the internet and can lease computing resources (versus purchasing them at the outset). Real-time access, from wherever you are, gives you the data and the KPIs you need, when you need them.
In the whitepaper, you'll learn the risks of using outdated or legacy technology, the benefits of construction accounting software, and the five ways mobile technology benefits construction businesses.
Let's take a brief look at the five benefits of this construction technology:
1. Reduce delays
It's a fact that delays and rework in commercial construction projects happen. Whether from unpredictable weather or dealing with permitting and licensing red tape, your project may stall. The result? Millions of dollars in lost revenue and potential harm to your company's reputation.
With mobile construction accounting software, managers can use mobile delivery apps to organize and sync their operational activities.
2. Collaborate in real time
In the past, paper-based processes (such as timesheets, project tasks, and other activities) were restricted to the office, an inefficient and often mistake-inducing process. Today, cloud-based applications can streamline information between teams in the office and out on a job site. Changes made in the mobile app to items, such as RFIs, project issues, and timecards, are updated and synced in the ERP automatically.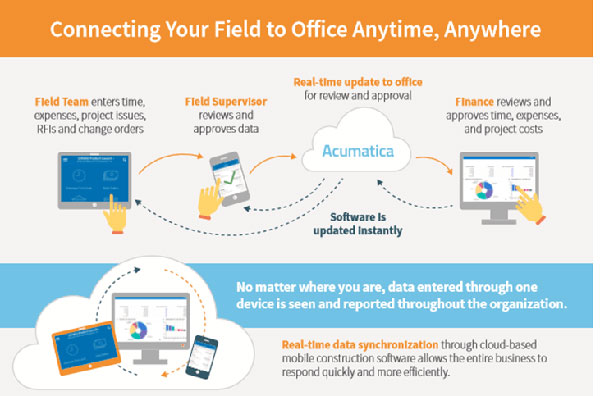 3. Increase accountability
Before the era of mobility, communication between field workers and the back office was limited to end-of-the-day debriefings. Accountability was limited. With mobile technology in the form of cloud construction accounting software, project managers have the ability to track time spent on-site, and to keep better time cards, which saves on labor costs.
With real-time updates and notifications, the data entered on a smart phone, tablet, or PC in the field will instantly feed into the accounting system.
4. Increase data accuracy
Redundant data entry, something construction companies using legacy technology experience, can affect data accuracy. Mobile cloud software allows employees to enter data once and send it organization-wide without delay.
5. Increase visibility
Finally, mobile cloud software can increase visibility across the organization. Tracking your business operations across different work departments and locations right from your mobile device is easy and efficient. Mobile apps enable you to customize documentation and create reports in the field, anticipate demand, and more, which you can read about when you download our complimentary whitepaper.
Choose true cloud construction software
Consumers know that fake products pepper the market. The same is true for construction accounting software. Fake cloud construction accounting software options exist, and they're counting on your lack of knowledge to get you to invest in their solution, a solution that has been upgraded, but not built, for the cloud.
Rest assured, Acumatica Construction Edition with Project Accounting is a true cloud option, which we've already made even better through enhancements in Acumatica 2018 R2. It's an end-to-end solution with a full set of management features, including accounting, project management, field management, CRM, and mobile construction companies just like yours can implement and benefit from right away.
We'll leave you with this thought: Having real-time information at your fingertips through mobile cloud software puts you steps ahead of the competition. Decision making is no longer delayed by a lag in communication or lack of visibility into business operations. Download our complimentary whitepaper right now for further insights and check out our first two posts in this series about staying ahead of the competition and transforming your business with construction accounting software.
Interested in learning more about Acumatica Construction Edition? Contact us right now, and we'll gladly demonstrate the value you'll receive when you choose true cloud construction software.
ERP Pricing: Get 2019 pricing on 45 different ERP systems. Click to download your free guide.
https://erpnews.com/v2/wp-content/uploads/2019/03/cloud-construction-600.jpg
400
600
katie
https://erpnews.com/v2/wp-content/uploads/2018/10/[email protected]
katie
2019-03-12 08:58:11
2019-03-12 08:58:11
5 Benefits of Mobile Cloud Construction Software