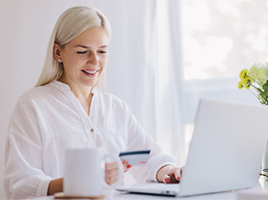 For customers of Turkey's Yapı Kredi Bank, the dream of leaving the wallet at home and only packing a phone is now a real option.
Yapı Kredi has more than 5 million active customers on its mobile app and internet banking, and more than 90 percent of those customers' transactions are done via mobile. They use phones to make payments at the cash register without a debit card. If they need cash, they can use a QR code from the mobile app to withdraw from a Yapı Kredi ATM. For online shopping, they can also pay via a QR code.
"As Digital Bank of Turkey, mobile is the heart of the digital channels for Yapı Kredi," says Yapı Kredi Vice President Gülter Bedel. Mobile is also the center of Yapı Kredi's innovation efforts. Most recently, the bank enabled mobile banking app access on both iOS and Android phones via eye-recognition software, which Bedel states was a first in Europe. "Your password is your eyes," he says.
And if they need to contact a Yapı Kredi rep, they can call directly from the mobile app, or use the app without the security questions to find a branch and schedule an appointment. Customers do six times more transactions via mobile than they do through the bank's more than 850 branches, the company says. By making innovation a strategic priority, Yapı Kredi Bank has become one of the 10 most valuable brands in Turkey, according to the annual Brand Finance rankings, with a "Dedicated to Deliver" motto and a customer-centric approach.

A Data-Driven Strategy
A mobile strategy like Yapı Kredi's requires strong app design, of course, but data provides the real power. The bank's mobile strategy is succeeding in large part because of big data analytics that includes monitoring customer actions to head off problems, spot new product opportunities, and data mining to better understand customers' needs.
"Every customer click is an event, so we analyze it," Bedel says. And so is every missed click. "If you apply for a loan but you give up halfway it's an important event to take an action," he says.
Yapı Kredi monitors and analyzes its data on Oracle Exadata X7, a software-and-hardware system engineered to run a database most effectively. Combining Exadata with Oracle R—an enterprise version of the open source statistical language—Yapı Kredi business analysts now can build their own models directly in the Oracle Database, letting them quickly explore ideas and get answers if they're considering a new product or investigating a problem. "This converts them into more of a data scientist from a regular business user, which really strengthens our analytical strategy," says Ongun Demirler, Yapı Kredi Big Data Analytics Manager.
The bank is about two years into its big data analytics strategy, having come along a "huge learning curve," says Uygar Er, Big Data and Analytics Project Engineer at Yapı Kredi. For each new analytics project, the technology teams bring together people from finance, IT, and a business or product unit to set clear business goals and give the project a manageable scope. That's one of the big lessons the Yapı Kredi team has learned: Don't try to harness all of the possible data and answer too many questions at once; instead, focus on smaller wins and steady progress.
"It's always best to dream big but start small, to get some quick measurable wins to attract attention," Bedel says. "Don't get lost in big data by trying to gather all the data, all the requirements."
Lessons Learned, Where to Next?
Below are a few examples of Yapı Kredi's early wins, lessons learned, and data analytics plans. (The Yapı Kredi team is presenting at Oracle OpenWorld, one of more than 2,000 sessions at the October 22 to 25 event in San Francisco.)
The bank improved its call center results with more sophisticated models. Yapı Kredi's analysts were comfortable using SQL to query databases, but they were having some troubles in terms of performance, data and model management while using R, a more sophisticated open-source statistical programming language. So they tapped Oracle R, an enterprise version of the language that made R capabilities accessible to more people, letting analysts develop more sophisticated models, increase performance, maintain better data quality, and make data preparation more easily, Demirler says.
"They're able to drive more value from data," Demirler says. One example: Yapı Kredi implemented a new decision tree model to estimate the best time to call that increased answered collection calls by nearly 20 percent.
It improved an efficient ATM cash management. Using analytics, cash management optimization of Yapı Kredi determines when to re-stock its 4,288ATM machines and with the right amount of cash. As a consequence, Yapı Kredi manages the trade-offs between costs and service to make the right decision based on the cash management strategy of the bank.
For example, some of Yapı Kredi's ATMs are able to dispense money that is deposited by other customers. This feature is called ATM cash recycling. "It's important to place those machines in locations where the deposits and withdrawals are about equal, so those machines won't need much extra, idle cash," Bedel says.
Yapı Kredi will use unstructured data for better predictive analytics. The Yapı Kredi team is exploring applying text mining to call center conversations in real time, so its models can anticipate what a customer needs and provide the rep with the right information to help. "Based on what you said earlier in that call, we will try to predict what you will need and help you better during that call," Bedel says.
Likewise, the bank is pulling in more location data to discover the market opportunities, better understand its customers and anticipate what they might need on the mobile app or through a call center.
These are just some of the examples of how Yapı Kredi expects its big data analytics will improve customer experiences, especially on its vital digital channels. "We want to be ahead of both our customer and our competition," Bedel says. "Yapı Kredi is giving priority to the innovation and to do that we trust the power of data analytics."
Get 2019 ERP Pricing: 45 different ERP systems profiled including Epicor, Microsoft, SAP and more. Click to download your free guide.
By Chris Murphy is Oracle director of cloud content.
https://erpnews.com/v2/wp-content/uploads/2019/02/Yapı-Kredi-268.jpg
200
268
katie
https://erpnews.com/v2/wp-content/uploads/2018/10/[email protected]
katie
2019-02-11 14:00:53
2019-02-27 07:12:44
Yapı Kredi Drives Mobile Banking Innovation with Big Data Analytics