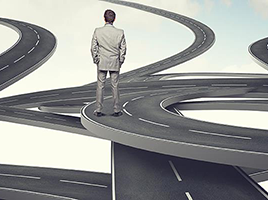 Multinational companies directly drive the major part of global businesses. Often the business of subsidiaries, dedicated Line of business, acquisitions or divestitures are run with the ERP system of the headquarters, but there are cases where it is advantageous to run the subsidiary with their own independent ERP system.

The headquarters system is often considered to be a robust and complex ERP solution, while the subsidiaries are often addressed by smaller, less complex and powerful ERP solutions. This has led too many times into multi-vendor strategy for the ERP systems that are used across the different tiers of the corporation
2-tier ERP deployments allow the enterprise more variability in the way the subsidiaries are managed. Still, you can choose a model that is more headquarters centric, top down or you choose a more autonomous model for the subsidiary. Do you just care about being able to consolidate the financial results because the subsidiary executes in a different business or do you want to drive a joined planning and execution on common business processes? It is always your choice, however the ERP products from different vendors or with different data models in the headquarters and the subsidiaries, will make the integration more difficult.
Those multi-vendor 2-tier ERP deployments might look cheaper, only if the subsidiary ERP licenses are considered. However, they are in fact pretty expensive as multiple APIs (Application Programming Interfaces) based on different data and process semantics have to be mapped via middleware, complex coding and sometimes connected with batch loads. On top different vendors product release and upgrade schedules have to be matched and further increase complexity and cost. Besides this cost impact, those companies lose their agility to implement changes when it is needed most: now is the time when the ongoing digital transformation across all industries mandate enterprises to rethink their business processes or how they work.
It comes timely that the market has offers that allow to renew the core towards the need of the digital economy now – and equally important not only as an on-premise product, but also as public cloud edition. This lightweight, public cloud ERP offering can support subsidiary requirements and provides unmatched proximity to the data and process semantics of the headquarters systems. This is key, as this proximity removes a lot of complexity that you have if different ERP products have to be synchronized and integrated. Less complexity provides the agility to adopt new business processes quickly with new innovations.
We are living through times, where digital transformation further accelerates its pace. The enterprises need systems that have a greatly simplified data model to accommodate the increasing transactional and analytical load to serve the customer segment of one. These systems represent the digital core you need and with SAP you can now consider a powerful, public cloud option for your subsidiaries.
Imagine the ease of duplicating the innovations that you can then explore in a subsidiary back to the headquarters (or vice versa). Think how much easier it will be to leverage the same data structures for analytical purposes resulting in unmatched insights across multiple tiers of your corporation. And then generate value by the ease of use of a common user experience across all parts of your enterprise.
Seeing the challenges of accelerated digital transformation ahead and realizing the availability of a lightweight, powerful and modern ERP offer with flexible deployment options gives you the perfect occasion to rethink your 2-tier ERP Strategy – it is NOW.
Author: Sven Denecken
https://erpnews.com/v2/wp-content/uploads/2016/11/rethink-erp-tier-2-268x200-1.png
200
268
webmaster
https://erpnews.com/v2/wp-content/uploads/2018/10/[email protected]
webmaster
2016-11-30 00:00:00
2018-11-14 14:11:22
Why is NOW the time to rethink your 2-tier ERP Strategy