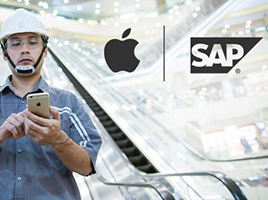 Apple continues to make headway in the business world. This week it landed a significant partnership with SAP that could have a major impact on mobile productivity.
In an effort to expand its presence in the enterprise market, Apple this week announced another major partnership with a business-software giant.  In a wide-ranging deal with SAP that's set to begin later this year, Apple will work alongside one the stalwarts of enterprise to develop more native iOS apps, as well as an SDK for SAP's HANA cloud platform.
The SDK is designed to let SAP's more than 2.5 million developers build native iOS apps that can tap into SAP systems and access data in real time. The agreement also includes a plan to establish a new "SAP Academy for iOS," a place where SAP customers and partners can meet in person to design apps for iPhones and iPads and received related training. Apple and SAP engineers will work together to build apps, and the concept is similar to Apple's IBM MobileFirst for iOS initiative.
"There's a lot more robust apps you can do by being able to leverage native capabilities" of iOS devices, says Van Baker, a research vice president with Gartner. "It will certainly enhance the class of applications that you can build that have SAP on the backend by virtue of being able to leverage its SDK."
First IBM, now SAP …. is Oracle next?
Apple CEO Tim Cook praised SAP and called it a leader in enterprise software. "With 76 percent of business transactions touching an SAP system, SAP is the ideal partner to help us truly transform how businesses around the world are run on iPhone and iPad," Cook said in a statement.
However, it's too early to predict just what the deal between Apple and SAP will mean for enterprise, according to Baker. "We don't know exactly what the capabilities of the SDK are going to be," he says. "Until we get more detail, it's hard to gauge how much of an impact it's going to have … The opportunity is mostly in the SAP install base, but the SAP install base is enormous."
Including this new pact with SAP and its deal with both IBM and Cisco, Apple inked deals with three major enterprise players during the past two years. Now that Apple has both IBM and SAP lined up, Oracle is the company's most likely remaining target for an enterprise partnership, according to Baker. The latest matchup is a "big deal" and also a good alignment from a user experience (UX) perspective, he says, because UX is a key strength and important differentiator for both companies.
Roughly 310,000 businesses and public agencies use SAP applications and services, according to Apple's related press release.
https://erpnews.com/v2/wp-content/uploads/2016/12/apple-sap-268-1.png
200
268
webmaster
https://erpnews.com/v2/wp-content/uploads/2018/10/[email protected]
webmaster
2016-12-09 00:00:00
2016-12-09 00:00:00
Apple's SAP deal means more iOS enterprise apps