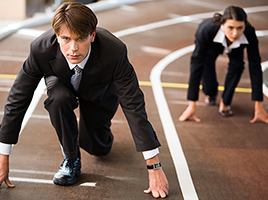 ERP News – worldwide – erpnews.com – While it has taken longer, innovation and disruption is now fully underway in the ERP (enterprise resource planning) space. It promises to create a level playing field for small and medium sized businesses. Traditionally, ERP was expensive and designed for large organizations.
It is helpful to review traditional ERP before delving into the rise in cloud-based ERP. Enterprise Resource Planning is business process management software that allows organizations to manage and automate back office functions like product planning, marketing, sales, distribution, human resources and manufacturing into a unified, comprehensive structure. ERP software involves a suite of integrated applications that provide all the main areas of an organization's operations in real-time. ERP emerged in the 1990s and has been associated with large organizations that had internal teams to customize and analyze data as well as manage upgrades and deployments.
Today, cloud ERP has emerged as a viable solution for small and medium-sized businesses (SMBs) as well as large firms. In a study about Cloud ERP adoption by Gartner in January 2014, 47 per cent of organizations surveyed plan to move their core ERP systems to the cloud within five years. The reason is that core ERP requirements focus on administrative functions — financials, human resources and procure-to-pay — that have many cloud offerings.
While traditional ERP and cloud ERP have the same goal of unlocking the potential of organizations — large and small, there are advantages and disadvantages to both.
Pros and Cons of Traditional versus Cloud ERP
1. On-premises vs. Hosted vs. Cloud-based ERP
Traditional ERP solutions come in two forms, namely on-premises and hosted. For on-premises solutions, an organization must buy a software license, purchase equipment and deploy the product to their own data centre. Staff inside the organization must service and maintain the internal infrastructure. For hosted solutions, the organization will have an external services provider to manage the ERP system. This requires the organization to connect to a hosted service remotely to access a client-server application. A monthly or annual subscription fee is paid to the service provider to access the service. The external service provider is responsible for providing the people, expertise and equipment, allowing the organization to focus on what it does best.
Cloud-based ERP (also known as on-demand ERP) allows an organization to outsource operations, which is similar to a hosted solution. The main difference is that cloud solutions use a Software as a Service (SaaS) model. The application is delivered through the Web.
2. Cost Savings and Simplicity
The biggest benefit of a cloud-based solution compared to traditional ERP is lower up front costs and operating costs. For SMBs, the upfront costs of getting the right people and equipment is expensive and time consuming. The hosting option of using a third party provider is less expensive and offers the benefit of access to expertise and problem solving. Cloud ERP saves the company the most money in the short term.
3. Data Security
Traditional ERP is the most secure because skilled professionals configure, troubleshoot, deploy and manage the software and equipment internally. For hosted and cloud solutions, the customer must be comfortable and trust the third party company to house its data. The main fear for a customer is the loss of data that could result in higher costs with respect to data recovery. Most business that have their ERP housed internally are beginning to explore hybrid solutions involving hosted and cloud solutions for certain functions.
4. Performance Matters
Depending on a customer's needs, performance is likely best with on-premises, followed by hosted and cloud ERP solutions. Cloud solutions for large and small companies may experience reduced speeds for transfer information due to service outages and slower connections.
5. Innovation & Disruption
Traditional ERP over the last two decades has led to consolidation of a few large companies. Consolidation has resulted in slower innovation and releases from the incumbents and opportunity from startups. Brian Bell, former chief marketing officer of Zuora, is quoted, saying,
"Nearly every industry is seeing this shift from a product-focused delivery model to a service-based one — which could be called the Subscription Economy. Traditional ERP — even if delivered through the cloud — isn't designed to address the changing system requirements businesses are facing in the Subscription Economy."
6. Hybrid ERP Solutions to Grow
To support the inflexibility of traditional ERP, executives are embracing a hybrid approach because no single ERP systems can meet an organization's changing needs and requirements. Gartner predicts hybrid ERP environments will become the norm by 2020. Expect a hybrid approach where service centric functions like professional services, business services and digital media to move to cloud ERP while smaller core functions like financials and manufacturing will be on-premises traditional ERP. Of note, Gartner predicts total cost of ownership for hybrid solutions may increase if organizations don't take a long-term planning approach. According to Gartner,
"By 2017, 70 percent of organizations adopting hybrid ERP will fail to improve cost-benefit outcomes unless their cloud applications provide differentiating functionality."
With the increasing range of options that benefit small, medium and large businesses, it is clear the ERP space will continue to be disrupted over the next decade. For organizations that are unclear about next steps, it is important to become informed. Ask questions and take the time to find trusted experts to understand your needs and specific challenges and desired outcomes.
https://erpnews.com/v2/wp-content/uploads/2016/03/competition-268-1.png
200
268
webmaster
https://erpnews.com/v2/wp-content/uploads/2018/10/[email protected]
webmaster
2016-03-14 00:00:00
2016-03-14 00:00:00
The Pros And Cons Of Traditional Versus Cloud ERP For SMBs