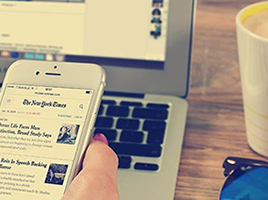 Many companies still think that a web store (or online sales portal) is not suited for their particular business. However, these companies deal with daily challenges like customer-specific pricing and quickly changing assortments, their ordering process is vulnerable to human error and their customers want to order outside traditional opening hours. They are continuously looking for ways to reduce support costs by providing customers more product information through other channels. Does this sound familiar to you? Then selling online definitely fits your business.
At Sana Commerce, we help businesses get past the myths and succeed online with ERP-integrated web stores. Here are 5 main reasons why selling online suits your business. Each one is provided by our customers, who have many years of experience in e-commerce.
Reason 1: Expand your business
An e-commerce solution enables you to serve low-end customers and spend less time on your general public customers, since you can offer self-service through your portal. Time saved with e-commerce can be invested in your relationships with your top customers, thereby enabling you to generate more revenue in the long term.
Another great feature of e-commerce is the ability to cross- and up-sell. Up-selling simply gives you the opportunity to grant your customers insight into related products and creates a need for products they initially were not interested in. Will this improve your sales? Definitely. Research has shown that cross- and up-selling will cause a significantly higher order value.
Reason 2: Customer specifics
Customer pricing and a specific customer assortment are challenges that almost every B2B company faces. A successful company overcomes these complex challenges by providing a customer with the products and prices that match their specific trade agreements. This can be done in a customer-friendly way, by creating an online environment for customers where order history, customer pricing, spare parts and products are offered specifically based on the customer information that is in your ERP system. Such an environment can be easily created in an integrated web store that lets your company solve day to day challenges in an effective and innovative way.
Reason 3: Reduce support costs
An online sales portal can also save money by functioning as an information portal for customers. Questions about which sizes, colors and products you still have in stock and special quantity discounts can now easily be answered by your e-commerce system, along with many other customer questions about your products' parts and maintenance, for example. Answering these questions over the phone or via e-mail would else have cost you tons of time – and money.
Reason 4: Save time and money
Does your ordering process still rely on the accuracy of your sales agents? Then your company spends a lot of time and money on a process which is time-consuming and vulnerable to human error. The solution to get rid of these uncertainties is to start selling online! Launching a sales portal that is integrated with your ERP system helps your company save operational time, improve the reliability of its order information and optimize the efficiency of your sales department.
Reason 5: 24/7 Business
Of course you want to let customers order the way they like: by phone, fax, email, or online. But don't you also want to give customers the opportunity to order any time they like? An easy way to give them this opportunity is launching a web store. This enables your company to provide customer-specific prices and products at any time of a day and makes your business available 24/7. Experiences from our B2B customers show that they actually sell more, outside office hours.
Discover more about this topic with our free e-book Why Starting an Online Sales Channel is Key to Your Success as a Business
https://erpnews.com/v2/wp-content/uploads/2016/08/B2B-E-Commerce-5-Reasons-to-Start-Selling-Online-268x200-1.png
200
268
webmaster
https://erpnews.com/v2/wp-content/uploads/2018/10/[email protected]
webmaster
2016-08-02 00:00:00
2016-08-02 00:00:00
Selling Online: 5 Reasons to Start