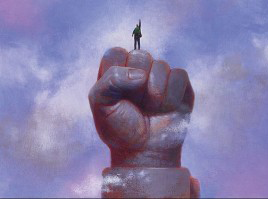 Rather than being pushed out by the big two, mid-market ERP vendors claim they are thriving in the Middle East.
With the dominance of leading vendors and their expansion into SME and mid-market offerings, along with increasing commoditisation of ERP, it may surprise many that there is still a solid market for other ERP companies in the region outside of the big two: Oracle and SAP. According to Anilesh Kumar, director of business development at Levtech Consulting, this is because their scaled down SME solutions are not specifically providing what the mid-market needs.
"Also, while software license prices for the SME solutions have been significantly reduced, the overall total cost of ownership of Oracle and SAP tends to be quite high considering cost of resources, solution maintenance, hardware required and other factors," Kumar notes.
The mid-market is playing a key role in the Middle East and a 2011 Deloitte report touts it to be the powerhouse for global economies and a catalyst for growth. In the region, SMEs continue to invest in IT and IT infrastructure, including ERP, creating a big opportunity for a wide selection of ERP vendors and giving them the ability to take a growing portion of the ERP market and enjoy expansion. "Let us just challenge that idea of [Oracle and SAP's] dominance," says Infor's regional vice president for MEA, Tim Szabronski. "Infor has around 800 clients in the Middle East around all the major industries such as hospitality, public sector, logistics, complex project-based manufacturing and healthcare.
"Infor is growing at a steady rate in the region. We grew by 20% last year and 17 the year before. So yes, SAP and Oracle are present in the Middle East, but so are we and there is more than enough room for players like Infor to challenge the big two – and indeed win the fight."
Although the market for SMEs and mid-market customers is mature, it is actually quite fragmented, as there are both established and new vendors in this arena. Those that succeed are able to do so by adding value to their solutions and making their companies stand out.
There are a number of ways they do so, which includes focusing on niche sectors, providing solutions aimed at a more specific audience, cutting out middlemen and delivering quickly.
"Niche solution providers such as IFS actively compete against the larger ERP vendors with considerable success," says Ian Fleming, managing director Africa, Middle East and South Asia at IFS.
"IFS is not looking to be an ERP vendor for all – we provide solutions to industries where we have in-depth knowledge of the requirements. We define the IFS target markets based on the core business process areas supported with IFS Applications: service and asset management, project management, supply chain and manufacturing.
Sage's value to mid-market clients lies in the fact that it, "offers the same product yet presented in different flavours," explains Reggie Fernandes, director, Gulf Operations, Sage Software. "For example, Accpac 100, 200 and 500, which are basically the same product, can later be upgraded through a change of activation keys."
Intertec differentiates itself from its competitors by providing its customers with only one point of contact for the majority of their IT solutions with the company. "This avoids the blame game later between vendors," Nikhil Kothari, manager, strategy and marketing at Intertech Systems explains.
"Secondly, as we directly implement and support our Syros ERP customers, we offer much more flexibility in product delivery compared to partners of tier one vendors. We can customise, integrate, support and provide technical depth that really sets us apart for our customers.
"Thirdly, we deliver very quickly. Our standard implementation time is just 28 days. Fourthly, we have our complete user experience mimicking the Outlook e-mail so an end user feels familiar with the new application they are to use."
The key to continued success – and growth – lies in remaining competitive. One of the many ways these companies do so is through investment, something both IFS and Levtech Consulting, a Microsoft Dynamics partner, believe is very important.
"To remain competitive, Microsoft Dynamics will have to continue to invest in their technology to ensure that their solutions are at the cutting edge of technology. They will also need to invest in partners and customers, and ensure that there are high levels of satisfaction. Finally, they will need to invest in product training and marketing to build awareness and take their solutions effectively to different markets," highlights Levtech's Kumar.
Another way to stay competitive is to provide industry-specific applications, focusing not just on broad verticals but micro-vertical markets within them. "One size does not fit all and nowhere is this more obvious than in the Middle East where differentiation between companies is often very pronounced," explains Infor's Szabronski.
"It is hard to actually identify just one factor that gives you an edge across the different Middle East markets. For example, if you bet big on mobile, areas like the UAE would be the best hunting grounds, whereas if you focused on public sector, Qatar and Kuwait might provide better returns.
"However there are some characteristics that we have seen stand us in good stead when dealing with Middle East businesses, from appreciating the cultural issues to ensuring we have local delivery capability ready and in place. The main ingredient in the secret sauce is to actually listen to the Middle East customer base and appreciate, and act on, how individual it is."
It is also as simple as going back to basics – it's important that vendors understand their customers' businesses better than their competitors.
"Keep your customers happy, invest in understanding your customer's processes and do consultative selling," says Kothari. "It is also important to maintain credibility as a vendor that delivers," he adds.
As technologies move forward, the ERP companies are making sure that they don't get left behind by embracing cloud computing, embracing the software as a service (SaaS) deployment model. Anish Kanaran, regional director for Epicor in the Middle East, notes that cloud/SaaS provides significant flexibility to companies of all sizes in terms of the way they run the business, how they choose to deploy ERP solutions and take advantage of new technologies to support innovation and growth.
"Epicor announced its SaaS ERP solution in 2010, initially focused on a particularly underserved area of the market, small and emerging manufacturers and job shops. The offering is beginning to enjoy real success in the large North American marketplace," Kanaran says.
"Like many other cloud companies, and in particular those that offer a full SaaS-based ERP, our experience globally is that not all companies in all countries are ready to move their core systems to the cloud yet, for many businesses it's a major decision to move financial or manufacturing data to the cloud, but we are confident that position will change in the near term, as it did with CRM and HCM."
Epicor is also looking to differentiate itself by adding a social voice to its ERP offering, integrating status updates, news feeds and broader SharePoint communities. Looking forward, Fernandes believes that ERP companies that roll out solutions specific to SME and mid-market organisations will continue to dominate the sector, keeping Oracle and SAP from monopolising the market.
"We think tier one vendors will have to exert a lot of effort to keep up," he says. "The only viable option [for them] could be the acquisition of these SME vendors, but without changing their mindsets and how they operate."
In the end, it's clear that there is room for a wide range of ERP companies to find success in the Middle East. With a huge number of companies and solutions to chose from, the region's small and medium businesses are spoilt for choice.
https://erpnews.com/v2/wp-content/uploads/2015/12/vendors-1.png
200
268
webmaster
https://erpnews.com/v2/wp-content/uploads/2018/10/[email protected]
webmaster
2012-08-18 00:00:00
2012-08-18 00:00:00
Standing up to leading vendors