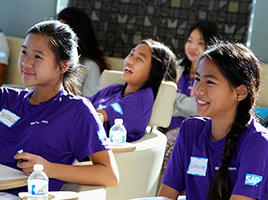 SAP wants to empower women in technology. So the big tech company is announcing today an initiative to support Girls in Tech, a nonprofit with 50,000 members worldwide aimed at empowering and educating girls and women in high-tech careers and startups.
To generate awareness and support for GIT's mission, SAP will donate one dollar for every tweet that mentions both #sconnect16 and #All4GIT between October 3 and December 31. The initiative is part of SuccessConnect 2016, an event taking place October 24-25 in Sydney; November 10 in Tokyo; and November 15 in Singapore.
"As a technology company, we believe firmly that having a mix of gender perspectives plays a significant role in driving our innovation," said Mike Ettling, president of SAP SuccessFactors, in a statement. "As such, supporting women in the tech industry is a priority for SAP and we are proud to help GIT raise money for this important cause. We are dedicated to expanding gender diversity within our own employee base, and have committed to having 25 percent of women in leadership by 2017."
Girls in Tech was created to eradicate the gender disparity that exists in the technology field today, by providing a support framework to help women advance their careers in science, technology, engineering, and mathematics (STEM) fields.
"Women are still firmly underrepresented in STEM fields, particularly in the technology workforce and in management positions," said Adriana Gascoigne, founder and CEO of Girls in Tech, in a statement. "Girls in Tech has a number of initiatives and programs aimed at reversing those statistics, which makes this generous pledge from SAP SuccessFactors all the more critical. We're tremendously honored to be working with SAP, who has taken a proactive and leadership role in increasing gender diversity in technology."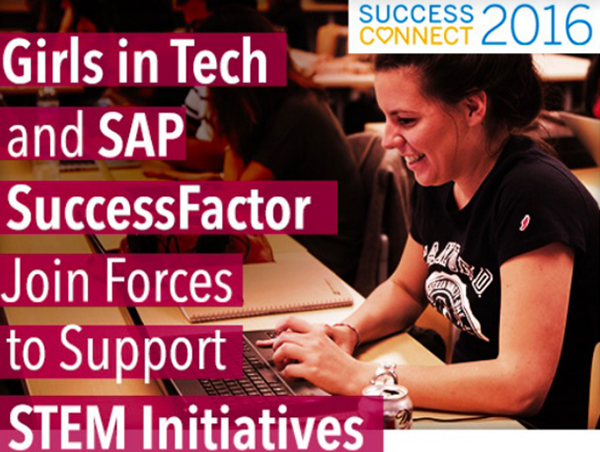 By leveraging machine learning to help detect and eliminate bias, SAP SuccessFactors is helping organizations ensure gender equity across the entire talent lifecycle — from recruiting and hiring to succession and development. SAP SuccessFactors said its pledge to support Girls in Tech is further validation of the company's commitment to diversity and closing the gender gap in business.
In other news, Girls in Tech is announcing three new board members today. They include Mona Sadoun, brand expert, marketing strategist, seasoned producer, and mentor at Apple. She has launched over 90 products over 11 years at Apple and specializes in special projects and fully integrated campaigns. Her most recent focus has been on China and Middle East expansion. Prior to Apple, Mona helped brand new startups and Fortune 500 companies through her work at various advertising agencies.
Also joining Alyson Welch, who most recently worked at Akamai Technologies. She has 20 years of experience in enterprise sales, strategy, operations, and management roles in the B2B, internet infrastructure, application security, and SaaS marketplace spaces.
And Kim DeCarlis, chief marketing officer at Imperva, is also joining the board. She is responsible for the entire marketing spectrum, including corporate marketing, communications, demand generation, product marketing, and marketing operations.
Lastly, Sandy Carter, an existing board member, will now be chairman of the board of Girls in Tech. Carter was most recently general manager of ecosystems and startups at IBM.
Author: Dean Takahashi
https://erpnews.com/v2/wp-content/uploads/2016/10/girls-in-tech-268x200-1.png
200
268
webmaster
https://erpnews.com/v2/wp-content/uploads/2018/10/[email protected]
webmaster
2016-10-04 00:00:00
2018-11-14 14:13:31
SAP Supports Girls in Tech Nonprofit with Tweet Campaign