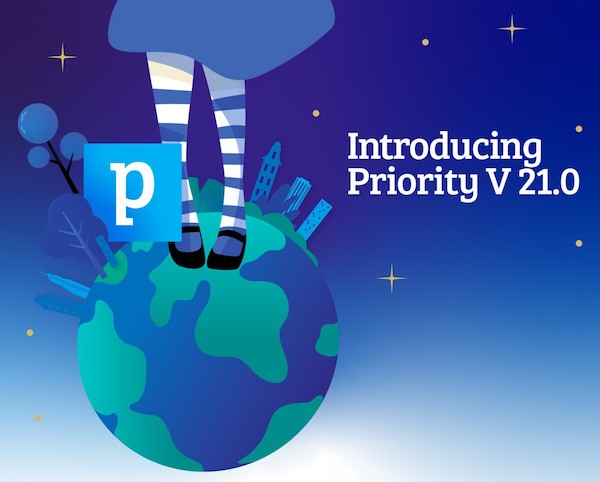 Priority Software Ltd., a leading global provider of business management solutions, announced the release of its latest product version, Priority V 21.0. Priority V 21.0 offers a wide range of product enhancements in its financials and supply chain modules, product localization, innovations, and more.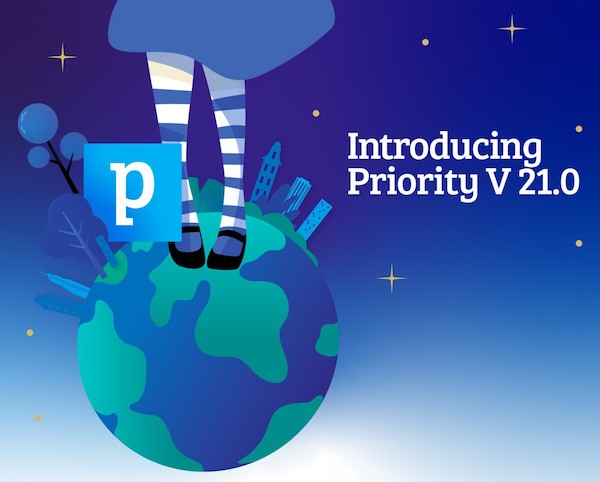 Priority strives to lead the digital finance arena. This release includes key enhancements in Priority Payments, a secure, fully integrated end-to-end customer payment solution introduced in earlier versions. In V 21.0, Priority Payments offers alternative means of payment,where, in addition to credit cards, end-customers can now conveniently use PayPal and ACH (USA), and Bit (Israel). These additional payment methods are available in Priority's Click2Pay and Payments Portal, an integral part of the Priority Payments solution.
To further support our global, multi-company, multi-site enterprise customers, V 21.0 offers enriched data and object distribution between company subsidiaries or sites. V 21.0 also continues to focus on expanding Priority's product localizations, aligning them with the most up-to-date local tax and banking regulations and requirements. Some of the new features include additional support of the new Brexit regulations for Priority customers in the UK, support of new e-invoicing regulations in Italy, and the ability for European organizations to report VAT in multiple EU countries. This release also offers enhanced validation tools to further support Priority customers' SOX (Sarbanes-Oxley) compliance, such as greater control over price discrepancy, and multi-company privilege reports.
In Priority's SCM (Supply Chain Management) module, used to manage, control, and streamline every stage in the supply chain, including planning, execution, and customer support, V 21.0 now includes cycle counting, a method for inventory counting, and a widely popular inventory management strategy for companies across many industries. Organizations that adopt this method will benefit from more accurate inventory levels, possible elimination of annual inventory counts, higher order fulfillment rates, and an overall higher customer satisfaction level. Further, new Engineering functionality in V 21.0 includes mass BOM revision updates, for fast approval of multiple BOM revisions.
With a keen focus on system openness and product innovation, this version also offers a new SDK for Priority's Click2Sign service, and a host of new and advanced integrations and applications provided by Priority's Technology Partner ecosystem, available in Priority Market. Recently-added solutions include CRiskCo, a leading credit risk analysis and management platform provider, where Priority customers can apply for business loans and credit assessment in Priority, Excelando, a leading BI solutions and services provider for web and mobile apps, with a uniquely-designed BI solution tailored to meet the needs of Priority ERP customers, and sales-i, a comprehensive sales enablement solution, providing Priority customers with actionable insights into their customer's buying patterns, to make strategic sales decisions, and in turn, develop deeper, more profitable customer relationships.
A leading ERP solution provider, Priority thrives on innovation, delivering the tools and functionality to meet the unique needs of its customers, helping them to enhance their efficiency and productivity. Powered by flexibility, system openness and mobility tools, Priority believes that ERP systems should and can be easier to use, easier to implement and easier to maintain and enhance. Priority supports business processes and workflows by delivering the necessary tools to achieve this flexibility, including Business Process Management (BPM), mobile application generator, user-level personalization, business rules generator, and more.
Keren Sherer-Taiber, VP Product Management at Priority Software, commented, "As we slowly emerge from the global pandemic, we see that many of our customers are turning their attention to digital business management processes to support remote working, and their companies and employees dispersed around the world. Priority understands their challenges, and their imminent need for digital workflows to maintain business continuity, efficiency and productivity. Priority V 21.0, that includes over 70 wanted functionality items from Priority customers, is further testament of our continuous support to deliver innovative tools and functionality that meet our customers' needs, not only today, but well into the future."
View Priority V 21.0 Highlights
About Priority Software
Priority Software provides flexible, end-to-end business management solutions for organizations of all sizes in a wide range of industries, from a fully featured ERP platform serving multinational corporations, to small and growing businesses. Recognized by top industry analysts and professionals for its product innovation, Priority improves business efficiency and the customer experience, providing real-time access to business data and insights in the cloud, on premise, and on-the-go. With offices in the US, UK, Belgium and Israel and a global network of business partners, Priority enables 10,000 ERP customers in 40 countries to manage and grow their business. For more information, visit www.priority-software.com.
https://erpnews.com/v2/wp-content/uploads/2021/05/Priority-V-21.0-image-short.jpg
482
600
katie
https://erpnews.com/v2/wp-content/uploads/2018/10/[email protected]
katie
2021-05-11 13:44:26
2021-05-13 17:27:50
Priority Software Releases Newest Product Version, Priority V 21.0