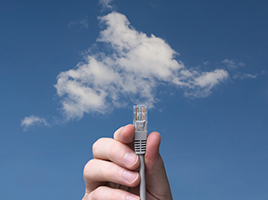 Microsoft Corp. on Wednesday announced that its next-generation cloud ERP solution, Microsoft Dynamics AX, built on and for Microsoft Azure, is now available in 137 markets in 40 languages. The enterprise-class business application brings the power, speed and intelligence of cloud computing to people and organizations to achieve more.
"Customers from around the world are using the cloud in incredible ways to accelerate and transform their business," said Scott Guthrie, executive vice president, Microsoft Cloud and Enterprise. "Today's release is an exciting milestone extending Microsoft's business cloud offerings. It's now possible for organizations to run their entire business in the cloud with Microsoft — from productivity with Office 365, to business analytics with Power BI and Cortana Analytics Suite, customer engagement with Dynamics CRM and business operations with Dynamics AX."
Customers across the globe are already using Dynamics AX to run their business processes in the cloud — from single domains like human resources and manufacturing to end-to-end business. Companies already live in production include Hagler Systems, Haldex, Icon, Renault Sport Formula One Team, Priva, Smiles, Travel Alberta and Umbra Group.
The new Dynamics AX moves beyond traditional business solutions and brings ERP, business intelligence, infrastructure and database services together in a single offering, empowering organizations to run industry-specific and operational business processes that are extendable with specific solutions from partners. Wednesday, Microsoft announced more than 50 ISV solutions that are available on the Azure Marketplace. These Microsoft-curated, pre-configured industry and vertical solutions help customers discover and implement the solution they need quicker than ever before and, like Dynamics AX, enable fast consumption of updates and improvements. In addition to the 50-plus solutions already available, hundreds are in development today.
The new Dynamics AX takes the capabilities of Lifecycle Services (LCS) to the next level. Businesses will be able to combine the best practices for their mission-critical apps with the flexibility and simplicity of upgrade via the cloud. With LCS, Dynamics AX will formalize the concepts of development, test and production, making the ongoing upgrade quicker to implement and deploy and easier to manage.
"Lifecycle Services represents a shift in how companies manage the life cycle of an ERP system in a way that's never really been done before," said Josh Greenbaum, principal analyst, Enterprise Application Consulting. "The ability to test in the cloud and use the cloud's natural elasticity and functionality to take the test, flip a switch and make it the actual production environment, that truly is magic."
Harnessing the power of the Azure cloud, Dynamics AX provides enhanced security along with global availability and scale, enabling businesses and people to work more safely anywhere, anytime while respecting the data sovereignty requirements of global customers no matter where in the globe they operate.
"We do everything through Dynamics AX now; we manage virtually all of our operations," said Thomas Mayer, chief operating office, Renault Sport Formula One Team. "Having what I need to run my business available anywhere in the world is invaluable."
"We are bringing massive amounts of data into our business to help control building climates and horticulture environments. That is a huge business transformation, and the cloud was the only way forward for us to make that real," said Paul Ossewold, vice president, Digital Operations, Priva. "To manage our company with 10 offices around the world, we need systems that are fast. That is what Dynamics AX in the cloud is giving us, and we couldn't be more excited to be one of the first customers on board to take advantage of this new solution."
Modern solution for modern businesses
Dynamics AX delivers a simple, beautiful, and modern user interface that is touch-enabled for the devices people use today. People can interact with the system with ease, as Dynamics AX works like other Microsoft applications that people are used to, increasing adoption and usage. The new intelligent user experience is also optimized to deliver value to organizations through the ability to make smarter decisions with increased speed.
"ERP is core to our business operations and critical to building and delivering products to our customers," said Ben Hagler, co-founder, Hagler Systems. "We chose Dynamics AX because of its robustness. The UI is amazing and available anywhere. It makes us device-independent. We can get work done everywhere with increased speed."
Dynamics AX delivers the proven business logic of a complete business suite, enhanced with new constructs such as Workspaces that provide a collaborative canvas unifying key performance indicators, business intelligence, views of critical data, processes and actions to power business user productivity. The Financial Period Close Workspace, for example, dramatically streamlines this critical, complex process.
Software vendors that partner with Microsoft have expressed their excitement over the potential this new solution offers the industry, representing a turning point in the ERP industry as cloud ERP solutions are adopted by customers to run their business-critical operations.
"This release is further proof that Microsoft is leading the charge with innovations not just in ERP but in cloud," said CEO Peter ter Maaten from Microsoft partner HSO. "Dynamics AX will be a game changer for enterprise customers."
Customers can sign up for the service today as the new release is available as a monthly subscription in three simple versions that include a self-serve user, a Task user and an Enterprise user. Businesses can get up and running quickly and match their business growth easily by adding business processes and users with this simple and transparent pay-as-you-go model.
https://erpnews.com/v2/wp-content/uploads/2016/08/cloud-erp-268x200-1.png
200
268
webmaster
https://erpnews.com/v2/wp-content/uploads/2018/10/[email protected]
webmaster
2016-08-15 00:00:00
2018-11-14 14:14:09
Microsoft delivers enterprise-class ERP to the cloud