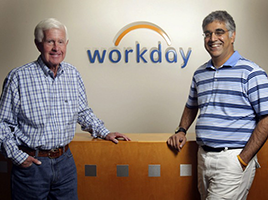 Property development giant Lendlease and ME Bank are the latest high-profile Australian organisations to sign on to cloud-based software disrupter Workday as it takes aim at Oracle and SAP in the lucrative market for human resources and financial software.
The company, which has already poached clients including Qantas, Commonwealth Bank of Australia, Toll Holdings, QBE and Dexus from the clutches of older, more established foes, has signed Lendlease and ME Bank to its Human Capital Management (HCM) platform.
Meanwhile it has also begun winning clients such as GE spinoff Latitude Financial Services for its suite of financial systems.
The news highlights the aggressive strides Workday has been making in the Australian market in recent times, with a sales story that pitches it as the natural software choice in the cloud era, ahead of more the established players that emerged in a time where all software was run on in-house infrastructure.
Lendlease is implementing Workday as part of a HCM Cloud and payroll consolidation program known as "People Central", for which it has been advised by Deloitte. The company is replacing an array of different human resources systems on to Workday in a bid to be able to better analyse trends in its own data, through having it in the same system.
ME Bank meanwhile has just completed a five-year program to rebuild its core technology systems and is using Workday HCM to pull together numerous peripheral systems that it has previously been using, including running significant parts of its operations on Excel spreadsheets.
Firm enjoys rapid growth
Workday's Australia and New Zealand managing director Rob Wells said the company's rapid growth in Australia was being fuelled both by its ability to win customers off established vendors, and by picking up business from the many companies who had never invested appropriately in the systems to run their back office operations.
A recent investor briefing from Dexus, for example, highlighted how it has consolidated 16 fragmented HR-related systems, including a number of processes run on Excel spreadsheets, by deploying Workday to run it as a unified platform.
"There is a surprisingly large number of organisations that do a lot of their activity outside of the core system of record, both for finance and HR," Mr Wells said.
"It is amazing how many organisations still do compensation reviews in Excel and then feed the final answers back into the core system of record, or do performance reviews on paper, which is hopeless because you don't have the data in the system to learn anything from it."
In addition he said many organisations had tried to get value from their data in the last decade, by purchasing "point solutions", such as a specialised performance management software, and then found that there was little chance of integrating it with other systems without huge complexity and loss of data quality.
Taking on larger rivals
lIn selling its line as a simple, yet sophisticated solution, Workday has put itself squarely up against much larger incumbent software companies, most notably Oracle and SAP.
Both larger rivals are seeking to convince clients that they have redesigned their products for the cloud era, with Oracle's new ANZ MD Rob Willis telling The Australian Financial Review late last year that it had all the requirements in place to prevail in the battle for the cloud.
Mr Wells however said this was incorrect, and that Workday's larger rivals were just dressing up older systems to look more like Workday's in order to try to convince customers to stick with them.
"Both Oracle and SAP are very strong brands, and have been in the game for a very long time … in Australia they still own the market share, but they are losing it quite quickly and dramatically to us," he said.
He said Workday had an advantage in having been founded in the 21st century, and built to be a cloud-based company from the start, whereas its larger rivals had been around for 40 years and had a legacy of older systems and outdated attitudes.
"The only approach that they can take is to acquire technology that looks a little bit like Workday, or put screens on top of their existing systems that look a bit like ours," Mr Wells said.
"But if we get a customer to look under the covers and see that it is a combination of tired old systems with a new user interface, they realise that it is probably not going to deliver them the value that one new unified system will."
In his earlier interview, Mr Willis said Oracle was investing significant money in cloud infrastructure in Australia, and had huge numbers of developers around the world making new software that would make it more profitable once the broader transition to cloud computing was complete.
https://erpnews.com/v2/wp-content/uploads/2017/02/workday-268-1.png
200
268
webmaster
https://erpnews.com/v2/wp-content/uploads/2018/10/[email protected]
webmaster
2017-02-08 00:00:00
2017-02-08 00:00:00
Lendlease and ME Bank sign on with SAP and Oracle disrupter Workday