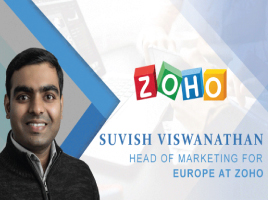 Interview with Suvish Viswanathan, Head of Marketing for Europe at Zoho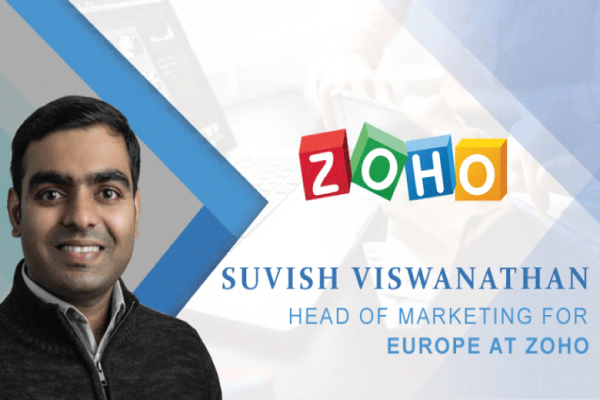 1. Tell us about your role at ZOHO and how you got here?
I am part of Zoho's UK and European operations. We started this operation earlier this year in order to be closer to our customers in Europe and to tell our story to the businesses in the region. I am responsible for marketing in the region.
2. What is it that you found lacking in the email Marketing landscape then vs now?
Email marketing has been slowly evolving over the last couple of decades. From the form factors to the designs and basic analytics, we have reached a stage where the law has marked your inbox as personal and without your permission or consent no-one can bother you with marketing emails. Although the conversation on privacy, and opt-out options have been around for a while, it hasn't been the main focus area as it is now. This is a welcome change in the industry and will help regain the credibility and foster creativity in the email marketing space. This requires tools that would help businesses to keep track of user's consent and ensure the information is passed to other tools, such as a CRM application. Automation is also going through a major transformation, with connected marketing tools that help in personalised targeting of messages. The transformation in automation can be categorised into the following sub-fields:
Contextual integration with sales, customer success and other lead management marketing tools
Intelligence to prescribe actions to teams based on the collected data sets
And, deep analysis of performance that connects data points from different applications
3. How is the martech industry different from when you first started?
It's been a little over 10 years since I started following the martech industry closely. But I am sure that the pace at which the evolution has happened in the martech industry has surprised many industry watchers like me. Just as an example, Scott Brinker of ChiefMartec had first started collating a marketing tech landscape in 2011, and I remember the list had around 150 vendors/products listed under various marketing categories; the 2018 list has more than 7,000 vendors. This is an average of 978 new solutions every year! As more users have gone online, the way to understand their digital footprint pattern has increased, which has led to varied ways to personalise the way to reach to them, measure each idea and deploy solutions to get their attention. Digital revolution has made martech a very interesting space to be in.
4. Given the changing dynamics of the audience demographics and real-time media execution how do you see the company fitting into the ecosystem.
Today, the time and attention span of your potential customer is very low. It's an instantaneous reaction that's expected and with the profile of future customers, be it enterprise or consumer, becoming more tech-savvy every passing year, it's imperative for tool makers to cater to the changing expectations. The tools of today need to:
Listen to the voice of customers from every channel they are on. And, this is not only online. As you see many of the top retail chains across the UK and globe have ventured into bringing a seamless experience to their customers both online and in their brick and mortar stores
Analyse data quickly, detect anomalies and prescribe actions from different data sources and on top of it make this easy for line of business
Have functionalities that lets the brand respect their customers' privacy. Privacy is major component in building this trust and tools can help in enabling it.
Zoho's customer experience tool, CRM Plus broadly works on these aspects.
5. How do you differentiate Zoho from the competition?
The applications that have been built to provide a unified customer experience blend the complex data sets from multiple touch-points a customer has with a brand, from the first visit on the website to having a live chat with a rep or engaging with its social media platforms. This is just one of the many phases where a customer is trying to get a feel of the brand; once they make a purchase then their information is on CRM systems. By this point there are feedback systems, finance systems and a system that ensures an effective channel is set for listening to the queries. During all these processes, the data of a customer would have traversed through 15-20 different tools that you would see in the martech landscape.
With Zoho, we have ensured that our customers see this data on one system that's built on a single platform and yet they have the ability to be operated individually without tying the customer to a single monolithic application. This has allowed us to add unmatched intelligence on top of this with our AI-powered platform, Zia.
6. What changes are you majorly concentrating on to enhance and plug-in a more actionable customer interaction and communication model?
We have recently released a new version of the Unified Customer Experience suite that I have just explained, CRM Plus. The changes mostly concern AI: our analytics platform now comes with a NLP (Natural Language Processing) engine that lets business divisions make quick and informed decisions. Another major enhancement was released on our customer support platform, Zoho Desk (which is part of the CRM Plus suite), which enables businesses to tackle the issue I raised earlier "Instant Results/Response". We released two new apps for customers of Zoho Desk, 'Radar', which helps customer success teams be on top of everything critical from mobile and, another app called 'ASAP', which brings the community and knowledge base together so that the end customer can access information and help instantly from their peers. These are just a couple of examples of the focus we are putting to make sure teams and businesses can focus on the success of their customers.
7. What tools would recommend to CEOs and CMOs as a Sales Hack in 2018?
The C-Level executives need tools that can provide them overall visibility with data points for making decisions.
Disconnected tools often lead to increased cost and productivity loss in teams. Any tool that can bring the teams and data together is well recommended.
8. How do you think your firm enhances functionality in this era of multi-fold tech integrations?
Integration between applications is extremely important. In the previous section, I have provided a scenario to explain it. Zoho has been building products and technology organically. Our strategy has been to build technology that will help solve a particular problem, for example- marketing automation, website analysis, live chat sales, customer support, HR or Finance to name a few. And, then we created bundles that have a natural need in departments. For example, CRM Plus is a bundle where we bring Sales, Marketing and customer support teams together. Last year, we released a master bundle called Zoho One which brings the entire organisation (Sales, Marketing, Finance, HR and IT) together. Since these are tools that are built in-house, integration was by design rather than being an afterthought.
9. Elaborate on your best digital transformation campaign. How did you measure the performance among your audience?
We have worked on a few. For us the campaigns are mainly to educate our customers to use digital tools to transform their business. Very recently, I had an opportunity to meet a customer, a traditional third generation manufacturing business in France. The current management is trying to transform their business using digital technologies and they came across Zoho's solutions after attending Zoholics, our annual user conference. We see many such customers; the campaign there is to educate internal champions on digital transformation and the metrics there becomes how deep within the organisation they have transformed themselves. It's different from typical marketing campaigns which is mostly around the pre-sales stage, which is something that we do regularly anyway. The metrics there would be quite different; each of these campaigns have their specific north star metrics.
10. What book are you currently reading?
I am reading Yuval Noah Harari's 'Sapiens'
11. One piece of advice you always follow irrespective of circumstances
I try not to react immediately, but to take time to process and adapt to different circumstances accordingly.
https://erpnews.com/v2/wp-content/uploads/2019/01/268x200.jpg
200
268
katie
https://erpnews.com/v2/wp-content/uploads/2018/10/[email protected]
katie
2019-01-28 14:09:52
2019-01-28 14:09:52
Interview with Suvish Viswanathan, Head of Marketing for Europe at Zoho