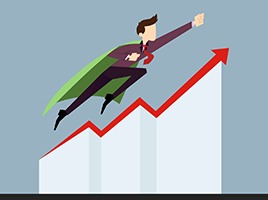 Global Conductor Management Consulting advanced 25 spots to be named the 25th "Fastest Growing Firm" by Consulting magazine during an awards ceremony at the Yale Club in New York City.   Global Conductor attributes their success to the amazing teams they have been able to assemble for their clients as well as their approach to Listen to their clients, Connect with their needs, and Orchestrate solutions.  This marks Global Conductor's second consecutive year on the prestigious list, with another three-year period of remarkable growth from 2013 to 2016.  Global Conductor has serviced over 40 Fortune 500 companies across 9 industries and 15 countries since 2002.
CEO and Founder Troy Edgar stated, "I am so pleased with the hard work our consultants and management team have put in to advance Global Conductor to this great milestone.  It is an extreme honor to be recognized in our industry for the second year in a row.  Our Clients place a great deal of trust in us, and they share in our success as well."
Ken Wolinsky, former CIO of Avery Dennison and Golden State Foods added, "When I had an issue or need that required more than just another body I never hesitated to reach out to Global Conductor. They always fielded a team of experienced professionals who would partner with me and my internal team to manage a mission critical problem to resolution. Because their expertise is not limited to any one area, I've used them on large scale ERP finance and supply chain projects as well as moving applications to the cloud. They are very fair during negotiations, will not nickel and dime you to death after the contract is signed, and always deliver on time and on budget. You will not find a more honest and personable team."
Consulting magazine's "Fastest Growing Firms" is a global list of the fastest growing consulting firms – designed to shine a light on those firms that are making a big impact with measurable results.  Rankings are determined by evaluating revenue over the last three years. In a crowded market, competing with some of the most successful firms in the world, these firms are considered the future of the consulting industry.
Global Conductor forecasts continued growth in 2018, especially within their automotive and healthcare practices. The central region has been a key growth prospect for Global Conductor with the recently established office in Plano, Texas along with their consistent growth in the consumer and industrial products, financial services, and government industry sectors.
https://erpnews.com/v2/wp-content/uploads/2017/11/1-2-1.jpg
200
268
webmaster
https://erpnews.com/v2/wp-content/uploads/2018/10/[email protected]
webmaster
2017-11-16 00:00:00
2017-11-16 00:00:00
Global Conductor advances to the Top 25 on the list of Consulting's "Fastest Growing Firms"