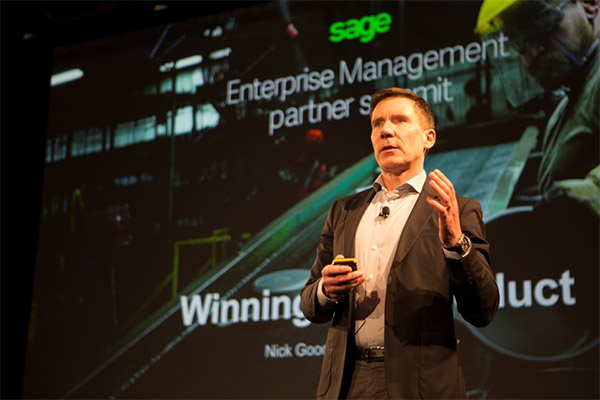 ERP Software Selection is a tough road to walk through and in this interview with Nick Goode, Executive Vice President of Sage Business Cloud X3, we talk about how the shift to cloud ERP affected today's IT executives' ERP buying decisions and we look behind the scenes of success of Sage in ERP industry. He explains why ERP software needs to be able to leverage business intelligence to work effectively. Here, he also answers all your questions about Sage Business Cloud X3 and its benefits and he talks about the importance of choosing the right ERP implementation partner.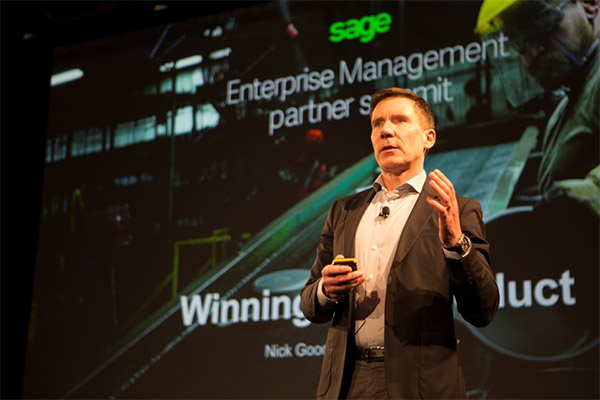 Could you tell us about your career and your role at Sage?
As Executive Vice President, Sage Business Cloud X3, I focus on researching market needs, identifying product solutions and establishing how to deliver intuitive, disruptive solutions that meet the evolving technological and legislative landscape of today and tomorrow.
"Going global" as a corporation doesn't need to be terrifying, so long as you have a strategy for how to manage the changes that come with it. I focus on global expansion and the complexities that it can bring to corporate structure and function.
Prior to joining Sage, I worked for other software companies in a variety of roles related to product management and marketing. With more than 20 years of experience in the enterprise space, I've worked within multiple industries ranging from manufacturing to financial services, and have worked with enterprise software customers in more than 50 countries.
Sage has been one of the prominent vendors in the ERP software market for many years. What is the secret to this success?
Though there are many factors that contribute to Sage's overall success, one of the primary factors is the way in which it was founded. Like many of our customers, Sage began as a startup. Founder David Goldman wanted to automate the print estimating and basic accounting process in his own business, and realized that other companies could benefit from the software he developed. Rinse and repeat on a global scale.
At Sage, we understand our customers' needs and the challenges they face because we also had to overcome those same obstacles. Sage has an innovative and entrepreneurial nature at its core. We at Sage understand that being nimble in today's business climate is essential. Our technology is trusted by millions of customers worldwide and helps small and medium businesses perform at their best. We believe in doing everything we can to help people be the best they can be.
Where do you see your company in the global competition? How was 2019 and what are your business plans for 2020?
As a company, we focus on efficiency, profitability, and a continued commitment to constant process improvement. Sage has continued to enrich its product suite and provide customers with aggregated, streamlined and formalized processes – which serve our customers and their growing businesses well. Sage will never stop exploring, refining and keeping technology at the forefront as a possible solution to any problem. For successful businesses, improvement is continuous.
Do you think the shift to cloud ERP is changing the way ERP buying decisions are made?
Absolutely – today's IT executives have more choices than ever before when selecting an ERP solution. The needs and pain points that arise from deep industry vertical complexities can often overwhelm an executive trying to decide which features and functions are the most important for their business. As a result, mistakes are often made when choosing, deploying or implementing an ERP system.
There are critical factors that should be considered before proceeding with ERP deployment. For example, on-premises deployment requires dedicated IT staff, up-to-date servers and hardware in-house; whereas cloud solutions are better used by a remote workforce and require strong internet connectivity for cloud-deployment.
Buying a cloud-based ERP solution needs to be a collaborative decision between a business' C-Suite and its IT department. The cloud requires a high level of integration in order for it to fit appropriately into an enterprise's existing infrastructure.
What can you say about the future of Cloud ERP?
As a society, we're all more than familiar with the benefits that the cloud brings to our lives outside of work; for instance, on-demand streaming services. However, product-centric businesses appear to be slower to move to the cloud world. But, as the workforce begins to demand the same technology, we are seeing the tide turn.
Companies were relatively quick to move CRM or talent management to the cloud. However, migrating ERP is less straightforward. Concerns around privacy and compliance exist, as well as the challenge of stripping what can be enormous levels of complexity and customization out of legacy systems before making the switch. Many businesses are seeing the benefits of storing data in the cloud. These benefits include cost savings across hardware and deployment, an upgrade-free world, the availability of AI, and the emerging idea of collective insights, where we can begin to predict customer trends using big data analysis.
Sage Business Cloud X3 is a next-generation business management solution for enterprises. What are the 5 reasons companies should choose Sage Business Cloud X3 as an ERP System?
Sage Business Cloud is changing how businesses compete and grow by delivering faster, simpler and flexible financial, supply chain and production management – at a fraction of the cost and complexity of typical enterprise ERP systems:
Faster – Sage Business Cloud X3 accelerates your entire business from procurement to production, warehousing, sales, customer service, and financial management – and delivers faster insight into costs and performance at every step, on a global scale.
Simpler – Sage Business Cloud X3 adapts to users' unique roles, preferences, and workflow, delivering secure cloud and mobile access to the data they need while simplifying the management of company software infrastructure with one cohesive suite of applications.
Tailored – Sage Business Cloud X3 offers flexible configuration options and applications to support industry-specific processes and can be operated in the Cloud –managed by Sage – or in a company data center, providing total control over IT strategy.
Adaptable – Sage Business Cloud X3 supports specific industries and multiple legislative regulations and languages.
Customizable – Sage Business Cloud X3 can support industry-specific processes, enabling teams to work smarter and more efficiently with a modular and flexible system that will grow.
As most enterprises come to learn quickly, simply having an ERP solution installed is not much use. What are the reasons why business intelligence plays an important role in ERP?
Just about every business has adopted an ERP system to keep data within one common software platform. ERP systems have a diverse range of powerful yet flexible business applications. For example, ERP software can be used to create and maintain a cohesive, multi-functional database, allowing multiple divisions, such as management and sales, to collaborate with real-time synchronization – rather than wasting valuable time manually processing and creating reports. By streamlining workflow, managing information, and delivering actionable insights into trends and performance, ERP systems simultaneously increase productivity, mitigate the risk of errors, and ultimately, drive greater profitability.
In order for ERP software to work effectively, it needs to be able to leverage business intelligence – without this, the influx of data isn't able to manifest itself into useful information and actionable next steps. When implemented correctly, ERP software can lower costs while improving regulatory compliance, making ERP a fundamental tool for all types of businesses.
In today's dynamic and fast-paced environment, mobile business scenarios are especially common. What are the benefits of Mobile ERP applications?
A mobile ERP system has many advantages, including the ability to do business anytime, anywhere. Just like an ERP, mobile ERP is a group of integrated applications that companies can use to store and manage data at every stage of the business. In a sense, mobile ERP is a solution to the problem of completing tasks away from the office and making it possible to work on the road through ERP applications.
The mobile capabilities are popular amongst field sales and services industries, where they need instantaneous access to work center applications as well as enterprise and business intelligence. Through mobile ERP, there's an inherent elimination of downtime and a huge increase in productivity as workers can access tools, materials, and information from their mobile devices. Having the ability to deliver real-time information while on the go gives organizations a competitive advantage by allowing them to capture more accurate data from the field without the need to re-enter the data "in the office."
Choosing the right ERP software is important, but deploying it the right way depends on choosing the right ERP implementation partner. How should companies address the question of how to deploy an ERP solution?
Businesses in virtually every industry are deploying ERP software to connect disparate business processes and solve a myriad of challenges. This includes everything from streamlining operations to managing complex business processes and using data to augment human decision-making. The business process improvement benefits of ERP are clear to see but, when it comes to picking the right type of deployment, things aren't quite as straightforward. From hosted and on-premises to public cloud and private cloud, there are many options for organizations to consider amidst a changing market landscape.
It's also important to remember that not all business needs are the same. So, understanding which deployment option is best by focusing on a few fundamental factors is key to ensuring a smooth implementation process.
Typically, businesses that opt for a hosted or on-premises deployment will have a perpetual license with a one-off cost, rather than a subscription-based license more commonly found in cloud environments. They will also manage software updates in-house, at a time that suits their operations. However, some businesses will want to take a different approach depending on where they are in their life cycle. For a business that is growing fast, a subscription license in the cloud could be more appropriate because it will enable them to easily add services, scale up their infrastructure, and continually be on the latest version of the software due to automatic updates.
It's important to remember that every business is unique and that they should proceed with a deployment option that will provide them with the best platform to drive
https://erpnews.com/v2/wp-content/uploads/2019/11/Sage.jpg
400
600
katie
https://erpnews.com/v2/wp-content/uploads/2018/10/[email protected]
katie
2019-11-18 11:18:16
2019-11-20 10:47:45
For Successful Businesses, Improvement is Continuous