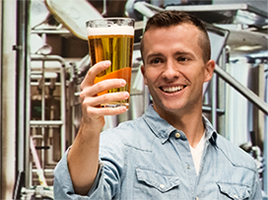 ERP News – worldwide – erpnews.com – If you're a Quality Assurance/Quality Control Analyst for a process manufacturing company, you have competencies in mathematics and analytical thinking, as well as technical skills typically employed in the quality control process. You are responsible for understanding and championing current good manufacturing practices (cGMP) and company quality standards to deliver the best in product performance to meet consumers' expectations. The Quality Control (QC) functionality of an Enterprise Resource Planning (ERP) software solution can help you perform your job better in these vital areas––data integrity and consistency, corrective and preventative measures, regulation, and reporting.
Data Integrity and Consistency
You cannot perform QC effectively if you're working with flawed data. The centralized database in an ERP software solution can be secured and maintained by enabling privileges so that only qualified personnel may maintain QC status data.  All critical data is carefully collected, stored, managed for accuracy, and linked in real-time throughout your enterprise to be utilized by you as well as business management and plant operations personnel.
Corrective and Preventative Measures
The advantage that real-time visibility gives you and your company is the quickness and accuracy with which you can make decisions. If you have a cGMP nonconformity issue or a contamination event, the ERP solution can assist in performing backwards and forwards lot traceability. Data within the system can help you systematically investigate intrinsic causes of identified problems and risks in order to take corrective and preventative actions.
Compliance with Regulatory Requirements
The ERP solution helps your company to manage, monitor, and track complicated recipes and formulas, produce accurate and compliant labels, and provide the documentation tools and procedures you need to satisfy governmental agencies and other regulators. The system automatically alerts you to pending audits and inspections. It can also help you create customized Certificates of Analysis (COA) and compile chemical Safety Data Sheets (SDS).
Internal and External Reporting
ERP software helps you to maintain the company's cGMP principles, answer consumer complaints, and adhere to industry and governmental regulations. Track, document, and report on the company's response to external audits or recall events. Easily monitor your internal QC progress, and enjoy the flexibility of conducting various in-progress and customer-specific tests per your own defined standards. Drill down the data for pedigree tracking and other required reporting to the EPA, FDA, GHS, HAA, and USDA, to name a few.
https://erpnews.com/v2/wp-content/uploads/2016/03/quality_control_268-1.png
200
268
webmaster
https://erpnews.com/v2/wp-content/uploads/2018/10/[email protected]
webmaster
2016-03-16 00:00:00
2018-11-14 15:05:16
4 Ways ERP Helps QC Analysts Excel