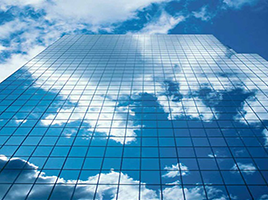 Just a few years back, few could have envisioned that organizations would be going full-force to the cloud for enterprise resource planning (ERP) applications. It just wasn't conceivable — cloud was for simpler, edge-of-the-enterprise functions — not the vital, muscular core systems represented by ERP.
Things are changing fast. Many organizations are considering or making their first steps into cloud-based ERP, and the vendors are right behind them. It's worth noting that ERP — which encompasses financials, human resources, CRM, production and procurement — is the enterprise. And running ERP in the cloud means that for all intents and purposes, the very core of the enterprise is now cloud-borne. That's a big, big shift. The way you keep your books, track and project your sales, process customer transactions, hire and keep employees, and produce goods and services may be handled in someone else's data center.
Gartner's Chris Pang recently described the advances being made to bring ERP into the cloud in an online webcast. He notes that for small to medium-size organizations, cloud has moved beyond the consultancy's vaunted "hype cycle" and is now moving up the "slope of enlightenment." (Fellow Forbes contributor Louis Columbus suggested a couple of months back that cloud ERP adoption is moving even faster than Gartner's estimates.) For larger enterprises, cloud ERP is on the very pinnacle of the hype cycle. In either case, it means cloud ERP is moving beyond the slick sales chatter and is entering the roll-up-your-sleeves-and-make-thing-work stage. And when you talk about anything related to ERP deployments, it's definitely time for serious, heads-down work.
As can be expected, signing onto a cloud ERP service isn't as simple as signing up for edge-of-the-enterprise services. Bringing ERP to the business requires selling the concept to management, in addition to integration work with existing systems.
Many components of the ERP world have been steadily moving to the cloud. A survey of IT executives and professionals I conducted in partnership with Unisphere Research (sponsored by Oracle) found 27% already were deploying their financials within a private cloud as of last year, and 12% were using public cloud services. Another 28% had their human resources and benefits functions in a private cloud, 22% were using public cloud. Eight percent and five percent were using private and public cloud, respectively, for supply chain and demand planning.
"When it comes to cloud ERP, we are definitely seeing a lot more use cases being available, and fundamentally we are seeing a lot more desire from the end user community to take on cloud ERP as an entirely complete solution, or as discreet bits of functionality," Pang reports. However, a lot of work lies ahead in making it fit into enterprises, he adds.
But the momentum is clearly toward cloud as a primary ERP platform. "SaaS is no longer one of those things done by a business unit on a whim," says Pang. "When it comes to buying cloud, often what we see is a joint effort between the business unit also IT. It's fundamentally also a collective decision as to whether to go for a cloud solution or not, and also what gets picked in terms of a cloud solutions. Cloud is no longer one of those areas for maverick buying."
Cloud solutions — particularly when it comes to core enterprise applications — "don't live by themselves anymore," he says. "There is a requirement for integration of data in and data out. Integration and security and things such as a the data model and data cleanliness is also going to be part of the decision criteria." Every company, and every industry, has different types of requirements that they will seek in a cloud-based solution.
Vendors have their own challenges in this regard as well. The onus is on them to offer solutions in the cloud. However, if they push cloud too aggressively, they risk cannibalizing their business, Pang adds.
The pace of cloud deployments is affected by the fact that most ERP configurations are based on three layers of systems, he continues. Systems of records are the core infrastructure of enterprises, which change infrequently. Systems of differentiation and systems of innovation are more amenable to change, are the more likely candidates for cloud ERP implementation.
Many traditional ion-premises ERP vendors are now moving their solution sets to the cloud, and this is where enterprises need to be cautious, Pang warns. "You need to be careful, especially on the integration side, especially when it comes to vendors with multiple products," he says. "It isn't integrated automatically — often there is a favored platform of choice for the older products. These may not be an easy transition going forward. Don't just assume just because its from your provider, it's going to work naturally — there's going to be nuances."
https://erpnews.com/v2/wp-content/uploads/2015/12/the-cloud-1.png
200
268
webmaster
https://erpnews.com/v2/wp-content/uploads/2018/10/[email protected]
webmaster
2014-06-22 00:00:00
2014-06-22 00:00:00
When ERP Goes To The Cloud, You Know Things Are Getting Serious