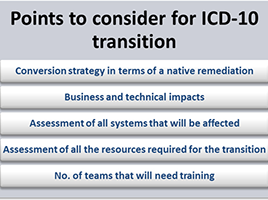 How has the 10th revision of the International Statistical Classification of Diseases and Related Health Problems (ICD) improved healthcare sector?
The latest revision of the WHO certified medical classification of diseases has made organisations in the healthcare sector stress on the need for upgrading their systems. ICD 10 helps medical organisations upload more than 14,000 different codes for various types of medical diseases. WHO has nonetheless, stated that all organisations should manage to achieve their conversions to the latest ICD 10 standard as quickly as possible.
Don't Stress Over ICD-10 Transition When You Can Rely On Consultants
The classification of diseases into categories such as diagnostic and procedure codes have managed to improve companies providing IT services for healthcare with high quality and more attentive patient care. Yet, the companies who have not yet managed to upgrade to this transformation will need to ensure that they have upgraded to this level. Under the new norms, the adoption of the ICD-10 by U.S. Department of Health and Human Services has spread across all organisations. It is, therefore, best to ask the following questions before you begin to implement the changes of ICD-10 transformations:
How Technical Expertise Combined With Technological Advantage Help?
Consider approaching a company with tremendous amount of technical and technological expertise when you are considering implementing the ICD-10 transition. By consulting some experts in the field one can gain enough insight and faster implementation of the ICD-10 framework. Here's what companies can expect from highly professional implementers of the ICD-10 transition.
Consultants with the capability of conducting end-to-end ICD-10 transformation services with strict adherence to the compliance guidelines.
Enhancement and easy adaptability to the guidelines with the help of tools such as i-CRM and iDPC and all of the services from experts such as HCL Tech.
Ensure the complete integration of all business, technical and operational units while minimizing the gaps that are required for stabilizing the ICD plan.
All-in-all the smooth implementation, integration, and finally the successful transition of the ICD-10 guidelines can help people adapt to futuristic guidelines.
To know more about the tools from HCL please visit http://www.hcltech.com/lifescience-healthcare/icd-10-transformation
https://erpnews.com/v2/wp-content/uploads/2015/12/ICD-10-Transformation-1.png
200
268
webmaster
https://erpnews.com/v2/wp-content/uploads/2018/10/[email protected]
webmaster
2014-06-18 00:00:00
2014-06-18 00:00:00
Facilitating ICD 10 Transformation All The Way