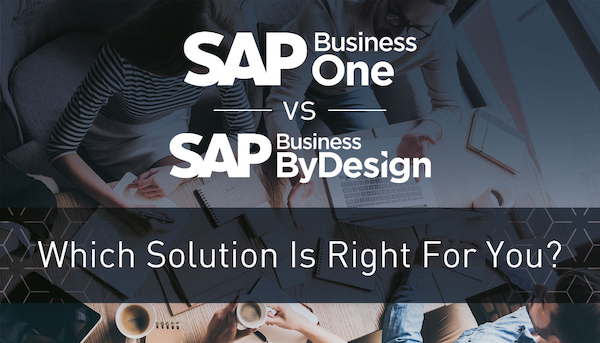 Futureproofing your growth as an SME with a global leader in business solutions with insight into where and when to deploy SAP Business One or SAP Business ByDesign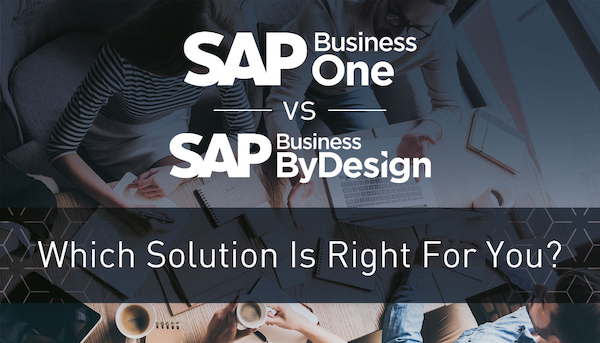 Flexibility and scalability are key requirements of any ERP deployment. SAP has been a global leader in business solutions for small, medium and large companies for many years, touching 77% of the world's transaction revenues. Its suite of business management solutions for SMEs will help streamline business processes and reduce your system landscape. Both SAP Business One and SAP Business ByDesign are powerful, cost-effective and versatile platforms that allows SMEs to scale and compete with companies of all size, without the complexity.
SAP tends to position SAP Business One for the small to medium (SME) business and SAP Business ByDesign focused more on the medium business (SAP classify an SME as being less than €500m) Find out where and when you might deploy each one, and what scenario might be most suitable for your specific business.
SAP Business One – Key Highlights
SAP Business is used by over 80,000 customers, implemented by more than 850 Value Added Resellers worldwide. Its built-in tools and business intelligence let you customise the solution in the way you want to work, with out-of-the-box industry specific focus and functionality for a wide range of sectors.
B1 Platform flexibility: A flexible, secure and resilient ERP platform gives you the choice to decide on cloud and on-premise options to suit the way you run your business. A cloud solution gives you all the advantages of cost and scalability, with no need for on-premise hardware, up-front costs or support overheads as you grow your business.
B1 Industry focus: Over 300 SAP accredited Software Solution Partners (SSPs) provide 500+ out of the box industry-specific solutions. This flexibility enables you to add and extend industry-specific functionality, best-of-breed apps and business logic into your solution. Industry-specific capabilities include automotive, consumer products, retail, healthcare and high-tech.
B1 International reach: 50 localisations with 28 languages and is used in more than 170 countries.
B1 Data and Reporting: More than 150 built-in standard reports and dashboards. These include KPIs for tracking business-critical measures, Interactive Analysis for creating flexible ad-hoc analysis within Microsoft Excel and Dashboards for embedding business forms and functions for users.
Horizonal extensions: Connects to other mission-critical modules to support your specific business needs. These include budgeting, forecasting and consolidation, enhanced CRM, manufacturing and warehouse management.
Add customisation and automation to your own unique processes without coding: With built-in customisation toolsets and add-ons like Business One Usability Package and Business Process Automation, you can easily configure your own business logic without the need for bespoke coding. From free/chargeable shipping thresholds to warnings and blocks for specific events in sales and purchasing, the configuration is user and upgrade-friendly.
Integration with external systems: Seamless integration with key external operational systems to enable you to run your business flexibly. From Making Tax Digital with HMRC, to Magento, Amazon and Shopify, (REST) APIs let you build and integrate the app software you need.
Scalability: The SAP HANA In-Memory database technology powers the speed and performance of an enterprise-grade ERP. It provides you with rapid reporting and processing of millions of customer records and transactions so you can scale and grow your business with one platform.
SAP Business ByDesign – Key Highlights
SAP Business ByDesign is designed to track end-to-end business processes across scenarios such as CRM, financial management, project management, supply chain and many more. As an on-demand and monthly subscription-based solution it offers built-in business analytics, e-learning and support.
Ease of Deployment: Tried and tested, industry-standard workflows are out of the box, guaranteeing a rapid and easy deployment. The average implementation time is between 8-12 weeks.
Multi-company: Multiple legal entities can be set up in a single database, ensuring you have full control and visibility across your organisation, without having to consolidate or process data from separate databases. This feature has proved to be useful to companies with subsidiaries and overseas branches, also companies such as Venture Capital and Private Equity companies, enabling them to report to multiple clients on investments held across different companies.
Pre-configured Industry best practice: Industry-specific functionality and processes cover a wide range of businesses, including professional services, manufacturing and wholesale distribution. The value-add features enable these types of business to gain a competitive advantage by quickly automating processes, achieving visibility of operations and reducing costs.
Localisation: Comprehensive localisations for 21 countries in Europe, Asia Pacific, and the Americas. It takes care of statutory reporting, local invoicing formats, tax, accounting, and HR regulations. Selected localisations are also available for a further 64 countries, providing country-specific functionality and helping with compliance from day 1 of your live operation.
Language support: Local language screens and help text in 41 different languages used in 144 countries.
Extensibility: Over 400 APIs can be easily configured to provide the connectivity you need, as well as pre-built integrations to Office 365, Concur, SAP Analytics Cloud and SAP SuccessFactors.
Automation: SAP Business ByDesign's philosophy is all about automation, incorporating features such as intelligent invoice uploads, MTD submissions, payment file generation and scheduling of periodic tasks such as billing, depreciation and reporting.
Analytics for real-time business insight: With the wealth of built-in KPIs and insights you will have access to real-time information on your business at the click of a button. In addition to the pre-loaded reports, there is also an easy-to-use reporting tool, allowing users to build their own analytics.
Continuous product improvement: New versions are implemented every quarter, with the current road map planned through to 2022. As well as automatic product improvements on a regular basis, you have visibility of changes that are on the horizon.
A seamless, fully integrated solution: An integrated mobile app allows a wide range of activities to be carried out from a mobile device, including timesheet submission and approval, expense management, reviewing performance KPIs in real time, invoice approval and project management.
About Codestone
Codestone is a multi-award-winning business applications and cloud services company, focused on SAP's Business One and Busines ByDesign products, complementary applications and managed hosting services. The business recently won SAP's award for best B1 and BYD partner in Northern EMEA for the third year running. The company is focused on helping customers gain the maximum from these business applications, taking the time to understand specific needs and to deliver their desired outcomes.
https://erpnews.com/v2/wp-content/uploads/2021/03/sbo-vs-byd-tw.jpg
343
600
katie
https://erpnews.com/v2/wp-content/uploads/2018/10/[email protected]
katie
2021-03-24 08:38:24
2021-03-25 08:52:21
What is the right ERP for your SME?