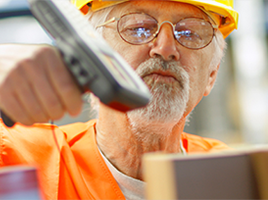 ERP News – worldwide – erpnews.com – As a process manufacturer looking toward the implementation of a new Enterprise Resource Planning (ERP) software solution, you have plenty to think about. The primary goal is to keep the implementation moving forward. However, don't minimize the importance of data migration. ERP Data migration––the transfer of data from one storage type, format, or previous computer system to the new ERP solution––is the most time consuming of all implementation activities. Having a well-defined data migration approach ensures you'll keep to the implementation timeline, avoid costly budget overruns, and go-live with clean, meaningful data. Here are five steps to help you streamline the process and execute a successful ERP data migration.
ERP Data Migration Steps
1.   Analyze Project Scope. Your company works with three general categories of data: (1) current open/live transactional data, (2) master data, which is core data necessary for the operation of your business, and (3) historical data, which is information over two years old. You'll need to make realistic decisions, with stakeholder input, about these types of data. This can include: the number of end-users who'll have access to the data, what data needs to be migrated by the go-live date, which sites will be affected (if you have multiple locations), what other data truly needs to be converted, and the amount of historical data you want to store in the new ERP solution. Give yourself plenty of lead-time to study, respond to, and communicate the size and complexity of the data migration project.
2.   Develop a Strategy. You cannot assume your IT Department or your ERP vendor will handle the data migration project. The project requires participation from the entire company. Outline a plan and articulate it throughout your organization, assigning roles, delegating responsibilities, and empowering decision-makers. Use your stakeholders to prioritize business tasks associated with the open/live data and master data. Set up a logical, workable sequence of actions, along with deadlines, following your ERP vendor's implementation methodology. Work systematically, resisting the impulse to migrate "everything all at once." Mistakes happen when you try to move too quickly.
3.   Define the Standards. You may be moving data from any number of sources––Microsoft® Excel databases, Quickbooks, legacy systems, or an older ERP. Each source will have classified information in a manner different from the other. In addition, each department area most likely will have used its own specialized pattern of data classification. What you need now is uniformity, a migration design, some manner of standardization for all data as you move forward with the new ERP solution. This defining of standards will take collaboration among department managers and executive management, and decisive action.
Data mapping specifies the details of your data migration. Data mapping consists of looking at your source data and comparing it to the new ERP's target data (mapped data), and then, setting up certain translation rules. Potential issues need to be uncovered and resolved prior to migration so no data will be lost or incorrectly assigned. The process consists of a field-by-field analysis of the source data according to various attributes of the ERP software. After your data migration, your source data is no longer used but is archived and available for "inquiry only."
It is important to review all data as to its viability, reduce and eliminate redundancy, and clean the data by removing incorrect or corrupt data from records, tables, and databases prior to ERP data migration. These actions are often performed manually. Remember, your goal is to migrate the least amount of critical data necessary for your business and regulatory needs. Data migration is often a good excuse to "clean house."
4.   Test. Validate. Reconcile. You want to make certain that your migrated data will load properly. A good rule-of-thumb is to initially test a small amount of data by loading it into the new ERP solution, then, increasing the frequency and amount of data migration until the project is completed. This allows you to troubleshoot and overcome any difficulties prior to go-live. After you've loaded the data, validate that the data is mapped to the correct fields. Reconcile the records, values, or volume of data moved from the source with the number of corresponding records, values, or volume of data residing in the ERP solution.
5.   Staff for the Task. Adequately designate your internal staff, or hire the right number of technicians, to complete the data migration. These individuals should be available for the entire project, including the decommissioning of the old system(s), and be skilled in data migration, systems, or business domains. They should understand your business processes and data specific to process manufacturing, and be able to analyze and manipulate this data. These individuals should be open to accepting the guidance provided by the ERP vendor and to working alongside the ERP vendor's implementation personnel.
A full 30% of data migration projects fail, and 38% run overtime or over budget, according to a 2011 report by Bloor Research, Europe's leading independent IT research, analysis, and consultancy firms. Don't become part of that statistic. ProcessPro is experienced in providing process manufacturers with guidance and hands-on data migration assistance during ERP software implementation. We can help you secure a successful data migration outcome.
https://erpnews.com/v2/wp-content/uploads/2016/03/erpnews2_268-1.png
200
268
webmaster
https://erpnews.com/v2/wp-content/uploads/2018/10/[email protected]
webmaster
2016-03-11 00:00:00
2016-03-11 00:00:00
Take These 5 Steps Toward Successful ERP Data Migration