Digital transformation is a fast growing phenomenon with measurable business value and can make a major positive impact on your business.
Today's small business owners need change ready ERP implementation to grow and thrive it's worth the minimal disruption to take the time and make the efforts to accomplish these updates.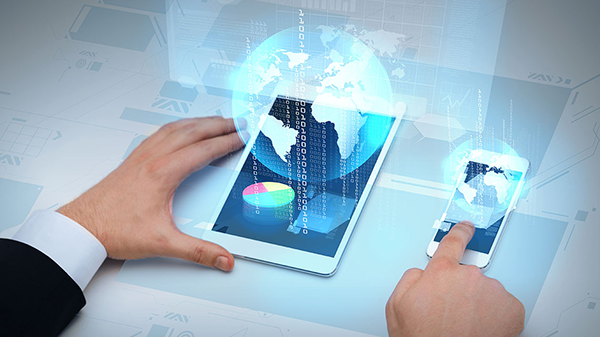 Implementing an ERP system requires strategic planning to achieve the maximum benefits and minimize the risk of project failure. A digitally transformed business experiences improved processes and drives new business models, not to mention engages talent across the organization.
Oftentimes, small business owners have no idea how ERP works. In a nutshell, ERP software integrates the flow of information between several business processes and integrates business transactions in real time.
ERP enables improved business decisions by making information from several parts of the business available to others within the business and it posts relevant business transactions to the company's ledger and other financial systems to improve management.
ERP Works Well for Growing Businesses 
If your small business lacks proper integrated business software, you may start to feel a negative impact in ways that impact your bottom line. You don't want to suffer from lost orders, inventory shortages, missed shipments and lack of control. ERP systems enable businesses to have better visibility and insight into their supply chain operations.
This key information allows them to make better business decisions and maintain a more competitive edge in their industry. ERP systems gives businesses a leg up as they can better identify problems and employees can make more informed decisions.
One benefit of ERP, or enterprise resource planning, software is that is provides the various departments of your company with the same snippet of important business information. ERP software allows an organization to utilize a system of integrated applications to better manage the business, and it automates numerous back office functions, too.
In many small businesses, departments have their own information systems, creating information silos that other departments cannot access. However, with ERP systems, all relevant data is available to those departments, which eliminates the need to re-enter data and reduces risk of error while improving productivity.  Digital transformation is driven by the business, but is enabled by IT.
Cloud computing, or "the cloud," is one of the leading technology topics in the world. Cloud computing utilizes the Internet to provide shared computing resources and storage of records or documents. Cloud ERP enables a company's accounting, reporting, and operations management to run in the cloud.  There are various ERP cloud vendors that can assist, so take your time as you select your provider.
Traditional companies often fear the risks of digital transformation, especially for their core ERP systems. Digitalization is putting new pressures on ERP systems to be agile enough in a constantly evolving IT and business environment.
Prior to digital transformation, ERP CIOs could go the safe route and ignore agility as a top priority. The business needs for digitalization changes the game and blows the play it safe ERP strategy out of the water. Instead, CIOs need to adopt an ERP agility agenda that carefully selects the best practices to increase ERP velocity while still ensuring the quality and reliability expected for ERP applications.
Companies that lead in using digital technology differ not only in their capability but also in the clarity of their mission. They view digital as an opportunity for transformation, not as a technology challenge. They search for ways to use today's technologies to transform, and improve, the way they do business.  Many companies make assumptions that prevent them from leaning on digital transformation that aren't true.
While, yes, humans will always have their place in customer interactions, not all interactions with humans provide value to customers.  There are times when customers might find it more convenient to interact with machines.
Many businesses have found ways to weave digital technologies into a smooth and personalized "no-touch" customer experiences. Companies in various industries have shown that digital innovation can combo no- or limited- touch service and still provide high customer satisfaction.
Customers, especially young adults in their 20s and early 30s prefer to buy insurance online and utilize mobile banking over visiting an agent or a physical branch of a bank. Customers enjoy the ability to pay you online with modern payment options many considering interacting with a human service representative is actually considering an inconvenience.  Here are a few more ways ERP for small business is beneficial.
Increased Productivity
One of the greatest benefits from ERP for small businesses is a notable boost in productivity, which is important for every company's bottom line. With ERP for small business, data is effortlessly accessible to the departments of the business at once; employees can eliminate the hassle of contacting multiple team members in various departments for the data they are seeking. Boosts in productivity save time, and time is valuable.
Streamlined Flow of Data
When your business transitions to ERP, a side effect is more efficient data flow. This proves the truest for fast-growing companies, which may encounter issues when it comes to data being pigeonholed in various departments. ERP software means all information is in a single place and all of this data is readily obtainable to each department.
Improved Collaboration
If your small business is needs some improved collaboration, the implementation of an ERP system could change the game for you.  Lack of collaboration and poor communication is typically a result of team members lacking availability to the information they need. Through giving employees access to data from other departments, collaboration is encouraged and facilitated, as the employees are given the ability to see the company's "big picture."
Decreased Operating Costs
This may be considered the most important for many small business owners: you can reduce operating costs with an ERP system. Streamline data into a single software application and as a business owner, you can save cash on each individual software and management system that typically you pay for in every department.
Distribution of Business Insights
There will be countless times you when you are making a decision for your small business, and it's much easier to make a smart one when you have all the information you need on hand and know that it's current. ERP for small business means that there isn't ever a doubt that that's the case. This helps the decision-makers of your company have peace of mind and increased confidence in the decisions they make.
Better Decision-Making
When all data is at your fingertips and always up-to-date, management is able to make better decisions for the prosperity of the business. The team can also have a greater overall understanding of how the small business is operating and that knowledge is essential when it comes to response to change and improving financial business planning.
Not sure which ERP solutions are the best for your small business?  Here are a few of the top solutions you should consider:
AllProWebTools is a small business ERP designed with the needs of small business in mind. They offer various features, and small business owners can add additional features, as they deem necessary. This option is affordable with a good variety of tools available. Set-up is simple and includes training videos and great customer support, too.
PeopleSoft handles complex business requirements well, and have a new UI that comes with mixed reviews from people some think it's easy to use, other feel it's frustrating.
SAP's ERP software has numerous capabilities, mostly in the areas of finance, sales and distribution, and production. It's a powerful tool when configured correctly.
An ERP system for small business, when implemented properly, can increase productivity, decrease operating costs, streamline the flow of data, support collaboration, deliver business insights and develop decision making skills.  Some people fear the change and do not understand the benefits of ERP for small business. When implemented properly, ERP can revamp your small business, leading to greater success and give your team the big picture of what your company stands for.
What reasons did you decide to implement ERP for small business and what benefits have you seen as a result?
https://erpnews.com/v2/wp-content/uploads/2016/08/digital_transformation-268x200-1.png
200
268
webmaster
https://erpnews.com/v2/wp-content/uploads/2018/10/[email protected]
webmaster
2016-08-10 00:00:00
2018-11-14 14:14:13
Revamp Your Business through ERP and Digital Transformation