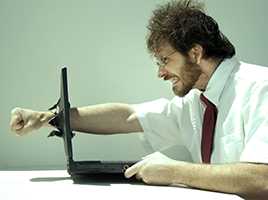 ERP News – worldwide – erpnews.com – Accounting software is a necessity for just about every business, no matter how small. However, the wrong software for your company may actually do more harm than good. Once your company gets up and running, a more sophisticated business system like Microsoft Dynamics GP is not only recommended but almost required for your business to continue growth. Is your current ERP platform committing any of the red flags below?
Slow Performance
As your company grows, transaction volume and databases grow as well. Too much information results in slow, maxed out legacy systems.
Paper Problems
Paper invoices create logistical nightmares as your company continues to expand.
Inaccurate Cost Calculations
Entry level accounting and discrete manufacturing systems do not support actual costs of production.
Production Schedule Delays
Without integrated systems, your company will have to manage the disconnect between multiple departments.
Manual Reporting
Creating financial statements manually takes away precious time and resources from your organization.
Out-Of-Stocks
With disconnected accounting and 3-commerce solutions, variations in quantities and pricing are common.
Document Delays
Entry level accounting systems result in slower than usual month-end closes.
Tracking Errors
Tracking time and equipment through paper based systems means frequent payroll and equipment condition errors.
Warranty Confusion
Outdated systems allow for no mobile support, preventing field workers from providing warranties on the spot.
Excessive Overhead Costs
Legacy systems at times incur unnecessary costs, requiring significant IT support for high volume integrations.
Inaccurate Inventory Levels
Using different systems to track financials and inventory leads to major discrepancies in stock levels.
Cash Flow Issues
When invoices don't go out on time, serious issues with cash flow ensue.
Disconnected Pos
Without an easy to use system to reconcile books, hours may be spent reconciling the previous day's transactions.
Unsupported Practices
When your accounting systems don't support your practices, visibility into company-wide inventory is lost.
Non-Compliance With GAAP
If your current accounting system is not fully GAAP compliant, your company will face issues down the road.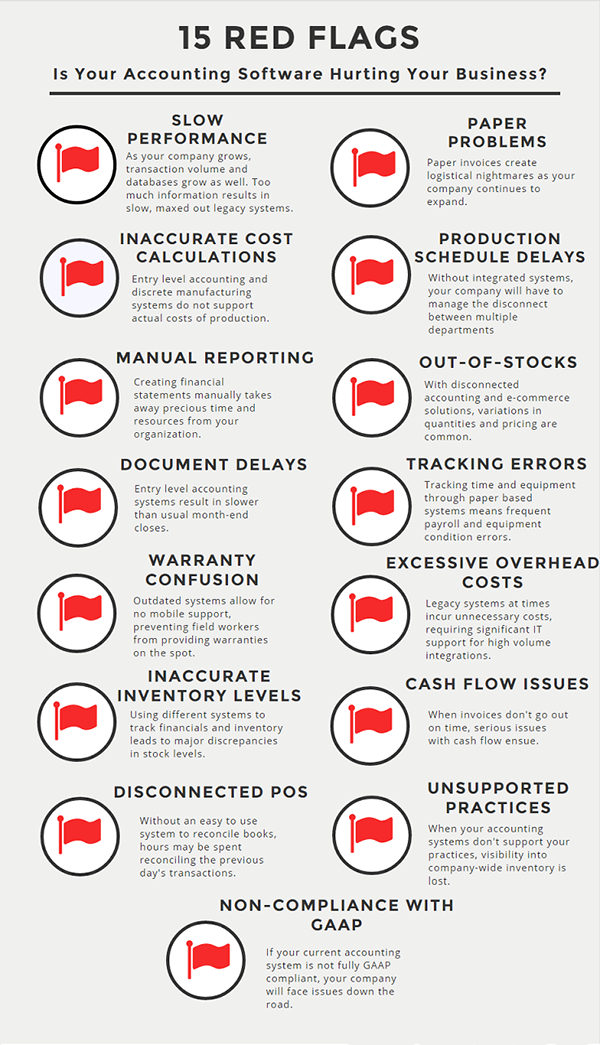 https://erpnews.com/v2/wp-content/uploads/2016/04/15-red-flag-268-1.png
200
268
webmaster
https://erpnews.com/v2/wp-content/uploads/2018/10/[email protected]
webmaster
2016-04-08 00:00:00
2018-11-14 14:16:01
Is your ERP Software Hurting your Business?