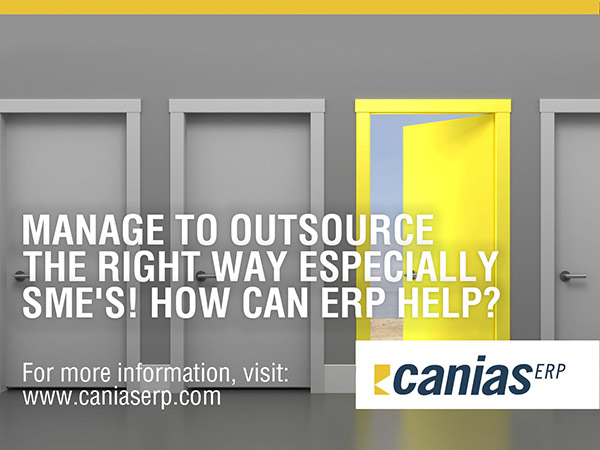 Improving strong strategies is important for SMEs to get a competitive edge. Providing the best products and services is a vital need, if you want to sustain in today's dynamic market.
You've set up your business and are hustling for new clients and your business has witnessed a surge. Can your production facilities scale up to fulfill production for additional orders you've received? Can you meet the deadlines set and do it all yourself? Well, if you are positive about meeting all your challenges then you are all set to grow. However, if you find you are floundering and looking for a way to get everything done as it is supposed to be, then maybe you need help.
Employing strong strategies is vital for SMEs to get a competitive edge. Today, providing the best products and services is a need, if you want to sustain in the dynamic market. What's more, in the fast-paced business scene outsourcing is one of the most common strategies that several growing businesses adopt. A well-planned approach to help your business quicken the production process and ease out the workload is the need of the hour today.
One of the most common examples of business outsourcing is where the manufacturer hires another organization to look after operations, provide other services that were earlier done by his or her employees. If you are a producer, then outsourcing excess production is one of the ways to increase production capacity.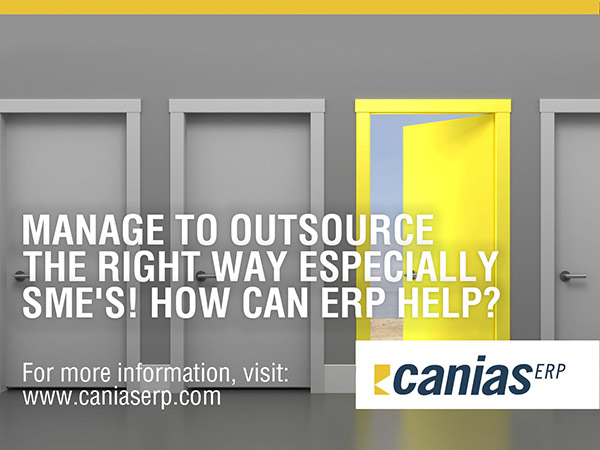 Outsourcing -Main Business Strategy
Experts predict that 2019 will see new business models changing the way outsourcing is done. The outsourcing industry will become more collective with competitive pricing. Customers, however, will search for IT outsourcing service providers that offer consumer-driven services using the latest technologies like ERP. The demand for IT talent on contracts will increase as more businesses will prefer outsourcing instead of hiring in-house.
According to a Statista report, the Global market size of outsourced services was 85.6 billion USD from 2000 to 2018. The recent GSA report predicts more than 70 percent of companies will look to outsource in 2019. 35 percent of businesses plan on outsourcing their essential IT functions. Having an ERP helps you outsource seamlessly where you can handle production, manage vendors and make sure your business is meeting its goals.
Here's why Outsourcing has become important:
Cost effective resources: All businesses want to save on manpower cost, don't they? Low cost of labor is one of the chief advantages of outsourcing. Hiring people directly on your payroll is expensive as you are required to pay them good salaries with other incentives. However, in the case of outsourced jobs, the cost of labor is comparatively lower.
Saving overheads: Subcontracting your production operations can help your business save on its overhead cost like infrastructure cost, material costs, manpower, maintenance of machines and sometimes initial investment cost.
Attention: If you can outsource a few important operations, then you can focus on other important aspects of the business. Outsourcing often reduces the cost of manufacturing. So, businesses can pay more attention to sales and marketing, which can help to increase your profit margins too.
Productivity: Outsourcing brings in efficacy and timeliness to your production process. You can receive good quality products on time thereby reducing the time spent on production processes and the risk of errors that could affect the production budget.
Outsourcing can be efficient and effective if you adhere to exact limits and procedures. The key behind your business efficiency can be the integrated solution that brings all the operations under a single dashboard where every process is in sync with the other. An advanced, easy to use, scalable ERP solution, serves as the support for operational efficiency.
Features of the ERP that help you manage to outsource
Work Order Management: An effective ERP can help you manage your contracts. It can help to create contracts, manage them, keep a check on fulfillment and analyze it to maximize the operative and monetary performance of the business. You can reduce financial risks when both parties are aware of the expectations set.
Close Relations: You can keep a check on the stock of raw materials you've sent to the outsourced business using your ERP. The ERP can help in keeping a record of the stock, provide precise insights about the remaining stock available to avoid any future discrepancies.
Management of internal process and subcontracting: When you outsource the manufacturing cycle, a few processes are carried out in-house. Keeping a track of the production phases is vital so that you can maintain a correct sequence of processes. A well-organized ERP solution can support the sequences for an impeccable process with ease.
Monitoring of contract labors: An organized ERP can help you determine the cost of outsourcing as well as the value of materials that are usually mentioned in the contract. Doing so can help you find out the exact budget needed to outsource and manage the other business operations.
Automatic Goods Received Note creation: Once you receive the final product as ordered, the ERP solution will automatically create goods received a note, instantly raising an invoice for payment for the outsourced company. Raising an invoice for payment is manual process otherwise, which delays the payment schedule needlessly.
Government Compliances: Whether you outsource a part of the production cycle or a service, tabulating tax liability for vendors is easy using your ERP. The ERP maintains and updates on new rules and regulations, so you are never caught off guard.
Helping your business with a subset of your business. To be a well-organized ERP.
Get 2019 ERP Pricing: 45 different ERP systems profiled including Epicor, Microsoft, SAP and more. Click to download your free guide.
https://erpnews.com/v2/wp-content/uploads/2019/03/SMEs.jpg
450
600
katie
https://erpnews.com/v2/wp-content/uploads/2018/10/[email protected]
katie
2019-03-18 12:00:50
2019-03-18 08:57:13
IAS: Manage to Outsource the Right Way Especially SMEs! How can ERP Help?