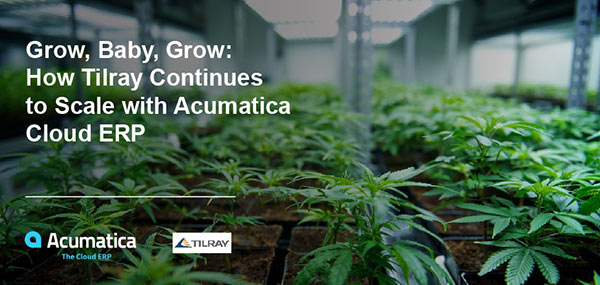 The cannabis industry  continues to grow. Tilray Inc. , one of the prominent names in this growth, uses Acumatica ERP. Here are the details: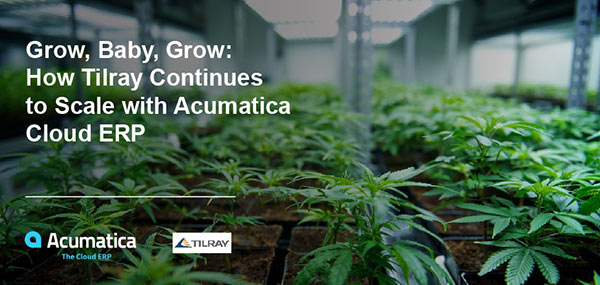 The cannabis industry is growing in more ways than one, and Tilray Inc. has partnered with Acumatica cloud ERP to reach their aspirations of being the most trusted cannabis company in the world.
On the surface, cannabis and cloud ERP have little in common, but those in the surging cannabis industry understand the importance of forging a partnership between the two. According to an article by The Motley Fool, global marijuana sales are expected to hit $16.9 billion in 2019 and continue growing for years to come. For cannabis businesses like Tilray Inc., having a flexible and fast-moving cloud ERP solution for their business management needs has been—and continues to be—paramount to their success.
Today, Tilray CIO Cuba Flowers shares his experience with Acumatica's cannabis business software and explains why they're committed to growing their business on Acumatica's open and flexible xRP platform.
Tilray's growth enabled by Acumatica cloud ERP
Tilray is a "global leader in cannabis research, cultivation, processing, and distribution." It was a subsidiary of Privateer Holdings before going public in 2018. It's now a private entity with Privateer holding the majority of its shares, and operates in Canada, the U.S., and other countries around the world.
On their website, Tilray states their goal is to become the world's most trusted cannabis company. They also note they are a pioneer in the industry: "We are the first GMP-certified medical cannabis producer to supply cannabis flower and extract products to tens of thousands of patients, physicians, pharmacies, hospitals, governments and researchers on five continents."
In a December 2018 diginomica article, Cuba told Jon Reed that their IPO went "incredibly well" and that the legalization of cannabis in Canada has sparked enormous growth for his company. In fact, the company expects to top 1,000 employees this year, which translates into an addition of over 750 employees from 2017 to 2019.
The hyper activity in the cannabis market combined with the complex nature of their business—they have three major production facilities and six other entities, such as sales offices and more—meant Tilray needed a nimble, customizable cloud ERP. They compared their options, including NetSuite and SAP. and after crunching numbers and reviewing each ERP's capabilities, Acumatica cloud ERP came out the winner.
"Our global business, with a fairly complicated multinational financial structure, is getting handled in Acumatica from consolidation, multiple ledgers, multiple currencies to the production and the manufacturing, all of that for a very good price compared to competitors," Cuba says.
Developing custom cannabis software is time consuming and getting first-in-market and market share means moving quickly. "We have done almost no custom software development at all," Cuba says. "We just can't move fast enough if we do things custom, so we look for really best of breed, out-of-the box solutions."
With the help of Acumatica VAR LANDFALL Solutions, Tilray implemented cannabis Business management software, along with Acumatica Manufacturing Edition and Acumatica Financial Management, relying on seamless integrations with third-party applications to further meet their unique needs. The cannabis company considers Acumatica's comprehensive cloud ERP solution to be their data hub and that easy access to their centralized data through Acumatica is key to their successful performance. Additionally, Acumatica's flexible platform, open APIs, and superior service have offered the Tilray team a solid business foundation.
"We look at it to make our operation efficient, make sure our costs are kept down, and make sure our product is super high quality," he says. "Getting to our data is easy which helps with compliance as opposed to having 20 spreadsheets in a chain."
Tilray considers Acumatica cloud ERP a "great partner"
Running every aspect of their business on Acumatica has created a cohesive and agile business environment for Tilray. While Acumatica has provided the functionality they require, including their ability to track their "seed to sale" process within the cloud ERP solution, meeting the company's agriculture needs is a work in progress. However, Cuba anticipates finding an answer through partnering with Acumatica, citing Acumatica's customer service and support as one of the top reasons they see Acumatica as a great fit.
"Even more important to me than the price is the service level I come back to. They answer the phone when I call, they come to my site when I need help, they will work on integrations when I need them to do that. That's invaluable to me," Cuba says.
As he states in a recent interview with Acumatica, he hasn't calculated the ROI of choosing Acumatica cloud ERP. "There's no need because it's so outrageously positive."
For Cuba and Tilray, the affordability is just one of many benefits of working with a nimble, flexible cloud ERP like Acumatica. Other benefits include:
Easy, seamless integrations
Highly-reliable support
Operational insights for quality decision making
Modern technology that will grow with the company
"It's clear the company [Acumatica] is built by technologists," Cuba says. "Working with a modern platform that is based on AWS is just a great fit because it's more nimble. We're looking for flexibility over everything else, so Acumatica is a great partner for that."
Cuba's Privateer Holdings' video testimonial below provides more information about their experience with Acumatica.

https://erpnews.com/v2/wp-content/uploads/2019/05/Tilray.jpg
285
600
katie
https://erpnews.com/v2/wp-content/uploads/2018/10/[email protected]
katie
2019-05-28 11:00:29
2019-05-28 09:15:34
How Tilray Continues to Scale with Acumatica Cloud ERP