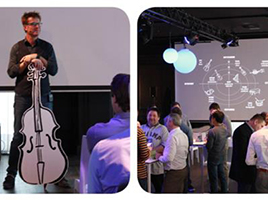 Pipol recognizes our 'Partner of the Year ' at the annual Pipol Partner World Conference, and the winner receives a sponsored team event.
GMI group won the award for demonstrating the best overall performance. We applaud their excellence in thinking, working, and acting as one (Pipol) company as their expert consultants deliver to international Microsoft Dynamics customers.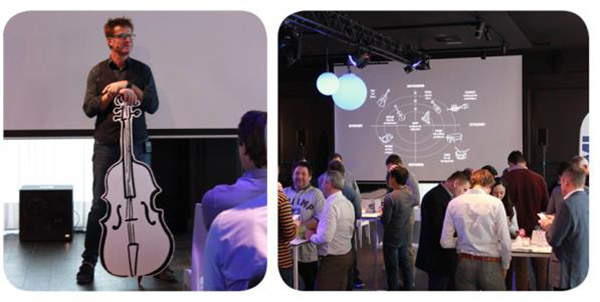 How did Pipol's Partner of the Year use their prize?
GMI group—the leading Dynamics Partner in Belgium—decided that they would host a unique team-building event. They've invested heavily in growth and expansion over the last few years, recruiting lots of new talent. They know that when a company grows, it's essential to build internal relationships and collaboration to support that growth. So, to further integrate their new employees and support internal relationship-building in a creative way, they organized an engaging event.
GMI group applied their Pipol Partner of the Year award towards a team-building day, using music as a metaphor. In many ways, an organization is similar to an orchestra. Everyone plays their unique instrument to the best of their ability, and through tight collaboration they build beautiful, powerful music. Leveraging that concept, they invited musician and sought-after speaker Richard de Hoop to lead a musical workshop. His passionate guidance transported the GMI group staff into a world of instruments that are in many ways comparable to human personalities.
A successful organization is like a finely tuned orchestra
During the team-building, staff were asked to think about various instruments, their sounds, and what they represent. Would you prefer playing the low-pitched bass or a more enthusiastic-sounding trumpet? How do all the instruments in an orchestra work together? What do the melodies of successful cooperation sound like? It was a fantastic event encompassing camaraderie, music, and humor. Channeling all this positive energy, they learned to combine their special talents in an innovative way, strengthening relationships within the GMI group. Take a look at some fun photos of their team-building event.
We applaud GMI group and all our collaborative Pipol Partners
At Pipol, we're inspired by GMI's imaginative use of their prize to support their organization's growth. We recognize the creative work and excellence of all our global partners who make beautiful music in their own organizations—and as part of the dedicated Pipol Alliance.
If you're a leading Microsoft Partner in your country – and you're ready to profitably grow your international business – we'd like to talk to you about joining our committed global partner alliance. Click here to find out more on how to become apart of the Pipol Alliance.
https://erpnews.com/v2/wp-content/uploads/2018/04/partner-of-the-year-268-1.jpg
200
268
webmaster
https://erpnews.com/v2/wp-content/uploads/2018/10/[email protected]
webmaster
2018-04-19 00:00:00
2018-11-14 14:08:22
Harnessing harmony: how Pipol's previous Partner of the Year celebrated their win