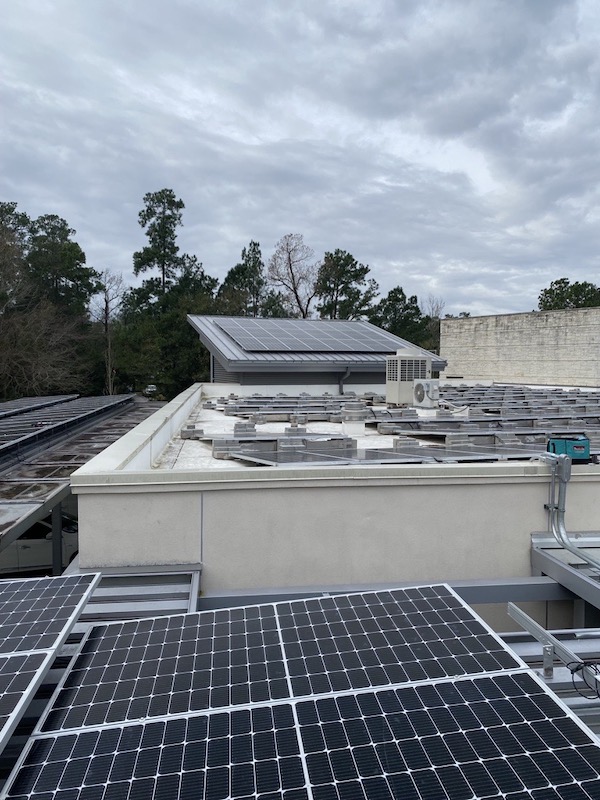 Global Shop Solutions, a leading producer of ERP software for manufacturers around the globe, has a reputation of doing the right thing for their employees and clients. Now they're doing the right thing for the planet by switching to solar power for the company's electricity needs.
Meeting Global Shop Solutions' energy needs required enough solar panels to cover the rooftops on all three buildings at their headquarters in The Woodlands, Texas. The project took six months to complete, and will generate more than enough electricity to power the entire campus for 30 years while providing significant cost savings.
"Based on the energy we use at headquarters, it will take about seven years for the solar panels to pay for themselves," says Erika Klein, VP of R&D for Global Shop Solutions. "After that they will generate 'free' electricity for the next 23 years, so it ends up being a good investment for us and the planet. The system will produce more electricity than we need, so we're considering installing charging stations for employees to charge their electric vehicles at work."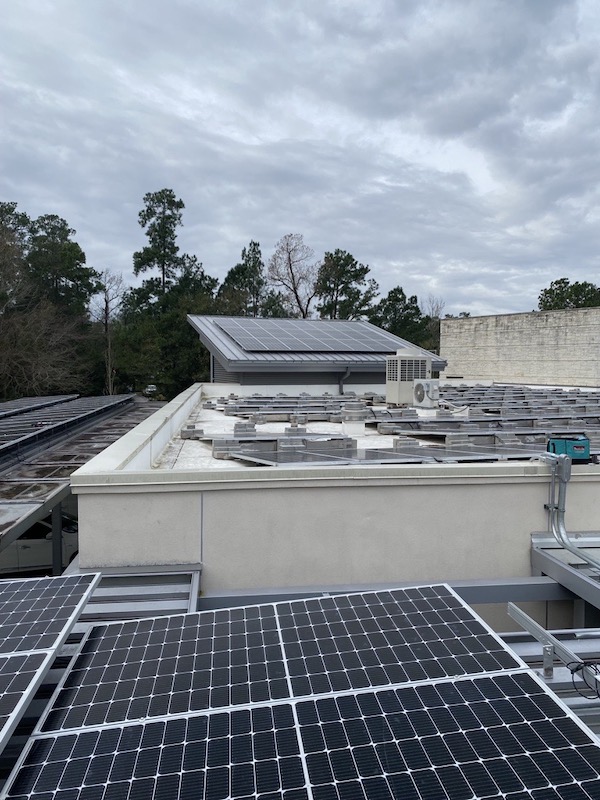 Up Next: Reducing the Carbon Footprint
The transformation to solar energy is the first project implemented by the company's "Green Team." Led by Klein, the team consists of a dozen employee volunteers working together to make the company more environmentally friendly. Their biggest goal for 2022 consists of finding ways to reduce Global Shop Solutions' carbon footprint.
The company's sales force, consultants, and implementation teams incur significant travel time in the air and on the road. So the first step consists of calculating the total amount of travel and devising a plan to offset the firm's carbon footprint resulting from travel. The Green Team also meets regularly to discuss ideas for improving recycling, lowering water usage, and other ways to positively impact the environment.
"At this point, our biggest challenge is figuring out carbon accounting," says Klein. "It's a complex issue and we want to make sure we get it right before putting together a plan to reduce our footprint."
Helping Customers Go Green
Global Shop Solutions builds features into their ERP software that actively encourage green processes in customers' manufacturing plants.
The software enables manufacturers to operate in a paperless or near-paperless environment by putting information at everyone's fingertips via digital dashboards rather than printed reports. The cloud offering gives customers' employees the flexibility of working from home, reducing the impact of traveling to and from work five days a week. Global Shop Solutions also helps customers cut down on travel by offering training and consulting online.
"We care about our employees, our customers, and the world around us," adds Klein. "Lowering our carbon footprint is definitely the right thing to do."
About Global Shop Solutions
We simplify your manufacturing.™ Global Shop Solutions ERP software provides the applications needed to deliver a quality part on time, every time from quote to cash and everything in between including shop management, scheduling, inventory, accounting, quality control, CRM, and 25 more. Available in the cloud or on-premise, our manufacturing customers benefit from real-time inventory accuracy, improved on-time
delivery, lower administrative costs, increased sales, and improved customer service. Headquarters in The Woodlands, Texas includes a state-of-the-art R&D facility and Global Shop Solutions training center. Through its offices in the U.S., Mexico, Indonesia, Singapore, Australia, New Zealand, and the United Kingdom, the company supports thousands of manufacturing facilities in over 25 countries and nearly 30 industries.
https://erpnews.com/v2/wp-content/uploads/2022/03/Global-Shop-Solutions-Solar-Panels-1.jpeg
800
600
katie
https://erpnews.com/v2/wp-content/uploads/2018/10/[email protected]
katie
2022-03-15 11:28:41
2022-03-29 12:59:14
Global Shop Solutions Goes Green With New Solar Panels