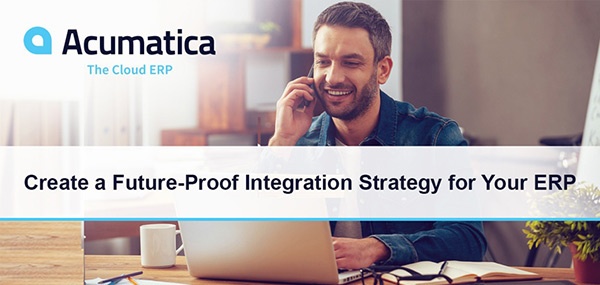 In this digital economy, businesses are looking to implement more modern, agile solutions that can easily integrate with critical business management applications. The result is the need for an ERP integration strategy, and Gartner's new report (offered for free by Acumatica cloud ERP) helps application leaders create one that is future proof.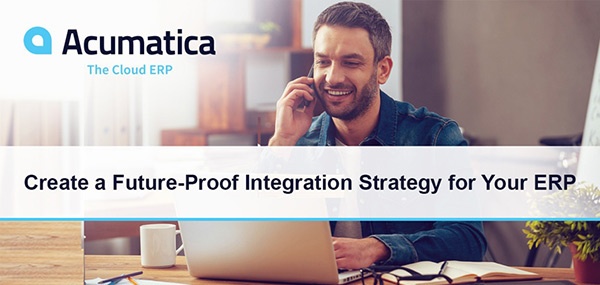 Are you an application leader in the process of replacing your legacy, monolithic ERP with a modern, agile solution that seamlessly integrates with third-party applications? If so, Gartner, a leading information technology research and advisory company, has released a new report explaining why you are going to need a modern integration strategy. The report, Create a Future-Proof Integration Strategy for Your ERP, is being offered by Acumatica Cloud ERP for free and walks you step by step through the process (and challenges) of becoming a connected business in this digital economy.
Gartner on creating an integration strategy
Gartner has several predictions about integration. The first prediction is that by 2024, 65% of organizations (vs. 40% in 2019) will consider integration capabilities expenditures as strategic investments. The second is that over 50% of midsize, large, and global organizations will look to a self-service integration approach via empowerment teams by 2022.
As organizations begin to realize the importance of modernizing their integration strategies when modernizing their ERP solutions, Gartner says there are several challenges they need to overcome. These include:
Underestimating ERP complexity
Supporting new requirements (multi-cloud integration, expanding endpoints, etc.) with traditional integration capabilities
Relying on inflexible integration tools and techniques meant for previous-generation ERP deployments
So, how can you overcome these challenges and ensure that your ERP integration strategy is on point for this digital economy?
Gartner says you need to move away from the popular but ineffective ad hoc approach, which essentially means making things work as they come up. Gartner uses the example of businesses attempting to synchronize data between their ERP and CRM applications after the integration has occurred. The result is extra work, extra time, and extra cost that could have been avoided with a more strategic, long-term, and flexible mindset that considers the outcome as well as who is doing the work, with what integration tools.
Gartner explains that business application leaders can utilize Gartner's pace-layered application strategy, which factors in Digital Commerce, Systems & Operations Planning, and ERP along with three types of systems (Systems of Differentiation, Systems of Innovation, and Systems of Record). A detailed explanation of Gartner' pace-layered strategy is provided in the complimentary report.
More from Gartner on a future-proof integration strategy
The Create a Future-Proof Integration Strategy for Your ERP report also delves into:
Key differences between old ERP systems and next-generation ERP solutions
How to engage additional integration personas (such as citizen integrators)
The four dimensions of integration platforms and how they address next-generation ERP challenges
Modernizing your integration infrastructure
The need to use an array of integration techniques (not just those included in the SaaS application you're implementing)
And the need to compose a hybrid integration platform (HIP) for executing your final strategy
Ultimately, the report is a comprehensive resource for deploying modern ERP solutions and integrating them with the business applications you need to succeed in today's marketplace. And because the report was written before the COVID-19 crisis, it's important to note that investing in modern, agile, cloud-based ERP solutions, like Acumatica, can ensure the flexibility and business continuity businesses need in these ever-changing times.
If you would like to learn more about Acumatica's cloud ERP software, contact our team today. We're committed to helping our customers (current and potential) become successful remote enterprises today and in the future.
https://erpnews.com/v2/wp-content/uploads/2020/06/integration.jpg
285
600
katie
https://erpnews.com/v2/wp-content/uploads/2018/10/[email protected]
katie
2020-06-23 10:19:40
2020-06-23 10:20:36
[Gartner Report] Create a Future-Proof Integration Strategy for Your ERP