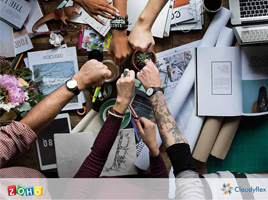 Cloudyflex is the only partner of Zoho nearly 6 years in Turkey , continued to grow in 2018. Cloudyflex signed many digital transformation projects based on Zoho CRM and Zoho Branded Smart Business Applications this year. In addition to these efforts, the new website for Cloudyflex brand is published in 2018 and also 2019 seems to going to feature with big project targets with Cloudyflex brands growing team! In 2019, Cloudyflex will continue its free activities that bring together Zoho users who want to use Zoho applications. For more information about the renewed structure of Cloudyflex, visit Cloudyflex Event Micro Site.
ZOHO PRODUCT FAMILY CONTINUES TO EXTEND
Zoho product family is growin in the end of 2018 period; new products, KVKK and GDPR based updates and many important updates continued to evolve and expand. Cloudyflex as Zoho Turkey Authorized Dealer, we want to introduce these innovations in the Zoho Product Family;
The newest Zoho Solution; Online Event Platform : Zoho Backstage
Zoho released its newest solution, Zoho Backstage. The solutions offered in Zoho Backstage are versatile, especially providing solutions to copmanies that provide such as events, organizations, fairs and training/educations to its customers. Zoho Backstage platform, which includes all the solutions under the event management name such as event schedule, speakers, event recording, galleries and it also comes with a micro site that you can use with the domain name you want. Moreover, Zoho Backstage can be used with monthly and annual payments. Price per activity payments available for Zoho Backstage too.  Also free version of Zoho Backstage available too! For more detailed information about the solution and if want to use the free version of Zoho Backstage, please visit the Cloudyflex Zoho Backstage Web Site Page. 
A Public Solution for Turkish E-Commerce Sector Coming from Zoho! Zoho Store, is coming to Turkey!
Zoho Store, which is a solution that Zoho has been working on for a long time, opened for early access. Zoho store looks ready to offer total solutions to e-commerce sector in Turkey. You can prepare your own e-commerce site in a very short time with Zoho Store solution which has a ready e-commerce portal, website editor, advanced reporting and tracking systems. Take advantage of the early access of Zoho Store solution and click on the free trial.
 Zoho Solutions Ready for KVKK and GDPR!
Zoho has made all its solutions compatible with GDPR and Turkish Data Regulations and continues to update on this issue. Click for a detailed document prepared on this subject by Zoho Turkey Authorized Reseller Cloudyflex.
https://erpnews.com/v2/wp-content/uploads/2018/12/cloudyflex-268-jpg.jpg
200
268
katie
https://erpnews.com/v2/wp-content/uploads/2018/10/[email protected]
katie
2018-12-12 13:16:42
2018-12-12 13:38:34
Cloudyflex Team Continues to Grow