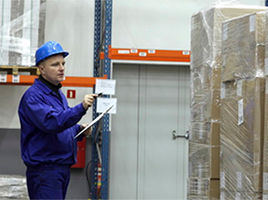 ERP News – worldwide – erpnews.com – As a warehouse manager for a small-to-midsized process manufacturer, every department depends upon you. You're vital to the supply chain, charged with overseeing the receipt, storage, and distribution of goods according to best practices and the strategic productivity goals of your company. Enterprise Resource Planning (ERP) software, with its centralized database and integrated functionalities, improves your performance on the job, increasing your value to the organization as the "go-to" person.

An ERP software solution helps you …
Keep an eye on the overall operation with ERP
At any given moment, you need to know what's happening in receiving, warehousing, distribution, and maintenance, whether items are on the line, in the warehouse, or en route to the customer. ERP software links all areas of the company in a single software solution, giving you connectivity as well as real-time visibility of the entire operation. This up-to-the-minute knowledge allows you to respond quickly and make more accurate decisions as you execute your work or delegate tasks to your team.
Manage stock control with a Warehouse Management System
The integrated WMS functionality of the ERP solution is designed to help you with the storage and utilization of raw materials/ingredients and product inventories in your warehouse and along the supply chain. WMS tracks packaging and labeling, products in quality testing, in-progress inventory, available-to-promise inventory, products headed for distribution/delivery, and warehouse inventory. Within the warehouse, handheld scanner technology eliminates problematic manual processes, increasing speed, accuracy, and accountability. The handheld operates in real-time and delivers pertinent information about an item, e.g., when an item was moved/pulled and by whom, what batch it came from, when it was packaged, etc. Providing "checks-and-balances" within the warehouse, the scanner may be programmed with specific user privileges to limit the inventory activities select personnel can perform.
Plan work with Material Requirements Planning
MRP is an automated production planning, buying, and scheduling system used by production planners and buyers. However, it also helps you, as a warehouse manager, ascertain raw materials/ingredients and product inventory levels, based upon forecasting activity. Work, delivery schedules, and tasks can be assigned accordingly, warehouse space allocated appropriately, and the guesswork about inventory levels can be eliminated.
Use Business Intelligence (BI) to regularly produce reports and generate statistics
BI is an integrated reporting tool that assists with preparing your annual budget and running daily, weekly, monthly, or yearly reports for management and staff––in/out status report, product shortage report, wasted products report, loading report, etc. This reporting instrument is user-friendly and interactive. Drag-and-drop and point-and-click functionalities help you create reports, graphs, and dashboards. BI also allows you to drill-down to details for greater insight into static or shared reports that can be emailed across the organization or available for meetings.
https://erpnews.com/v2/wp-content/uploads/2016/04/managers_excel_with_erp-268-1.png
200
268
webmaster
https://erpnews.com/v2/wp-content/uploads/2018/10/[email protected]
webmaster
2016-04-12 00:00:00
2018-11-14 14:15:59
Top Four Ways Warehouse Managers Excel with ERP