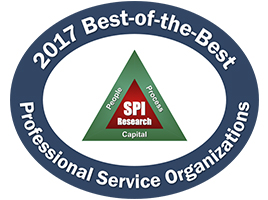 SAN FRANCISCO, April 06, 2017 (GLOBE NEWSWIRE) — FinancialForce, the leading cloud ERP provider on the Salesforce Platform, announced that three FinancialForce Professional Services Automation (PSA) customers: Fruition Partners, A CSC Company, Jacobus Consulting, and AHEAD, have been named as top performers in Service Performance Insight (SPI) Research's 2017 'Best-of-the-Best' Professional Services Organizations (PSO) list, part of the firm's annual Professional Services Maturity™ Benchmark Report.
This year's announcement marks the seventh consecutive year in which FinancialForce customers have been honored in SPI's annual industry benchmark and is the first year FinancialForce has had three customers rank simultaneously on the 'Best-of-the-Best' list. This is also the first time a FinancialForce PSA customer – Fruition Partners, a CSC Company – has ranked as the #1 top performer.
Out of 416 participating organizations, Fruition Partners, a CSC Company, Jacobus Consulting and AHEAD, ranked in the top 21 "Best-of-the-Best" PSOs, far outperforming peers and the benchmark average. All three customers were recognized for outperforming peers across five critical service performance dimensions: leadership, client relationships, human capital alignment, service execution, and finance and operations. The top 21 Best-of-the-Best PSOs across the board grew both revenues and new jobs at more than twice the rate of average firms.
SPI's Professional Services Maturity™ Benchmark Report is designed to help PSOs understand their relative performance compared to an expansive benchmark of peers, assist executives in deciphering what changes to make, actions to take and where to begin. Results from this year's survey found that a major element of the success of the top performers was their commitment to investing and using Cloud ERP and PSA applications to run their business and support consultants' productivity. These high performers expressed that "having integrated business applications were an essential component of supporting high levels of employee and revenue growth."
2016's SPI PS Maturity™ Benchmark showed that 2016 was a turbulent year for PSO's and 2017 will continue along a similar, volatile path. As predicted by SPI, key challenges include a more competitive selling environment "as evidenced by lower win ratios," and "employee attrition will continue to rise as it becomes more difficult to find, hire and retain talent." To help navigate these challenges, many PSOs have and will continue to turn to cloud applications – like FinancialForce PSA – to "improve communication and collaboration and overall productivity."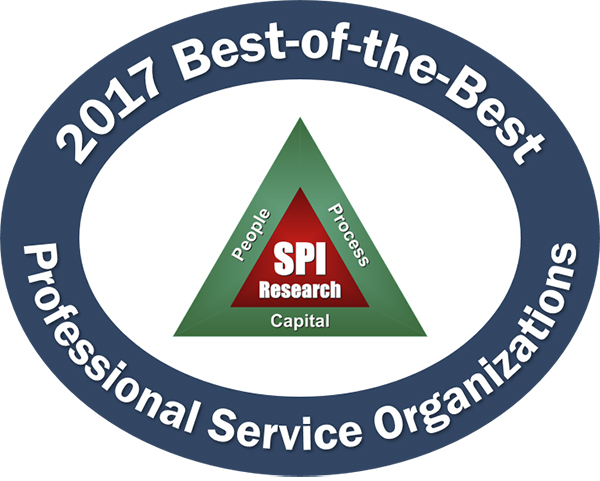 Comments from this year's FinancialForce PSA 'Best of the Best' customers:
Fruition Partners, a CSC company, is a global technology-enabled services firm focused on elevating service management to the cloud. Backed by hundreds of experienced ServiceNow experts, Fruition Partners delivers best practice implementation services, strategic guidance, and innovative platform solutions.
"Fruition Partners is ecstatic to be named the #1 'Best-of-the-Best' firm, ranking on the list for the second consecutive year. During a period of incredible growth and change for CSC, we continue to set a positive example as our nimble business practices are analyzed and adopted by other business units within the global organization. Culturally, we reinforce a spirit of honesty and continuous improvement. We are very proud to celebrate our continued success and embrace change." – Scott Klein, Global Chief Operating Officer – Fruition Partners Practice; Fruition Partners, a CSC Company
Jacobus Consulting is a leading healthcare consulting firm that partners with healthcare systems and providers to continually improve patient care and quality, system and workflow operations, and financial performance.
"We are honored to be acknowledged as one of the first "Best-of-the-Best" healthcare professional services firms. Through our unified applications on the Salesforce1 and FinancialForce platforms, and our commitment to providing the highest quality consultants, we empower healthcare providers to transform their care to be patient and community centered as consumerism and a person's health journey continue to shape the demands of our industry." – Alan Hall SVP, Information Technology and Operations at Jacobus Consulting
AHEAD is a consulting company that helps enterprises transform how and where they run applications and infrastructure. From strategy to implementation, to ongoing managed services, they create tailored cloud solutions for enterprises at all stages of the cloud journey.
"AHEAD is honored to be recognized by Service Performance Insight as one of the Best-of-the-Best Services organizations in the industry. Not only do we approach every project with a deep expertise, but we strive to provide every customer with an exceptional experience. Customer satisfaction and dedication to service excellence is in the fabric of AHEAD and its employees and has been since day one. Receiving this award is a testimony to our efforts and our accomplishments." – Paul Bostjancic, Director of Service Delivery at AHEAD
Contact FinancialForce to receive a complimentary copy of the 2017 SPI Benchmark Maturity™ Report and Best-of-the-Best rankings.
Source: Nasdaq GlobeNewswire
https://erpnews.com/v2/wp-content/uploads/2017/04/FinancialForce-spi-268x200-1.jpg
200
268
webmaster
https://erpnews.com/v2/wp-content/uploads/2018/10/[email protected]
webmaster
2017-05-02 00:00:00
2018-11-14 14:10:45
Three FinancialForce Customers Named 'Best-of-the-Best' in 2017 SPI Professional Services Maturity™ Benchmark