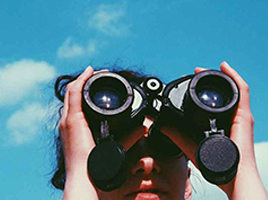 As SAP Leonardo turns one, businesses around the world are using its intelligence to achieve better results.
The path to digital transformation can be bumpy. Without the right strategy, technology, and partners, even the largest of companies cannot execute successfully. In fact, recent data shows that seven out of eight digital transformations fail.*
Sixty percent of human tasks will be automated by 2025. Voice and video recognition has become so sophisticated that we're predicting 99 percent accuracy in the next two years. Image recognition is already 97 percent accurate, which is better than what a human can do. Trends such as these are changing everything from customer expectations to how employees work day-to-day.
The technology behind these changes is intriguing but the real story is about the business impact. There is more revenue to be made, more operational efficiencies to be found, better customer relationships to be built, and better employee engagement to be celebrated. Getting these results is not easy, but the opportunity is massive — value in the enterprise to the tune of $3.5 trillion dollars of opportunity.

Delivering the Intelligent Enterprise
Becoming an intelligent enterprise is about unlocking that value, plain and simple. To do that, your customer experience has to be the best, your employee experience has to attract and retain the best employees, your operations have to be efficient, and you need to beat your competition in the market. Every process that drives your business must be intelligent enough to help you do those things.
SAP responded one year ago by launching SAP Leonardo.
SAP Leonardo powers the intelligent enterprise, with intelligent technologies for every enterprise process, to create the best outcomes. SAP Leonardo has a comprehensive portfolio of technologies, but is not about the technologies, specifically.
Companies have been solving the same problems for a long time; problems such as cost optimization and efficiency gains. As new technologies emerge, there's an opportunity to apply them to old problems to get a better solution. And while there will always be new technologies, SAP Leonardo focuses on a process to experiment with them that's less expensive, less risky, and where past successes can be leveraged and repeated. And because we already have expertise in these technologies, customers don't need to build new expertise and teams around them.
SAP Leonardo: Intelligence Inside the Intelligent Enterprise
Innovation is not about using technology for technology's sake, it's about applying the right technology in the context of your business process to drive a better outcome from that process. Industry and business process expertise means that SAP can apply the right intelligent technologies at the right points in a business process to deliver tremendous value and improve the outcome. SAP customers get access to SAP Leonardo in three ways:
Embedded in SAP applications: From SAP Ariba to SAP Hybris offerings and SAP S/4HANA, we are adding intelligence to SAP applications. When you use the intelligent capabilities of these applications, you are using SAP Leonardo.
Industry innovation kits: Pre-integrated capabilities that repeatedly accelerate solutions to common industry problems.
Open innovation:  Take a best-in-class approach to innovation, using intelligent technologies, on SAP Cloud Platform.
Regardless of how you access SAP Leonardo, you will gain intelligent capabilities, applied to business processes, that create better business results. And what are some examples of such results?
Delivering Previously Unattainable Business Outcomes
Over the past year, we have examined the data with our SAP Leonardo customers, and we've seen how analytics drives better decision making, giving customers the opportunity to optimize marketing campaigns, deals in the sales funnel, and growth in their top line. We've seen machine learning bringing efficiency to processes that are heavily repetitive. Such automation allows customers to deploy resources to do more meaningful work, reducing expenses and energizing employee engagement.
We've also seen maintenance costs go down and productivity rise, whether it's choosing machine learning, artificial intelligence (AI), the Internet of Things (IoT), or any combination. For instance, our customers have leveraged IoT so that connected workers can perform in a safer work environment, leading to a healthier set of employees.
Trust Matters
Many companies that want these types of outcomes don't know how or where to start. What they do know is that SAP is a trusted partner that deeply understands their business. With 77 percent of the world's transaction revenue touching an SAP system each day, SAP is the system of record for the processes that matter most.  There are customers in dozens of different industries, and a global reach of more than 388,000 customers in 180 different countries. With an end-to-end portfolio of technology innovations, our customers know that SAP delivers solutions to their most pressing business issues.
Design Thinking in Action
As we celebrate its first year, the growing excitement about SAP Leonardo is amazing. We've seen incredible momentum and engagement, particularly around the five recently opened SAP Leonardo global design centers. This network showcases digital innovation and provides learning and enablement resources for customers, employees, and partners.
Within the SAP Leonardo Center locations, SAP Leonardo comes to life. Visitors can find the centers in New York, Paris, São Leopoldo, Bangalore, and most recently, Singapore. To date, more than 6,200 people from 1,300 companies have visited the various centers worldwide.
Adding Expertise: Industry Innovation Kits
New technologies will always be on the horizon, but businesses can't invest the time, people, and financial resources to try them all. SAP Leonardo focuses on a process to experiment with them that is less expensive, and less risky, and where proven success with one customer can be leveraged by others.
SAP has deep knowledge across 25 different industries. Over the past year, our design-led approach and pre-integrated industry innovation kits were the key to success in discrete manufacturing, energy and natural resources, and in consumer industries. We currently have 23 SAP Leonardo industry innovation kits, including five newly launched at SAPPHIRE NOW this year — for telecommunications, retail, consumer products, sports and entertainment, travel and transportation, chemicals, utilities, life sciences, oil and gas, and mining.
SAP Leonardo in the Retail Industry: Acuity Brands Atrius IoT Solutions
Retail is one of the mainstays of the global economy, but increasing competitive pressure from e-commerce is causing massive disruptions in the industry. Smart retail companies are figuring out ways to become increasingly relevant in this changing landscape by offering unique experiences to their customers.
As North America's largest lighting manufacturer, Acuity Brands has long been providing lighting, lighting controls, and building management solutions for its customers. The company is also providing connected building technology solutions that allow its customers to transform their buildings from cost centers to strategic assets.
You're probably familiar with LED lights and how they've transformed the lighting industry. What you may not know is that there are lighting control systems that connect those LED lights to each other, to other building systems, and to the cloud. Acuity leverages that new digital infrastructure as a dense sensory network that improves operations in the businesses that reside in those buildings.
SAP and Acuity are working together to enable our retail customers to build new generation experiences. Customers of Acuity Brands Atrius IoT Solutions get insights into shoppers' behaviors, like knowing the path that customers take as they walk through a store. Data gathered from the length of time they spend in each area, for instance, allows stores to intelligently improve targeted promotions. They can gain valuable insight about shopper traffic and engagement throughout the physical store. Merchandisers can use these insights to optimize product assortments, store layouts, and shelf stock availability.
A Big Idea for an Intelligent Future
Becoming an intelligent enterprise is a bold challenge and an opportunity to unlock massive value. By adding intelligence to key business processes, organizations can drive better results: higher sales, better customer experiences, improved worker safety, and so much more.
In its first year, SAP Leonardo has helped businesses achieve some incredible results. If you haven't already, visit an SAP Leonardo Center near you and see the power of design thinking, intelligent technologies, and how businesses are accelerating their digital innovation.
https://erpnews.com/v2/wp-content/uploads/2018/06/Leonardo-SAP-268-1.jpg
200
268
webmaster
https://erpnews.com/v2/wp-content/uploads/2018/10/[email protected]
webmaster
2018-06-18 00:00:00
2018-11-14 14:07:49
SAP Leonardo: A Closer Look at a Year of Innovation