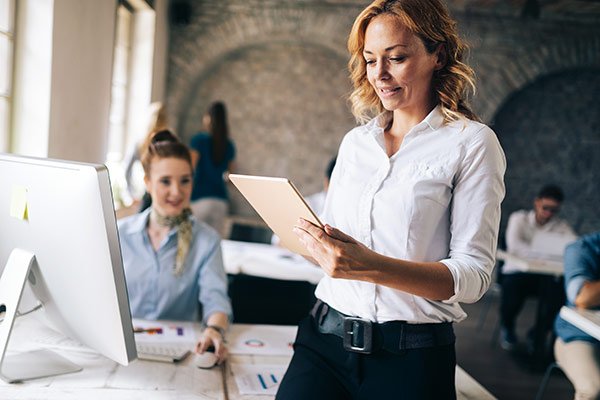 Blockchain is one of the most popular technologies in recent years.The benefits of this technology, which creates competitive advantage, together with ERP, are as follows:
Blockchain (or Distributed Ledger Technology) has become a buzzword in the past couple of years and it's being tested in various industries. In this experimental phase, technology is rapidly maturing and opening new possibilities, especially in terms of efficiency and cutting costs. Businesses are taking note, but are also puzzled about the potential benefits and the way this technology can be utilized for gaining competitive advantage.
In that sense, ERP vendors might provide the perfect answer.
Integrating blockchain technology into ERP creates a highly secure collaboration platform within which system of records can be freely shared with trusted parties.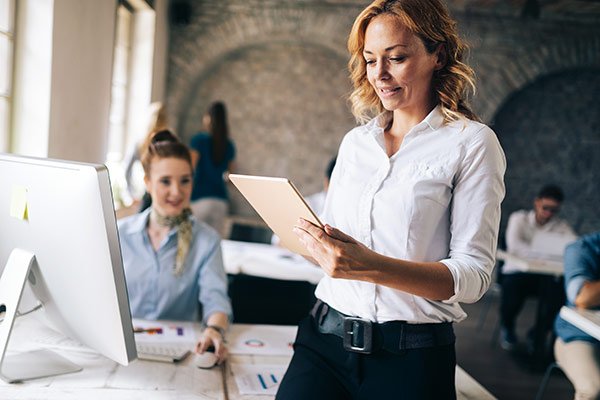 Blockchain Gives ERP Software Superpowers
There are numerous benefits of ERP software. It centralizes all business data, allowing businesses to gain fuller control of the inner operations and make informed decisions for the future. In addition, all data is updated in real time, which is crucial for the seamless functioning of all business sectors. Continuous communication between departments eliminates the chance for dangerous errors, while instant access makes it possible to identify potential setbacks in the current way processes are taking place. Therefore, companies have everything they need for setting the perfect conditions for business growth. Various integrations (e.g. B2B solutions) are also possible, which makes other software and tools redundant.
But where does blockchain integration fall into a picture?
Blockchain pushes the existing benefits of ERP system to another level. These centralized business processes become accessible across multiple organizations. Integration enables optimization of all operations of several different organizations, as well as trusted sharing data. This is particularly beneficial if we have in mind financial transactions. Financial institutions and banks can enjoy more control over internal data operation that gives them a firmer security grip. Having in mind financial institutions handle sensitive information, with blockchain – they are certain to provide services with minimum risk.
SAP Takes the Lead With Blockchain
Among leading ERP vendors, SAP seems to be getting ahead with exploring different ways of implementing blockchain. Company spokesmen believe blockchain is perfect for manufacturing businesses, as this technology gives manufacturers an opportunity to have various types of information within the same chain – from the specifications and the history of iterations to data about the exact machine that made the product. In addition, relevant stakeholders from different sectors who are a part of the process can have easy access to highly specific information.
SAP has also been experimenting with using blockchain in if-then operational threads, 3D printing, and digital manufacturing. Many of the SAP trials are focused on the supply chain management and provenance check.
From Cryptocurrencies to Various Useful Implementations
In addition to ERP systems, where it's used for enabling data interoperability for transactions, blockchain technology found its way to many different industries. It was first invented in 2008 when it was used to fuel up the Bitcoin. Today, it has found its place in cybersecurity and fraud prevention: in 2016, it was used within the U.S. election where it provided an unhackable electronic system for counting votes. Shipping businesses use blockchain technology to track their cargo, trading platforms are also starting to experiment with it, as well as law firms. Even entertainment industry showed its interest. Poker rooms are built on blockchain technology that offers immediate and trustworthy transactions to players all around the globe.
As for the ERP software providers, they are slowly realizing the impact blockchain technology could make. Experts say it could potentially transform how modern businesses operate. ERP software we've seen so far are focused on individual enterprises, while blockchain integration adds more flexibility, but not at the expense of security. It enables businesses frictionless functioning in a unified ecosystem and allows them to control their resources and growth far better.
Get 2019 ERP Pricing: 45 different ERP systems profiled including Epicor, Microsoft, SAP and more. Click to download your free guide.
https://erpnews.com/v2/wp-content/uploads/2019/03/blockchain.jpg
400
600
katie
https://erpnews.com/v2/wp-content/uploads/2018/10/[email protected]
katie
2019-03-08 08:15:03
2019-03-08 08:15:03
SAP; How ERP is Incorporating Blockchain Technology