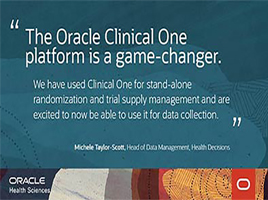 Electronic Data Capture (EDC) is no longer sufficient for today's clinical trials, which are incorporating more virtual components and becoming more decentralized. While traditional EDC systems capture data from forms, patient data in clinical trials is now flowing at a rapid pace and at a high volume from a myriad of novel sources, such as wearables. To address this challenge, Oracle Health Sciences, an early pioneer in eClinical technology, has introduced Clinical One Data Collection Cloud Service. With the ability to capture data from any source into a single, unified platform, Oracle Clinical One is redefining how technology supports clinical research to improve efficiency and help speed the delivery of breakthrough therapies.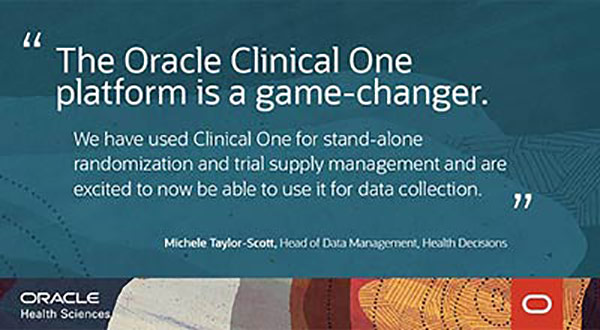 "The Oracle Clinical One platform is a game-changer," said Michele Taylor-Scott, head of data management at Health Decisions. "We have used Clinical One for stand-alone randomization and trial supply management and are excited to now be able to use it for data collection. Clinical One is very user-friendly and we feel it will enable us to reduce not only database build timelines, but also database lock timelines, which are both critical in clinical trials. I say that with confidence because with Clinical One, we have the ability to build a full study in a matter of weeks, instead of months, and mid-study changes or post-production changes can be done in real-time without a lengthy migration process."
Current eClinical technology has not kept pace with the acceleration of science and clinical research which drives up trial costs. According to Gartner's 2020 Industry Vision report, "the current rate of the trial cost increase is unsustainable, and clinical leaders must challenge the existing model and enable new approaches to take hold."1
Oracle Clinical One Data Collection collects data from any source – forms, wearable sensors, patient apps, electronic health records (EHR), labs—and harmonizes it in a single place. This expanded data gives sites and study teams a more complete picture of the patient's experience, and ultimately, the safety and efficacy of the investigative therapy, allowing them to make better decisions. And, because Clinical One is a unified platform, sites can randomize, dispense drugs, and collect patient data in one system.
"Using Oracle Clinical One will have a positive impact on our data collection and randomization processes for current and future clinical trials as we help bring new women's health therapies to market," added Taylor-Scott.
Because it is easily configurable, Clinical One Data Collection meets the needs of all trial types—from the simplest Phase I and Post-Market studies to the most complex Phase III studies, across all therapeutic areas. For example, Clinical One is already being used across the industry for many trials including those focused on COVID-19 treatments and vaccines.
"The industry has been asking for technology that supports a new way to approach clinical trials that is simpler, easier, and lower cost, but also accommodates the evolving needs of decentralized trials. To meet this need, we, as an industry, must think and act differently," said Steve Rosenberg, senior vice president, and general manager, Oracle Health Sciences. "Our goal is to deliver on this promise by providing the industry with a unified platform that supports today's needs as well as tomorrow's requirements. Clinical One Data Collection supports event-based data collection and streamlines workflow, providing our customers with the agility and cost-savings they need to get therapies to market faster."
To learn more about Oracle Health Sciences Clinical One Data Collection and to see the capability in action, please join the live webinar on June 23, 2020, at 11:00 am ET – register here.
Recently, Oracle also announced it's Clinical One Randomization and Supplies Management Cloud Service, which reduces the time required for study set up from nearly two months to just a few days. For more information about Clinical One: https://www.oracle.com/clinical-one
1 Gartner, Industry Vision: Life Science CIOs Must Transform Clinical Development With Digital Trials Refreshed 15 January 2020, Published 21 August 2018
https://erpnews.com/v2/wp-content/uploads/2020/06/oracle.jpg
200
268
katie
https://erpnews.com/v2/wp-content/uploads/2018/10/[email protected]
katie
2020-06-18 13:56:53
2020-06-18 13:57:31
Oracle Unveils Clinical One Data Collection Cloud Service